OK NSF EPSCoR Annual State Conference: Putting Our Mark on Climate Research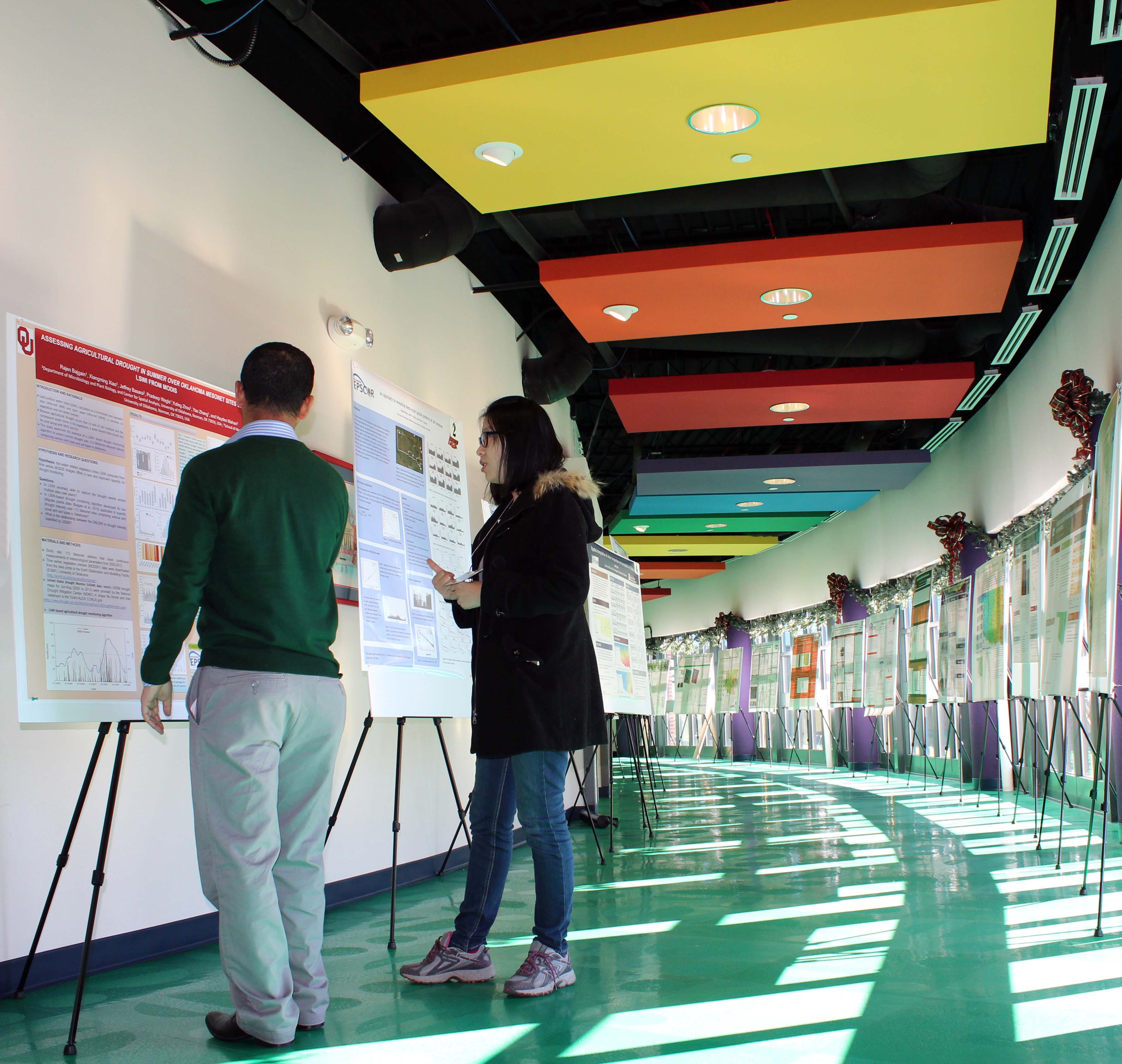 Over 80 researchers from across the state gathered on December 3 in Norman to highlight Oklahoma's climate research efforts during the Oklahoma NSF EPSCoR Annual State Conference.
Researchers and outreach representatives of the Oklahoma NSF EPSCoR Research Infrastructure Improvement Award No. IIA-1301789, "Adapting Socio-Ecological Systems to Increased Climate Variability," presented mid-project progress updates during the conference, while post-docs and students displayed over 30 posters highlighting their multi-disciplinary participation in the EPSCoR project. (Twenty-nine of the abstracts may be viewed below.)
On December 1-2, prior to the Annual State Conference, EPSCoR researchers partnered with the highly esteemed Governor's Water Conference and Research Symposium to further expand the EPSCoR State Conference's goal of increasing collaboration and furthering research growth. EPSCoR research was featured during a half-day session during the meeting on Dec. 2 titled "Integrated Socio-Ecological Research on Water." Access the Dec. 2 EPSCoR agenda. This strategic partnership allowed a diverse group of researchers from the Oklahoma Water Resources Board, Oklahoma Water Resources Center, and Oklahoma NSF EPSCoR to come together, share research findings, and continue the important process of building new relationships to support climate science research in the state. Oklahoma State University Vice President for Research Dr. Kenneth Sewell closed Wednesday's EPSCoR proceedings with a keynote dinner address, where he spoke of the importance of Oklahoma as a research state.
----------
Conference Materials:
Proceedings, Presentations, Posters & Abstracts
Conference Proceedings

Speaker Presentations
Evan Linde, Research Cyberinfrastructure Analyst, OSU

Poster Presentations
Presenter: Rajen Bajgain
Assessing Summer Drought Over Oklahoma Mesonet Sites with the MODIS Land Surface Water Index
View the Poster
Presenter: Jingnuo Dong
An Approach to Revealing Meso-scale Spatial Patterns of Soil Moisture
View the Poster
Presenter: Jon Giddens


Urban Forest Health and Mortality in the Oklahoma City Metro Region


View the Poster
Presenter: Chih-Yu Lai


Spatial Interpolation for Temperature and Precipitation in Oklahoma Weather, Society and Government Survey




View the Poster

Presenter: Miriam Laytner


"All That's Left Are Memories": Lake Sardis and the Reconstruction of Memories Regarding Water, Wetlands...

Presenter: Jason Patton


Towards a

High Resolution

Soil Moisture Map of Oklahoma




View the Poster

Presenter: Yuanwei Qin


Oklahoma Map of Forest Cover at 30-m Spatial Resolution in 2010

Presenter: Renato Rahal


Streamflow Responses to Sea Surface Temperature Variations Across Oklahoma


View the Poster
Presenter: Michael Stanton


The Kiamichi Watershed


View the Poster
Presenter: Mike Treglia


Does Habitat Stability Promote the Loss of a Complex Life Cycle Stage in a Stream-Associated Salamander

Presenter: Mike Treglia


Modeling the Current and Future Distributions of Juniper

Spp. Across the Continental United States
Presenter: Tony VanWinkle


Ethnographic Research in the Upper Washita Watershed


View the Poster
Presenter: Jie Wang


Mapping Red Cedar in Oklahoma from 1984 to 2010

Not Presented

Presenter: Justin Alexander


Assessing Reservoir Operations and the Assoc. Changes in Water Quality on the Persistence of Stream Fishes

Presenter: Brannon Daniels


Declining Water Conditions and Recreation Demand at Oklahoma Reservoirs


View the Poster
Presenter: Holly Enlow


Simulating Reach-Scale Sediment Reduction from Stream Stabilization (Fort Cobb Reservoir Watershed

)


View the Poster

Presenter: Xijia Han


Statistical Modeling for Spatio-Temporal Soil Moisture Data in Oklahoma


View the Poster
Presenter: Leon Hounnou


Modeling Least Cost Selection of Best Management Practices to Reduce Soil Erosion (Fort Cobb Watershed

)


View the Poster




Presenter: Whitney Lisenbee


Evaluation of Field Jet Erosion Tests and WEPP-predicted Erodibility Parameters in Forests and Grasslands


View the Poster

Not Presented

Presenter: Yao Zhang


Gross Primary Production in Oklahoma from 2000 to 2014


View the Poster
Presenter: Jesus Zubillaga


Value of Environmental Monitoring Information in Oklahoma Agriculture: A Research Perspective


View the Poster
Presenter: Benjamin Davis


Analyzing Changes in Urban Areas Using Landscape Pattern Metrics


View the Poster
Presenter: Toni Klemm


Improving Seasonal Climate Forecasts for Oklahoma Winter Wheat Farmers


View the Poster
Presenter: Daniel Logue


Detection Estimates and Habitat Occupancy of Two Pelagic Broadcast Spawning Cyprinids


View the Poster
Presenter: Ronald Miller


Drought-Influenced Low-Flow Non-Exceedance Plots for Selected USGS Gauges in Oklahoma


View the Poster
Presenter: Bharat Sharma Acharya


Temporal Variability in Water Level in a Tallgrass Prairie and Juniper Woodland

Presenter: Claude Buerger


The LandSHIFT Model: Use and Applications in Oklahoma


View the Poster

Photos from the conference can be accessed via our Flickr Page.
Upcoming Events
Tuesday, October 27, 2020 -

9:00am

-

2:00pm