Travel for Students to Professional Meetings
College Student Outreach
Oklahoma EPSCoR encourages students' participation in the STEM research community by providing travel funds for students to attend professional and scientific meetings, workshops, or symposia, such as the National Conference for Undergraduate Research (NCUR) and American Indian Science and Engineering Society (AISES) National Conference.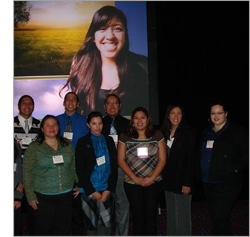 These experiences give students a better understanding of how the research community works and builds networking and support through attendance, preparation and presentations at state- and national-level meetings. Funding is designed to provide opportunities for individuals who have historically been underrepresented in STEM disciplines (I.e. women, Native Americans, African Americans).
Oklahoma faculty and administrators who have students who may benefit from travel funds to attend NCUR, AISES, or other professional meetings, should contact Gina Miller, outreach coordinator at 405.744.7645 or e-mail requests to gmiller@okepscor.org.
Upcoming Events
Tuesday, October 27, 2020 -

9:00am

-

2:00pm