Oklahoma NSF EPSCoR RII Award Track-1 Research: 2005-2018
OK NSF EPSCoR Archive Information
Oklahoma NSF EPSCoR Research: 2005-2018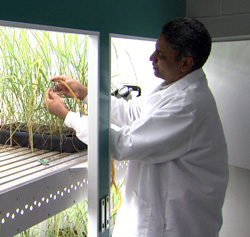 Since the program's inception in 1985, Oklahoma NSF EPSCoR research has addressed some of the Nation's most critical technological, ecological, and energy needs, including nanotechnology, plant virus biodiversity and ecology, cellulosic bioenergy, climate variability, and others. Learn about the most recently completed research projects below.
Climate Variability Research
NSF RII Award No. OIA-1301789: 2013-2018
Through the Research Infrastructure Improvement Award "Adapting Socio-Ecological Systems to Increased Climate Variability," Oklahoma scientists across the state came together to advance understanding of how socio-ecological systems can adapt sustainably to climate variability.
Learn more about the research project
Building Oklahoma's Leadership Role in Cellulosic Bioenergy
NSF RII Award No. EPS-0814361: 2008-2013
Oklahoma scientists and engineers worked together to develop unique methods to transform non-crop native grasses, such as switchgrass, into liquid fuel through NSF RII Award No. EPS-0814361. Team members also investigated new, innovative technologies to convert lignocellulosic biomass to gasoline and diesel fuel.
Learn more about the research project
Plant Virus Biodiversity & Ecology and Nanoscale Science & Engineering: 2005-2009
Continuing its long-term strategy, which builds upon the state's existing strengths, Oklahoma EPSCoR invested in the emerging fields of plant virus biodiversity & ecology and nanoscale science & engineering, working to bring both to nationally competitive levels. Both fields involve cutting-edge research and have been identified as federal and state priorities.
Learn more about the research projects
Left Column Research Menu
Recent Blogs
There are currently no blog posts. Please check back soon.
Latest News
Tuesday, November 24, 2020
Wednesday, October 07, 2020
Upcoming Events
Friday, March 5, 2021 -

9:00am

-

2:30pm
Saturday, March 27, 2021 -

9:00am

-

4:00pm
Tuesday, March 30, 2021 -

8:00am

-

7:30pm