Student Executive Board
OK NSF EPSCoR S3OK Project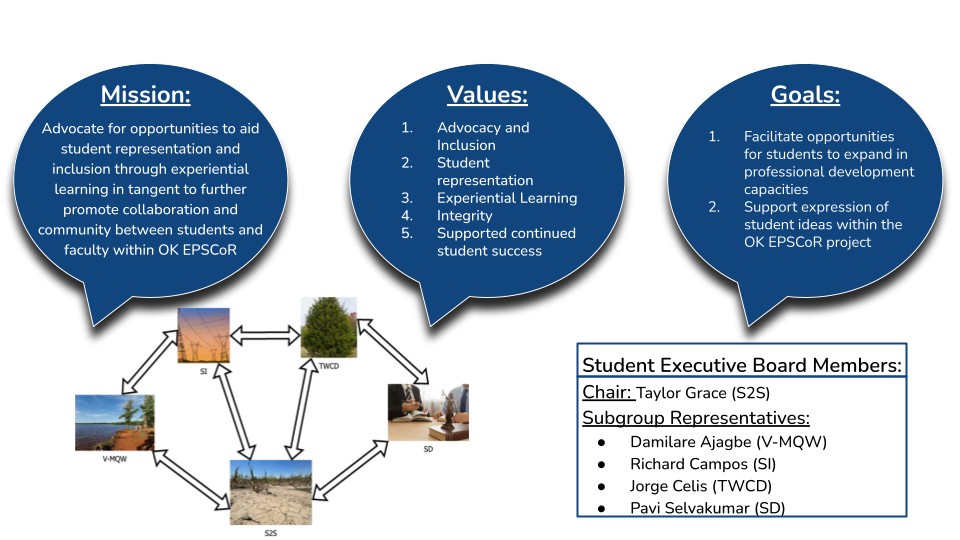 ABOUT THE BOARD
The mission of the Student Executive Board is to advocate for opportunities that will promote student representation and inclusion through experiential learning in tangent to further promoting collaboration and community between students and faculty within the OK NSF EPSCoR S3OK project.
Goals of the Student Executive Board are to facilitate opportunities for students to expand in professional development capacities and to support the expression of student ideas within the OK NSF EPSCoR S3OK project.
S2S Student Representative & Student Executive Chair
TAYLOR GRACE
Taylor.M.Grace-1@ou.edu

I am Taylor Grace, a second-year Ph.D. student at the University of Oklahoma. I received a Bachelor's in Meteorology from the University of North Carolina at Charlotte. I continued my passion for research by pursuing a Master's in Meteorology at the University of Oklahoma. It was during this time that I began working on the S3OK EPSCoR project in 2020. My master's and current research focuses on heat waves, more specifically, definition, prediction, and impacts of such subseasonal to seasonal (S2S) events. Looking toward the future, some of my goals are to continue to make an impact on S2S research in order to increase predictability and further mitigate impacts from extreme events.
Outside of academia, I enjoy going to the dog park and long walks around Lake Hefner with my two-year-old dog. I also like to be outdoors and hike, when I get the chance.
V-MQW Student Representative
DAMILARE AJAGBE
dajagbe@okstate.edu

I am Damilare Ajagbe, a third-year Ph.D. student at Oklahoma State University. I hold a Bachelor's degree in Microbiology from Obafemi Awolowo University in Nigeria. My research focuses on the bioremediation and reuse of saline industrial wastewaters, particularly produced water. My mid-term goal is to pursue a career in the industry after graduate school, with a focus on sustainable innovations and development.
In addition to my studies, I am passionate about volunteering and giving back. I currently serve as the American Society of Microbiology's Young Ambassador to Oklahoma. In my free time, I love to read books on psychology and history, and play the guitar.
SI Student Representative
RICHARD CAMPOS
richard.campos@ou.edu

My name is Richard Campos, and I am currently a Ph.D. candidate at the University of Oklahoma working with Oklahoma EPSCoR to provide resilience strategies for infrastructure systems by analyzing hazards (e.g., ice storms, wildfires, earthquakes, and winds), risk, and fragility of electrical and transportation infrastructure components to better infrastructure resiliency. Community and infrastructure resilience is my main research interest and focus area, but my goal is to become a professor and help communities and organizations enhance their current infrastructure system's resilience to severe natural hazards by teaching and advancing the field of resilience engineering. When I am not working on this project, I like to spend my time painting with acrylic paint and playing jazz guitar.
TWCD Student Representative
JORGE CELIS
jcelis@ou.edu

I'm a Ph.D. candidate in Ecology and Evolutionary Biology. I have a Bachelor's in Environmental Engineering and a Master's degree in Geography with a focus on geospatial technologies. My research background includes hydrology and remote sensing with applied work towards drought detection and estimation of surface physical conditions, like soil moisture, soil temperature, and surface energy fluxes, in agroecosystems. My current research focuses on the estimation of carbon and water fluxes in agroecosystems that can be used to monitor crop health, vegetation growth, water use efficiency, and yield forecasting. In addition, I have been leading a startup company towards the commercial use of different AI/ML, data analytics, and research data products in the agricultural sector for the b2b segment. In my free time, I enjoy playing tennis and going on hikes.
SD Student Representative
PAVI SELVAKUMAR
pselvak@okstate.edu

I am Pavithra Selvakumar, a second-year Ph.D. student from the Department of Environmental Science at Oklahoma State University. I am originally from India, where I completed my Bachelor's in Information Technology at Anna University, Chennai. With three years of corporate experience, I flew to the United Kingdom to pursue my Master's in Environmental Assessment and Management from the University of East Anglia, Norwich. My research interest is investigating the role of Corporate Social Responsibility (CSR) to promote environmental sustainability. In the future, I see myself as an academician, pursuing path-breaking research in the field of environmental sustainability and being a part of an endearing teaching fraternity. In my free time, you can catch me choreographing and practicing Indian classical dance, and going for long walks at Boomer Lake in Stillwater. I'm excited to serve as the Student Executive Board Member of NSF OK EPSCoR project, a role crucial in advocating opportunities for students through experiential learning. I couldn't be more thrilled and grateful for the opportunity to crystallize and expand on the Student Executive Board's mission in 2023!
Questions about the website? Contact Kaley Barnicoat, outreach coordinator, at kbarnicoat@okepscor.org or 405.744.9964.
Latest News
Friday, September 29, 2023
Friday, September 29, 2023
Friday, September 29, 2023
Upcoming Events
Saturday, September 30, 2023 -

9:00am

-

4:00pm
Wednesday, October 18, 2023 -

12:00pm

-

1:00pm
Tuesday, October 24, 2023 -

9:00am

-

5:00pm