NSF Convergence Accelerator Phase I and II

Solicitation Key Dates:
Letter of Intent: May 5, 2021 (required)
Full Proposal: June 14, 2021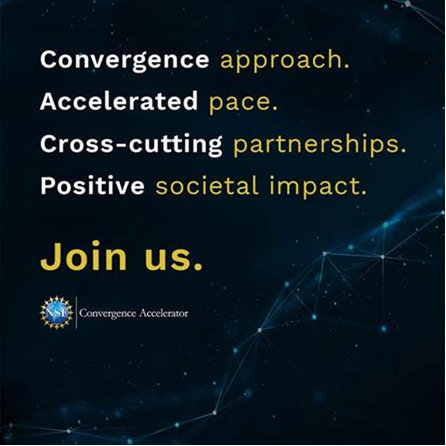 The National Science Foundation's Convergence Accelerator is speeding research and discovery into practice by announcing a new funding opportunity, NSF Convergence Accelerator Phase I and II for the 2021 Cohort, featuring two research track topics—the Networked Blue Economy and Trust & Authenticity in Communication Systems.
Although different, both tracks require funded teams to accelerate ideas into solutions and at a rapid pace. During phase one, a nine-month planning effort, selected teams are to participate in the program's innovation curriculum designed to strengthen each team's convergence approach and to further develop the solution concept toward phase two.
NETWORKED BLUE ECONOMY (TRACK E)
Ocean-related industries and resources continue to play a central role in addressing challenges related to climate, sustainability, food, energy, pollution, and the economy. The overarching track goal is to interconnect the Blue Economy and accelerate convergence across ocean sectors; creating a smart, integrated, connected, and open ecosystem for ocean innovation, exploration, and sustainable utilization. Collectively, funded research teams will produce innovative tools, techniques, methods, and educational resources, as well as produce solutions that improve human engagement with oceans as both an environment and resource.
TRUST & AUTHENTICITY IN COMMUNICATIONS SYSTEMS (TRACK F)
Modern life is dependent on access to communications systems that offer trustworthy and accurate information. Economic growth and opportunity depend on dynamic innovation and transaction networks to connect American families, communities, and businesses to a range of goods and services to improve the quality of life. Yet, these systems face a common threat; communication systems can be manipulated or can have unanticipated negative effects. The overarching track goal is to address the urgent need for tools and techniques to help our nation effectively prevent, mitigate, and adapt to critical threats to communication systems.
SOLICITATION DETAILS
Who Can Apply:
Submitters from academia, industry, government, non-profit, and other organizations are encouraged to submit a Letter of Intent (required) and full proposal.
Funding Opportunity:
Academia refer to http://bit.ly/CA_GrantSolicitation_NSF-21-572
Industry, non-profit, and others refer to http://bit.ly/CA_BAASolicitation2021
Solicitation Key Dates:
Letter of Intent: May 5, 2021 (required)
Full Proposal: June 14, 2021
UPCOMING CONVERGENCE ACCELERATOR INFORMATIONAL WEBINARS FOR THE CONVERGENCE ACCELERATOR PHASES I AND II FOR THE 2021 COHORT
Join the NSF Convergence Accelerator on April 8, April 14 or April 20 to learn about the program and specifically the current solicitation opportunity. During the webinar, participants will learn about the program's model and fundamentals, including the program's phased approach and innovation processes used to accelerate basic research into practice; and the solicitation opportunity to include the research track focuses, required Convergence Accelerator fundamentals, and important submission information. The goal of this webinar is to bring awareness of this exciting opportunity to accelerate previously research and discovery to have a positive impact on societal challenges.
Academic Submitters
April 8, 2021
2:30 p.m. – 4 p.m. ET
April 20, 2021
2:30 p.m. – 4 p.m. ET
Industry/Non-Profit/Other Submitters
April 14, 2021
2:30 p.m. – 4 p.m. ET
Registration Information:
To register for an informational webinar, visit nsfconvergenceaccelerator.eventbrite.com
After registering a confirmation email containing the meeting information, including how to join will be provided.
ABOUT THE NSF CONVERGENCE ACCELERATOR
Research is often driven by a compelling societal or scientific challenge; however, it may take the researcher community years to develop a solution. To deliver tangible solutions that have a nation-wide societal impact and at a more accelerated pace, the NSF Convergence Accelerator brings together multiple disciplines, expertise, and cross-cutting partnerships to develop solutions through a convergence research approach and innovation processes. For additional information about the Convergence Accelerator, visit: https://www.nsf.gov/od/oia/convergence-accelerator/index.jsp.
Left Column Research Menu
Recent Blogs
There are currently no blog posts. Please check back soon.
Latest News
Wednesday, March 31, 2021
Wednesday, February 17, 2021
Upcoming Events
Monday, April 26, 2021 -

12:00pm

-

1:00pm
Tuesday, May 25, 2021 - 9:00am
-
Wednesday, May 26, 2021 - 5:00pm
Monday, July 26, 2021 -

12:00pm

-

1:00pm