2014 Research Day at the Capitol
Tuesday, April 1, 2014 -

8:00am

-

2:30pm
Research Day at the Capitol 2014 will be held on Tuesday, April 1. Posters will be on display from 8 a.m. to 1:20 p.m. in the 4th floor rotunda area of the Oklahoma State Capitol building. An awards ceremony will be held in the Blue Room (2nd floor) at 1:30 p.m.; the event will conclude at 2:30 p.m.
Access the agenda
Research Day at the Capitol is an annual event that is held in the State Capitol rotunda during each legislative session. The event was created to inform the legislature and the public about the high-quality research being conducted at Oklahoma colleges and universities.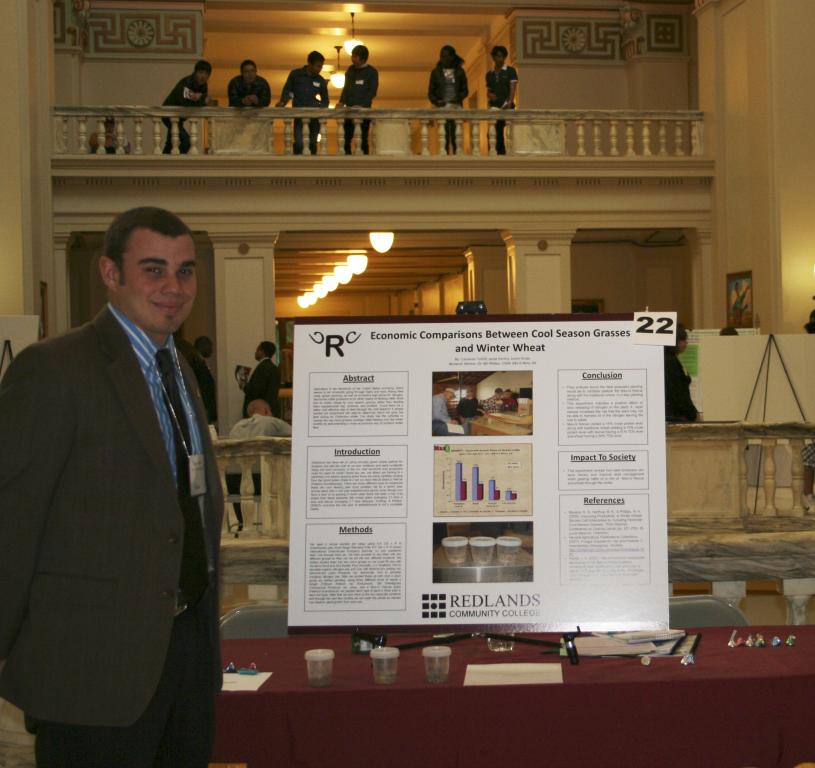 Outstanding undergraduate students from Oklahoma's comprehensive and regional colleges and universities are selected by their institutions to participate in the prestigious program.
Access the student participant list

The event is sponsored by OK EPSCoR, Oklahoma State Regents for Higher Education and the National Science Foundation.
Benefits of Research Day at the Capitol include:
Student participants are provided with training in the proper preparation and presentation of a scientific poster for general public audiences.
Students' posters and oral presentations are judged in a competition for cash prizes, as well as a grand-prize summer research internship at an Oklahoma college or university of the winner's choice.
Oklahoma colleges and universities gain recognition for outstanding research displayed to the legislature, media and the general public at the State Capitol.
Government policy-makers gain an understanding of the outstanding research being conducted by young people on Oklahoma college and university campuses.
Student Information/Training Session
A mandatory training session for the 2014 Research Day at the Capitol event will be held for student nominees on Saturday, November 16, 2013, from noon-2:30 p.m. on the fourth floor of the State Capitol of Oklahoma in Oklahoma City (committee room 412C).
The mandatory training session will provide students with instruction in the proper preparation and presentation of a scientific poster for general public audiences. A former Research Day at the Capitol winner will share insights and information regarding how to prepare and present a successful research poster.
Faculty advisors are not required to attend the student training/information session.
Message to Faculty Advisors of Student Nominees
Faculty advisors are highly encouraged to attend Research Day at the Capitol on April 1st to support their student researchers. However, please note that the judges will require advisors to step away from their student's booth space when the student is presenting their poster to the judges.
To offset travel expenses for advisors' participation, OK EPSCoR will, upon request, file a travel claim on the faculty mentor's behalf for mileage to and from the event. Advisors will need to pay for lodging at point-of-service and then be reimbursed on a state travel claim that EPSCoR will file for you on request. Please contact Becky McIntire, OK EPSCoR administrative assistant, at bmcintire@okepscor.org if you are in need of travel reimbursement.
Designated event hotel:
Downtown/Bricktown Courtyard by Marriott
2 West Reno, Oklahoma City, OK 73102
Negotiated room rate: $106/night
The hotel reservation links below are for advisors and guests only. Student participants must secure their rooms by turning in their rooming needs directly to gmiller@okepscor.org. The dates and rate code for reservations made in this block of rooms via the links below will pre-populate. Simply access the link, confirm the dates, click the Find button and create your reservation online. The deadline for making reservations within this block is Monday, March 3, 2013, or when the block reaches capacity.
Faculty/guest hotel reservations may also be made via phone by calling 800-217-9905--use group code "EPOS."
Students should not use the toll-free number, nor should they use the links below, to make their hotel reservations, as students' lodging reservations are being made by the EPSCoR office.
Hotel reservation link: room with one king bed ($106/night)
Hotel reservation link: room with two queen beds ($106/night)
Student nominees, advisors, and friends/family members of student participants who will be attending Research Day at the Capitol on April 1 must register below via the orange registration link. Registration deadline: Monday, March 1, 2014.

IMPORTANT NOTICE: The PDF files below are to be used only by persons who have been specifically authorized by their institution to submit student nominations for this event on the institution's behalf.

Signups closed for this Event
Upcoming Events
Sunday, June 10, 2018 - 8:00am
-
Friday, June 15, 2018 - 8:00am
Thursday, June 14, 2018 -

12:00pm

-

2:30pm
Tuesday, September 25, 2018 - 5:30pm
-
Wednesday, September 26, 2018 - 5:00pm