Tribal College Outreach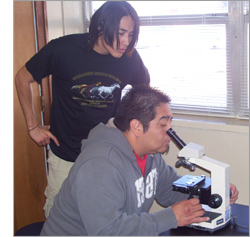 OK EPSCoR places special emphasis on the goal of broadening participation of American Indian students in STEM fields. EPSCoR promotes Native American students' success through culturally-attuned teaching methods and technology. Through these programs, students are overcoming challenges that may prohibit them from participating in STEM careers.
The most recent recipient of OK EPSCoR Tribal Outreach funding is College of Muscogee Nation in Okmulgee. Through the EPSCoR award, the College's first science course is being established.
Oklahoma's first tribal college, Comanche Nation College (CNC), has also benefited from OK EPSCoR funding. Improved STEM laboratories and classroom facilities, networking capabilities and an IT director have been funded through past EPSCoR awards. The CNC program encourages American Indian students to integrate their culture, which is scientific by nature, into the educational process; research skills are honed and cultural heritage is honored. New SMART Boards, SMART Slates, computer equipment and the Work Keys workforce development program, all provided through EPSCoR grants, are assisting CNC in its goal of recruiting and retaining promising Native American students.
To find out how OK EPSCoR may help your institution increase Native American student participation in STEM disciplines, contact Gina Miller, outreach coordinator, at 405.744.7645 or email gmiller@okepscor.org.
For more information about the Tribal Colleges noted above, visit:
College of Muscogee Nation
Phone: 918.549.2800
Web: http://www.mvsktc.org/
Email: emccormack@muscogeenation-nsn.gov
Comanche Nation College
Phone: 580.591.0203
Web: http://www.cnc.cc.ok.us/.
Latest News
Wednesday, March 31, 2021
Wednesday, February 17, 2021
Upcoming Events
Monday, April 26, 2021 -

12:00pm

-

1:00pm
Tuesday, May 25, 2021 - 9:00am
-
Wednesday, May 26, 2021 - 5:00pm
Monday, July 26, 2021 -

12:00pm

-

1:00pm