2008-2012: Science Matters! Mobile Science Vehicle & Teachers' Biofuel Workshop
(Archived Project)
** Archived Project **
(This initiative is no longer active in our portfolio.)
The Oklahoma Museum Network Science Matters Mobile Science Vehicle (MSV) is a discovery-based mobile museum that allows students in rural communities throughout Oklahoma to experience science, while engaging in numerous activities throughout the multi-sensory vehicle.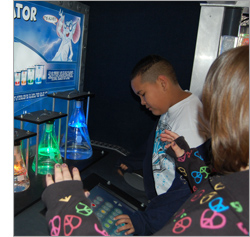 EPSCoR-sponsored visits also provide teachers and students with materials for ongoing classroom-based bioenergy science projects. Students experience science through hands-on experiments that allow them to practice true discovery learning through mixing, measuring, investigating, creating and deducing outcomes—just like real scientists!
The OMN and EPSCoR offer an intensive all-day Biofuels in the Classroom workshop at Science Museum Oklahoma for teachers as a part of this program. Teacher participants receive materials and ideas to implement in their classrooms back home. Photos from the 2010 bioenergy workshop may be viewed here.
It is really tough for teachers to get good professional development, and these people were the best I have seen. They made it awesome fun and showed how we can bring this topic into our classroom. Didn't think I could make the connection before, but now I see I can.
"It is so nice to have a relevant and interesting workshop that is ready to go in the classroom!"
–Teacher Participants, 2010 Biofuel Workshop
Teachers interested in having the MSV visit their school or attending the Biofuel Workshop should submit a request via email to the Oklahoma Museum Network or visit their Web site for more information.
Latest News
Wednesday, January 25, 2023
Wednesday, January 25, 2023
Wednesday, January 11, 2023
Upcoming Events
Wednesday, February 15, 2023 -

12:00pm

-

1:00pm
Friday, March 3, 2023 - 9:00am
Tuesday, March 28, 2023 -

8:00am

-

12:00pm