K20 SPARK: Scientists Promoting Authentic Resources in K-12
K-12 Teacher Outreach (Archived Project)
** Archived Project **
(This initiative is no longer active in our portfolio.)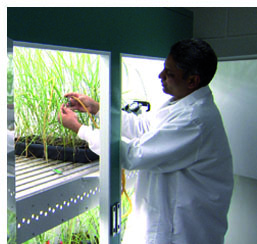 K20 SPARK (Scientists Promoting Authentic Resources for K-12) is a service offered by the University of Oklahoma's K20 Authentic Learning and Teaching program (K20alt) to support STEM partners in sharing research experiences with K-12 educators through authentic lessons that are posted online.
Authentic learning for students is active and uses inquiry and other techniques that explicitly help students make sense of content at hand.
Free bioenergy and climate variability curriculum materials and videos for teachers are now available online via the K20alt site through an award from Oklahoma NSF EPSCoR.
Access the K20 SPARK materials developed by EPSCoR:
EPSCoR researchers developed the two series with support from University of Oklahoma's K20alt content specialists. Future lessons in the OK EPSCoR series will explore more aspects of the science of climate variability.
The comprehensive online materials include supportive videos for teachers, lesson plans, PowerPoint tutorials, detailed PASS objectives, experiments, graphs and student handouts. The lessons not only provide teachers with hands-on science curriculum that meets state education standards, but they also provide students with cellulosic bioenergy and climate variability knowledge for the 21st Century.

More About the K20 SPARK Program
Oklahoma NSF EPSCoR researchers and other K20 SPARK STEM partners work with K20alt content specialists to create authentic teaching and learning experiences directly related to the scientists' research. K20alt also has the unique opportunity to support educational outreach for researchers by connecting them to an online community of nearly 2,000 teachers across Oklahoma, 49 states, and 80 countries.
Once authentic lessons are developed through the collaborative efforts of K20 SPARK partners and K20alt content specialists, the K20alt community utilizes the lessons in their own classrooms, provide feedback and assist in enhancing the lesson. Refined lessons are submitted for review for possible publication on The K20 Journal of Authentic Learning and Teaching. Teachers around the globe then download published lessons.
It is relevant, in-depth science lessons such as those developed through Dr. Uppalapati's research that Okema High School science teacher Jessica Thompson says challenges her students to think critically like scientists. Previously, when asked about current environmental issues like alternative energy Thompson said the students had opinions but couldn't explain their reasoning.
"Using the online multimedia science lessons I was able to guide the conversation in thought provoking ways," explained Thompson. The students experience science as scientists, from discovering the problem, to using trial and error experiments for solutions.
"Students are capable of so much more than taking a test," said Thompson. "They want to be challenged and show their creativity." Using research like cellulosic biofuels production allows students to apply their scientific book knowledge to current world issues.
The research conducted by STEM partners provides focus for Virtual Communities of Practice who have the opportunity to develop extension lessons and resources for other teachers within the K20alt community. So, not only are lessons developed for teachers, but there are also a multitude of extension lessons developed by teachers around the scientists' experiences. These experiences serve to increase content knowledge for science teachers in the community as they are exposed to the scientists' research and results. Teachers gain both content and pedagogy relevant to the scientists' research that ultimately impacts student learning.
"I love that real-world research happening today can be translated and taught to students around the world as we're working on it," said OK EPSCoR researcher Dr. Rao Uppalapati. "This is the future of research and education."
For more information about K20 SPARK, contact Dr. Jean Cate at jcate@ou.edu.
Latest News
Thursday, November 02, 2023
Thursday, November 02, 2023
Thursday, November 02, 2023
Upcoming Events
Monday, December 4, 2023 -

5:00am

-

5:00pm
Monday, December 4, 2023 - 8:00am
-
Thursday, December 7, 2023 - 5:00pm
Monday, December 4, 2023 -

12:00pm

-

1:00pm