OK EPSCoR NSF Grants Workshop
Wednesday, April 20, 2011 -

8:30am

-

2:30pm
REGISTRATION DEADLINE: APRIL 10, 2011
The OK EPSCoR NSF Grants Workshop will be held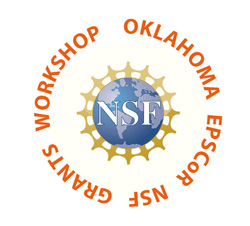 Wednesday, April 20, 2011 at the Thurman J. White Forum on the University of Oklahoma Campus in Norman. This annual event is designed to encourage an increase in the quality and quantity of proposals submitted by Oklahoma researchers to the National Science Foundation and other federal agencies.
The workshop provides Oklahoma researchers and grant writers with information on funding opportunities available to them, including those from state and federal funding agencies such as NSF, DOD, DOE, NIH and OCAST .
Dr. Alicia Knoedler, University of Oklahoma assistant vice president for research and director of the OU Center for Research Program Development and Enrichment, is a scheduled presenter at the conference. She will address the logistics of submitting grants for review, while also addressing the "culture-and-relationship-building reality check" that new faculty members need to come out on top of the grant process. Michael Heppler, assistant director of Graduate College Student Academic Services at Oklahoma State University, will present an overview of the NSF Graduate Research Fellowship process and offer proven strategies for successful fellowship/scholarship applications. Also presenting at the conference are Dan Luton, programs director, OCAST; and Gregory R. Rorrer, National Science Foundation "Energy for Sustainability" programs director, Division of Chemical, Bioengineering, Environmental and Transport Systems. The one-day event will conclude with small-group Q&A sessions hosted by leaders in their respective fields.
Faculty, researchers, postdoctoral associates and graduate students from all Oklahoma research and education institutions are invited to attend. The event is provided free of charge to participants, but registration is required (see link below). Registration deadline is April 10.
The NSF Grants Workshop is hosted by Oklahoma EPSCoR, Oklahoma State Regents for Higher Education and the National Science Foundation.
For more information, contact Gina Miller, outreach coordinator, at 405.744.7645 or gmiller@okepscor.org.

The NSF Grants Workshop will be held at the Thurman J. White Forum, on the University of Oklahoma campus in Norman. The Forum is located at 1704 Asp Avenue, between Timberdell and 4th Street. An OU campus map and driving directions may be accessed HERE.
Parking passes for the event will be mailed to registrants prior to the conference date.
The Hilton Garden Inn is the designated conference hotel. It is located at 700 Copperfield Drive in Norman. Driving directions to the hotel may be accessed HERE. Reservations may be made by calling the hotel directly at 405.579.0100 or by accessing their Web site HERE. A special conference rate of $70/night may be obtained by using the reservation code "ESR."
Signups closed for this Event
Upcoming Events
Sunday, June 10, 2018 - 8:00am
-
Friday, June 15, 2018 - 8:00am
Thursday, June 14, 2018 -

12:00pm

-

2:30pm
Tuesday, September 25, 2018 - 5:30pm
-
Wednesday, September 26, 2018 - 5:00pm