NSF EPSCoR Research: Science-based Solutions for Complex – Wicked – Problems
Oklahoma NSF EPSCoR Research Infrastructure Improvement Award No. OIA-1946093
OK NSF EPSCoR Researchers:
Finding Answers and Practical Solutions to Weather, Water, Land and Infrastructure Issues Facing Oklahomans
NSF EPSCoR researchers are working to develop and test science-based solutions for complex (wicked) problems at the intersection of land use, water availability, and infrastructure in Oklahoma.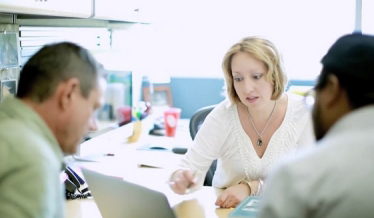 The research team's science-based assessments will be coupled with feedback from Oklahoma citizens and systematic engagement with state opinion leaders to develop socially sustainable solutions to emerging problems facing Oklahomans.
The novelty of the project lies in both its design and vision: a social science-led, multi-disciplinary collaboration among social, physical, biological, engineering, and computational scientists from institutions across the state that incorporates the perspectives of competing social narratives. This approach allows the team to better define and develop a science-based understanding of solutions for critical problems resulting from the interactions of humans with the natural and built environment in Oklahoma.
More than forty researchers from Oklahoma State University, University of Oklahoma, University of Tulsa, Southwestern Oklahoma State University, Langston University, East Central University, and Noble Research Institute are working together on the $20 million NSF EPSCoR project, which began on July 1, 2020. Oklahoma State Regents for Higher Education will provide $800,000 annually in matching funds during the five-year award. Click here to learn more about the research team.
A framework informed by theories of public policy learning will be used to invest in science at the intersections of four research focus areas: (1) changing subseasonal to seasonal weather patterns, (2) variable and marginal quality water supplies, (3) shifting terrestrial water and carbon dynamics, and (4) sustainable water and energy infrastructure. Focus area teams will explore technical innovations that have high potential to converge on solutions to wicked problems that cut across the competing social narratives that have impeded collective decisions in the past.
The project's guiding social dynamics framework allows a systematic and iterative engagement between focus area teams, stakeholders, and the public. Using panel surveys and focus groups, the team's social dynamics framework will identify interconnections across the four focus areas and measure Oklahomans' willingness to accept solutions that address critical impacts while accounting for the diverse array of value orientations and economic incentives expressed by stakeholders.
The Social Dynamics Research Framework
Human perceptions and beliefs are at the heart of the most critical challenges facing Oklahoma. They shape behaviors and collective decisions, and therefore our responses to the changing world. Using data from the M-SISNet, the social dynamics team will (a) measure and model perceptions and beliefs underpinning the social narratives that shape debates among the public, opinion leaders, and scientists about the emerging, interconnected, and salient threats to Oklahomans identified in our research focus areas; (b) evaluate how widely shared narratives have undermined collective action to pursue convergent solutions to wicked problems that recognize and address the array of anthropogenic drivers of these threats; and (c) measure social valuation for solutions using willingness-to-pay for potential sustainable solutions.
Coupled with the project's four interconnected focus areas, the Social Dynamics framework provides the structure and direction of the project. The distinct but interrelated focus areas and the research questions they pursue were selected for this project because they deepen understanding of overlapping natural and human dynamics that drive critical problems facing Oklahoma today. Treated individually as stand-alone problems, they are susceptible to social polarization and policy gridlock. Addressed as an integrated set, these dynamics offer the prospect for revised understandings of problem boundaries and provide potential for informed value tradeoffs across social groups that can enable socially sustainable solutions to address our most pressing problems.
Project Goals
Strengthen and deepen trans-disciplinary cooperation and capacities in Oklahoma's research institutions
Push the boundaries for creative solutions to some of our most vexing societal problems
Create a visible test-bed for devising and implementing urgently needed approaches and models for integrating science research, outreach, teaching and problem-solving in the face of an increasingly fragmented society
Research Focus Areas
Focus area teams will explore technical innovations that have high potential to converge on solutions to wicked problems that cut across the competing social narratives that have impeded collective decisions in the past. Focus area teams, citizens, and opinion leaders will be engaged throughout the project via multiple multiple modes of inquiry and engagement. Through these convergent methods we will identify scientifically and socially promising redefinitions of problems and Sustainable Solutions for Wicked Problems (SSWPs), culminating in a report that provides a vision and pathway for SSWPs in Oklahoma.
Left Column Research Menu
Latest News
Thursday, November 02, 2023
Thursday, November 02, 2023
Thursday, November 02, 2023
Upcoming Events
Monday, December 4, 2023 -

5:00am

-

5:00pm
Monday, December 4, 2023 - 8:00am
-
Thursday, December 7, 2023 - 5:00pm
Monday, December 4, 2023 -

12:00pm

-

1:00pm