Undergrads Explore Impacts of Climate Variability on Natural & Cultural Resources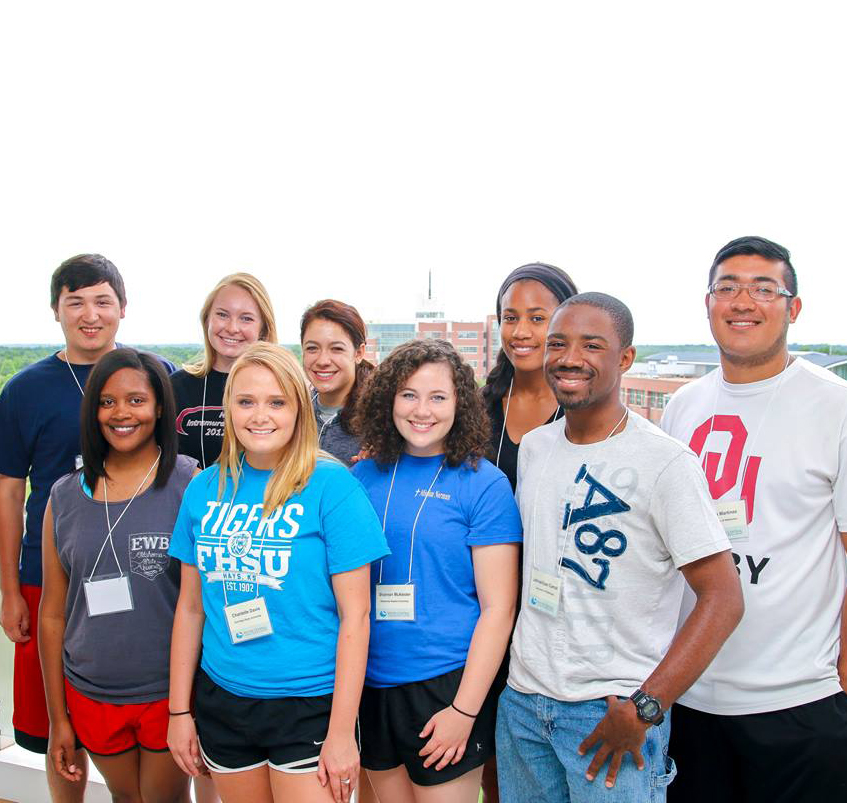 Nine undergraduate student researchers are learning about the impacts of climate on natural and cultural resources this summer through a program supported by Oklahoma EPSCoR researchers and the South Central Climate Science Center. The program, Undergraduate Summer Internship for Underrepresented Minorities, allows students to explore research sites in three diverse states.
The program kicked off May 31 at Texas Tech University when the new student interns arrived in Lubbock, Texas. The interns journeyed to Oklahoma on June 7, where they worked with researchers at the University of Oklahoma (OU) and Oklahoma State University (OSU). The three-week summer experience is scheduled to conclude at Louisiana State University on June 20.
The interns are involved in hands-on activities and field trips that will allow them to see the direct impacts of climate variability and change on the Texas Hill Country, prairie and forest ecosystems and Tribal cultures in Oklahoma, and the bayous, delta and coastline of Louisiana. In Oklahoma, students visited the following research sites:
OU's National Weather Center and Aquatic Research Facility in Norman
OSU's Forest Resources Center in Idabel
The Bureau of Land Management's Wild Horse and Burro Program in Pauls Valley
The National Park Service's Chickasaw National Recreation Area in Sulphur
Chickasaw Nation's Chickasaw Cultural Center in Sulphur
The Agricultural Research Service's Grazinglands Research Laboratory in El Reno
The Army Corp of Engineer's Canton Dam in Canton
Canton Lake and surrounding businesses in Canton
Oklahoma EPSCoR researchers involved in the program include Drs. Renee McPherson, OU Department of Geography and Environmental Sustainability and South Central Climate Science Center, and Jack Friedman, OU Center for Applied Social Research, as well as their research teams. The EPSCoR researchers provided intensive instruction and mentorship to the young scientists and engineers. In addition, EPSCoR's Nina Carlson, OU Center for Risk and Crisis Management and Center for Energy, Security and Society, presented EPSCoR research results that demonstrated some of the perceptions that Oklahomans have of recent temperature and precipitation patterns.
The program is led by Ms. Aparna Bamzai of the South Central Climate Science Center and OU Department of Geography and Environmental Sustainability. For more information about the program, you may contact Ms. Bamzai at aparna@ou.edu.
--------
Pictured (above/left-right): Aaron Flores, Texas Tech University; Olivia Broussard, Oklahoma State University; Haley Bloomquist, New Mexico State University; Chantelle Davis, Fort Hays State University; Sydney Salas, New Mexico State University; Shannon McAlester, Oklahoma Baptist University; Taylor Gillespie, University of Oklahoma; John William Carroll, University of Oklahoma; and Juan Martinez, University of Oklahoma.
Latest News
Thursday, January 13, 2022
Friday, December 17, 2021
Upcoming Events
Tuesday, February 22, 2022 - 9:00am
Friday, March 4, 2022 - 9:00am
Tuesday, March 29, 2022 -

8:00am

-

12:00pm