Supercomputing in Plain English Workshop Series Begins Jan. 20--Register Today

Supercomputing in Plain English:
A High Performance Computing Workshop Series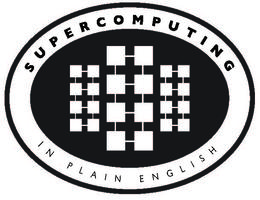 Spring 2015 Workshops
FREE FREE FREE FREE FREE FREE FREE FREE
Tuesdays, January 20 through April 28, 2015
Live in person: Stephenson Research & Technology Center boardroom
Live via videoconferencing: Details coming soon

Prerequisite: 1 semester of programming experience and/or coursework in any of Fortan, C, C++ or Java, recently.
Who should attend: SiPE is targeted at an audience of not only computer scientists but especially scientists and engineers, including a mixture of undergraduates, graduate students, faculty and staff.
TENTATIVE Topic List
Overview: What the Heck is Supercomputing?
The Tyranny of the Storage Hierarchy
Instruction Level Parallelism
Stupid Compiler Tricks
Shared Memory Multithreading (featuring OpenMP)
Distributed Multiprocessing (featuring MPI)
Applications and Types of Parallelism
Multicore Madness
High Throughput Computing
Accelerators: Number Crunching in Your Graphics Card
Grab Bag: Scientific Libraries, I/O Libriaries, Visualization
REGISTER FOR THE SERIES (no cost to participate, but registration is required)
You only need to register once for the whole semester, not for each week.
NOTE: Please plan to participate EVERY TUESDAY Jan. 20 - Apr. 28, 2015, with a few exceptions.
For more information, visit http://www.oscer.ou.edu/education.php.
Latest News
Thursday, January 13, 2022
Friday, December 17, 2021
Upcoming Events
Tuesday, February 22, 2022 - 9:00am
Friday, March 4, 2022 - 9:00am
Tuesday, March 29, 2022 -

8:00am

-

12:00pm