Sulphur JHS Students Win Trophy at Biofuels-Themed Robotics Competition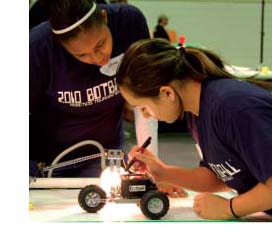 Sulphur Junior High School students won a Judges' Choice KISS Trophy at the Botball Regional Tournament held recently in Norman.
The KISS Institute for Practical Robotic's Botball Educational Robotics program engages more than 6,000 middle and high school students worldwide in a team-oriented robotics competition. Thirty Oklahoma teams participated in the program this year. Science, technology, engineering, math, critical thinking and writing skills are enhanced through the inquiry-based learning program that appeals to kids' hearts and minds. Students learn the value of teamwork as they design, program and document robots, with the goal of competing in regional and national Botball tournaments.
This year, the Oklahoma Experimental Program to Stimulate Competitive Research (OK EPSCoR) sponsored the Botball program in two rural Oklahoma schools with high Native American and low income populations – Sulphur JHS and Newcastle Middle School. Due to economic and geographic restrictions, students at these schools would not have been able to participate in the program without EPSCoR support.
Through the EPSCoR award, teacher mentors at the two sponsored schools received Botball and biofuels training during a two-day activity training seminar. Students received in-depth, hands-on, preseason training during 10, two-hour workshops. This augmented instruction increased students' confidence and broadened their understanding of engineering and bioenergy.
During the Botball season, students across the United States and as far away as Doha, Qatar, devised strategic plans for their robots, while also researching and generating solutions to a specific global challenge that is determined by the Botball committee. The theme of the 2010 competition was prophetic – challenging students to neutralize oil slicks and rescue water fowl with their robots – mere months before the tragic oil spill in the Gulf Coast last April.
Through OK EPSCoR support, the 2011 Botball theme expanded on the environmental and sustainability lessons learned last year by exposing students to biofuels in aviation – a green alternative to the fossil fuel dilemma. Student participants programed their artificial intelligence robots to sort and move luggage at a simulated airport. Robots then transferred biofuel from virtual processing plants to bulk storage depots for aviation use.
The formal Botball season gets into full swing in January, when student teams begin designing and building their competition robots. Mentors provide guidance, but no hands-on assistance, during the seven-week construction period. Regional tournaments are held in the spring, with teams' robots battling head-to-head in fast-paced, non-destructive competitions. The season culminates in July with an international competition.
OK EPSCoR is funded by the National Science Foundation and the Oklahoma State Regents for Higher Education. The program's mission is to strengthen Oklahoma's exploration and growth in science, technology, engineering and mathematics.
Upcoming Events
Tuesday, October 27, 2020 -

9:00am

-

2:00pm
Friday, March 5, 2021 -

9:00am

-

2:30pm