Studying Climate: State-of-the-Art Research Sites
Oklahoma EPSCoR researchers have established five new state-of-the-art research sites that provide important, up-to-date information for scientists studying the environmental impacts of climate variability on grasslands and croplands. The sites, located in El Reno and Marena, provide continuous measurements of key ecological variables in native grasslands, improved pasturelands, and winter wheat croplands.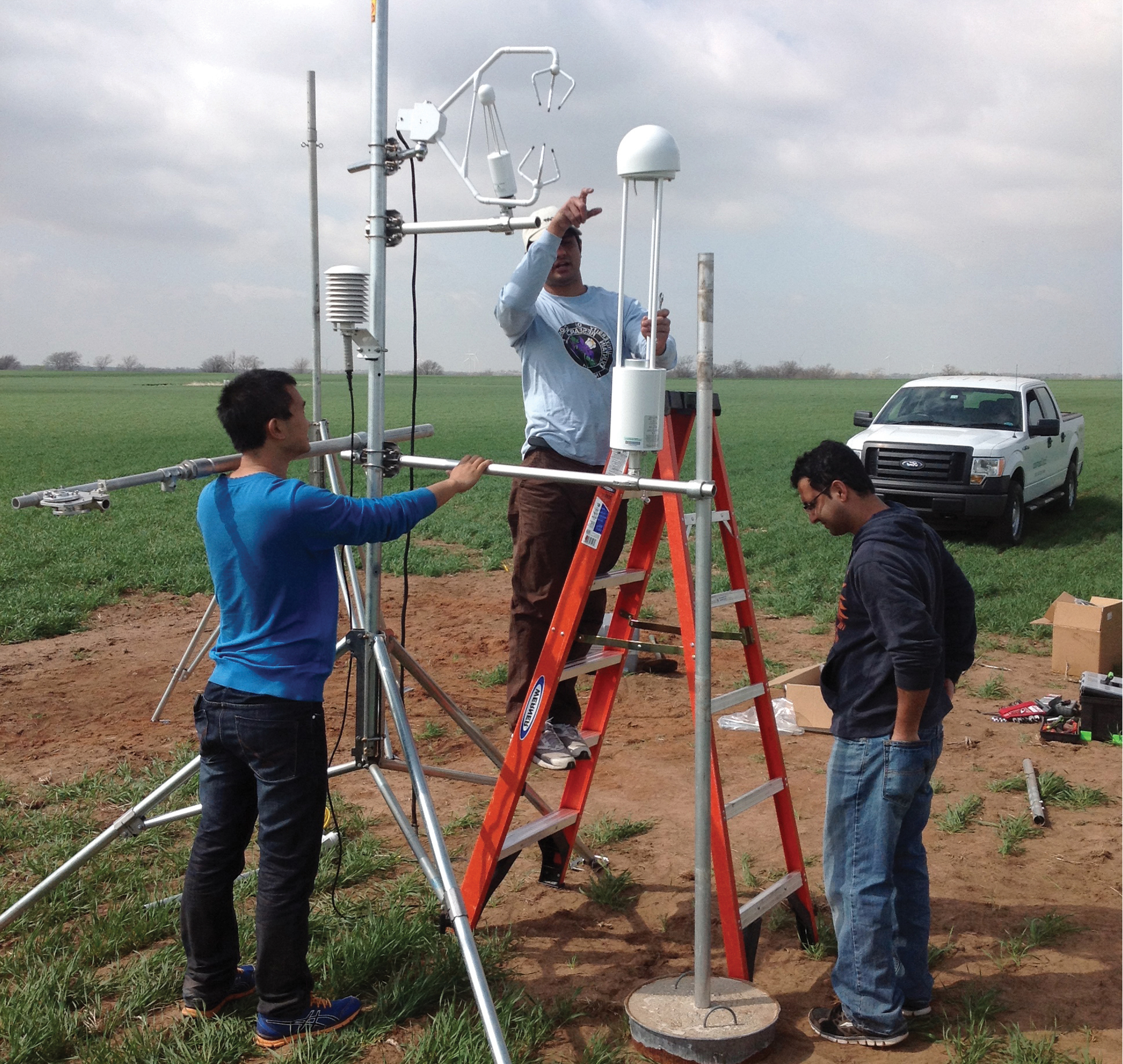 Automated sensors at the sites capture air and soil temperature, atmospheric and soil moisture, wind speed and direction, carbon dioxide and methane concentrations, and other important factors. Measurements are taken using airborne- and space-borne sensors that measure optical and thermal properties of vegetation and soil.
These new observation sites provide scientists with a comprehensive, advanced ability to study the interactions between the atmosphere, vegetation, and soil across a variety of climate conditions, including drought. The measurements are important for use in computer models that project how vegetation will react to changing weather. More accurate projections will provide direct benefits for land managers and agriculture producers.
The field measurement sites are also used for educating students and other researchers about ecology, climate, agriculture, and geospatial technologies. The lessons learned will benefit the next generation of scientists, farmers, ranchers, land and water managers, and other decision-makers.
Because the observations obtained from the sites are so extensive, other researchers from across the U.S. and internationally are partnering with the Oklahoma scientists to use the data, as well. Observations from the EPSCoR project have served as "ground truth" data for the development of the NASA Soil Moisture Active Passive satellite mission, which aims to produce maps of soil moisture at local to global scales.
Pictured (above/right): EPSCoR researcher Pradeep Wagle, with assistance from OU graduate students Yuting Zhou and Rajen Bajgain, deploys a surface flux tower to measure water and carbon exchanges between the atmosphere and land surface.
Thanks to Xiangming Xiao, OU, for his assistance with this story.
Latest News
Thursday, January 13, 2022
Friday, December 17, 2021
Upcoming Events
Tuesday, February 22, 2022 - 9:00am
Friday, March 4, 2022 - 9:00am
Tuesday, March 29, 2022 -

8:00am

-

12:00pm