State's Top Undergraduate Researchers Earn Awards at Capitol Event
Last fall Dr. Glen D. Johnson, chancellor of the Oklahoma State System of Higher Education, invited the state's university presidents to nominate their institutions' top undergraduate student researchers to participate in the twenty-first annual Research Day at the Capitol. This week, those 24 students, representing 18 colleges and universities, gathered on the State Capitol's fourth floor rotunda to showcase the outstanding research being conducted on Oklahoma's campuses.
Members of the State Legislature and Capitol guests visited students' poster displays to learn more about the research projects, which covered important topics including the mitigation of seismic hazards, water quality, and cancer research.
Research posters and oral presentations were competitively judged by an independent panel in the morning. The panel selected the top seven researchers in three categories—one overall winner, three regional university winners and three research-intensive institution winners. The students below received awards during a ceremony held at the conclusion of the day.
For more information on this or other EPSCoR-sponsored programs, visit www.okepscor.org or email Gina Miller, outreach coordinator, at gmiller@okepscor.org. Access a photo album of the event via our Flickr account.
Award Winners:
Grand Prize Winner: Christian Ley
Institution: Oklahoma State University
Research Topic: Water Quality and Renewable Energy
Hometown: Broken Arrow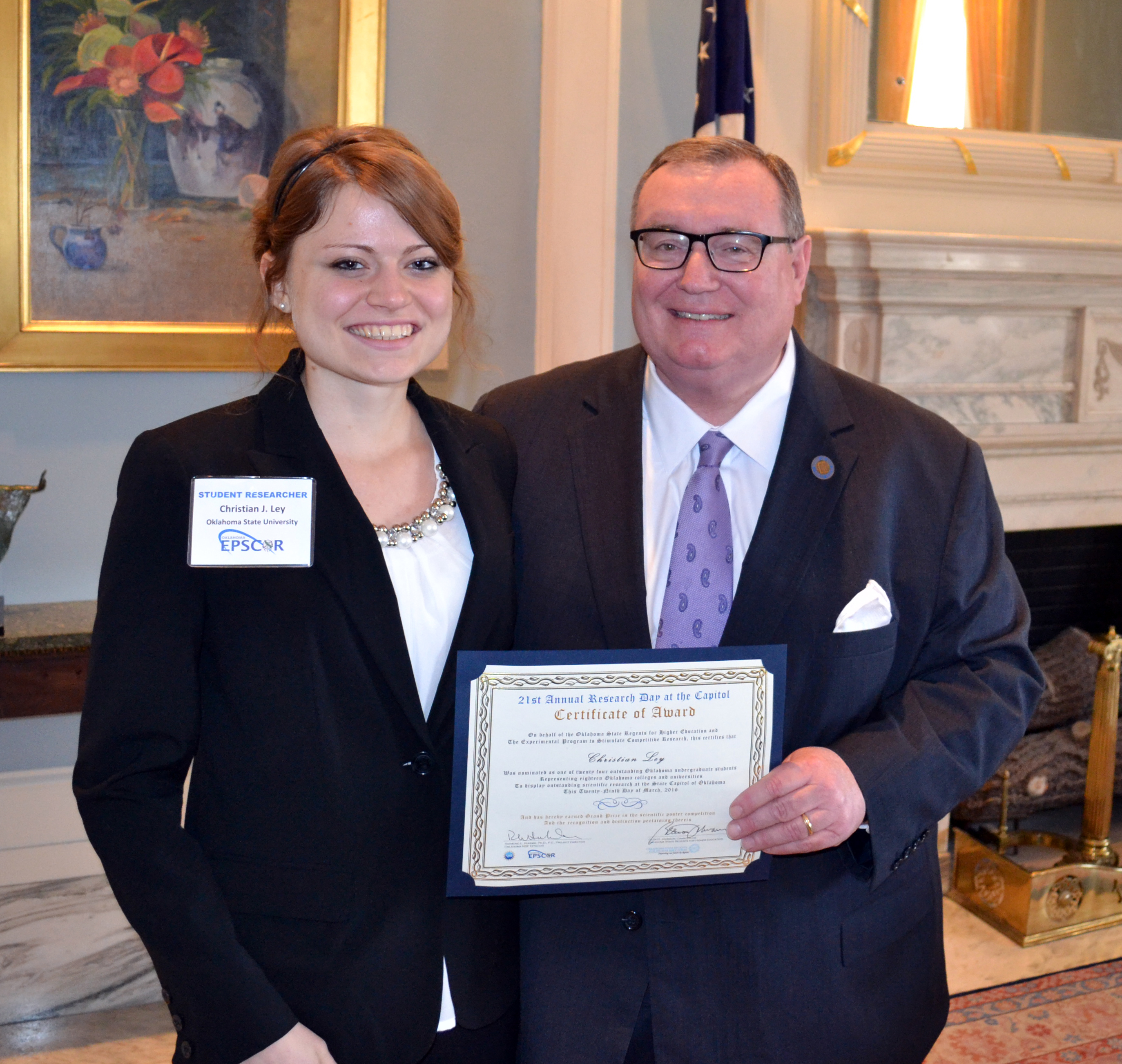 Pictured (L-R) Christian Ley, Chancellor Glen D. Johnson
_____________________
First Place, Regional University & Community College Category – Mary Katherine Maraschick Randolph
Institution: Oklahoma City Community College
Research Topic: Cancer Research
Hometown: Oklahoma City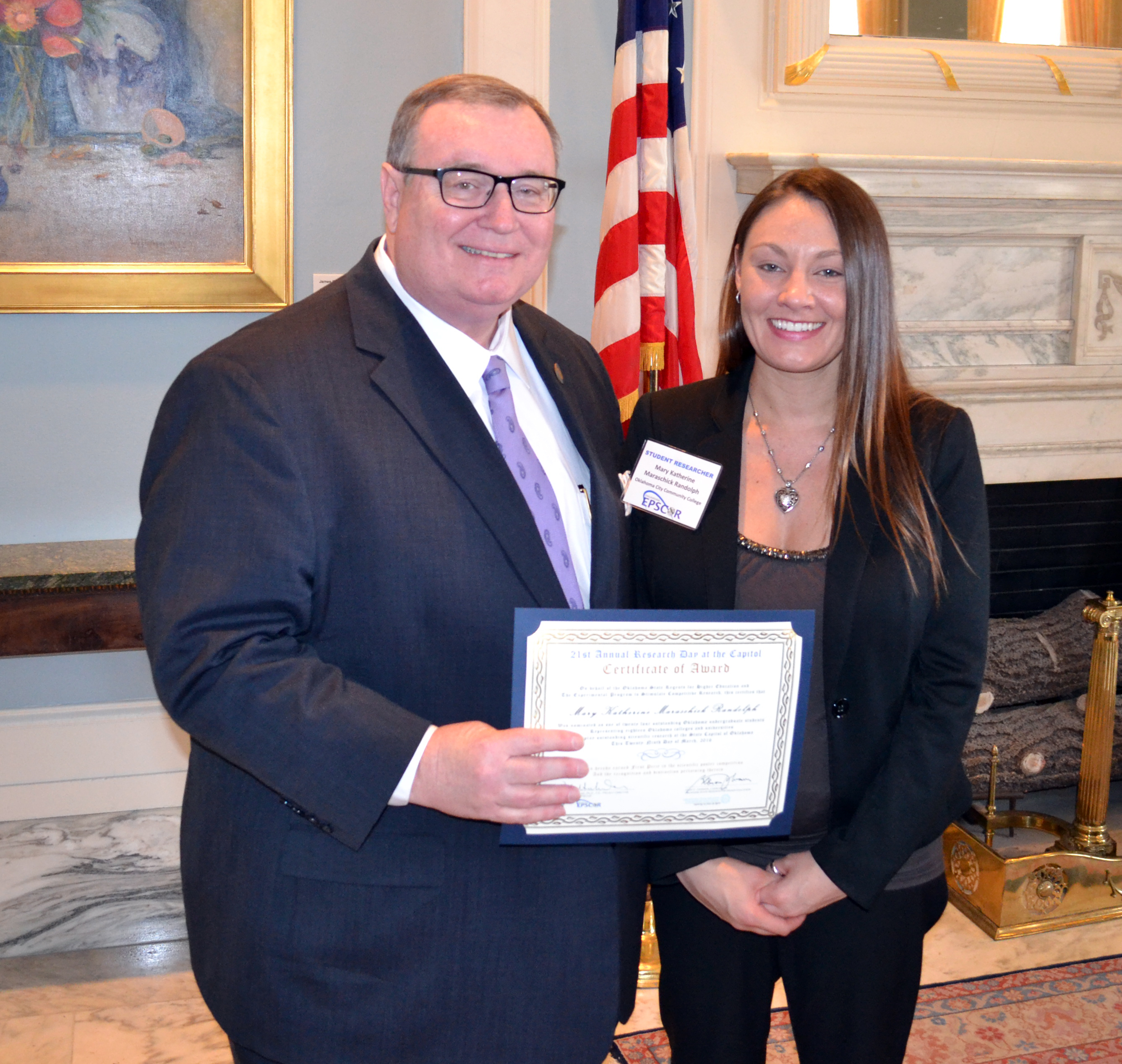 Pictured (L-R) Chancellor Glen D. Johnson, Mary Katherine Maraschick Randolph
_____________________
First Place, Research-Intensive Institution Category – Rosemary Pope
Institution: University of Oklahoma Health Sciences Center
Research Topic: Malaria
Hometown: Tulsa
Pictured (L-R) Rosemary Pope, Chancellor Glen D. Johnson
_____________________
Second Place, Regional University & Community College Category – Jared Stokes
Institution: Cameron University
Research Topic: Vertebrate Ecology
Hometown: Lawton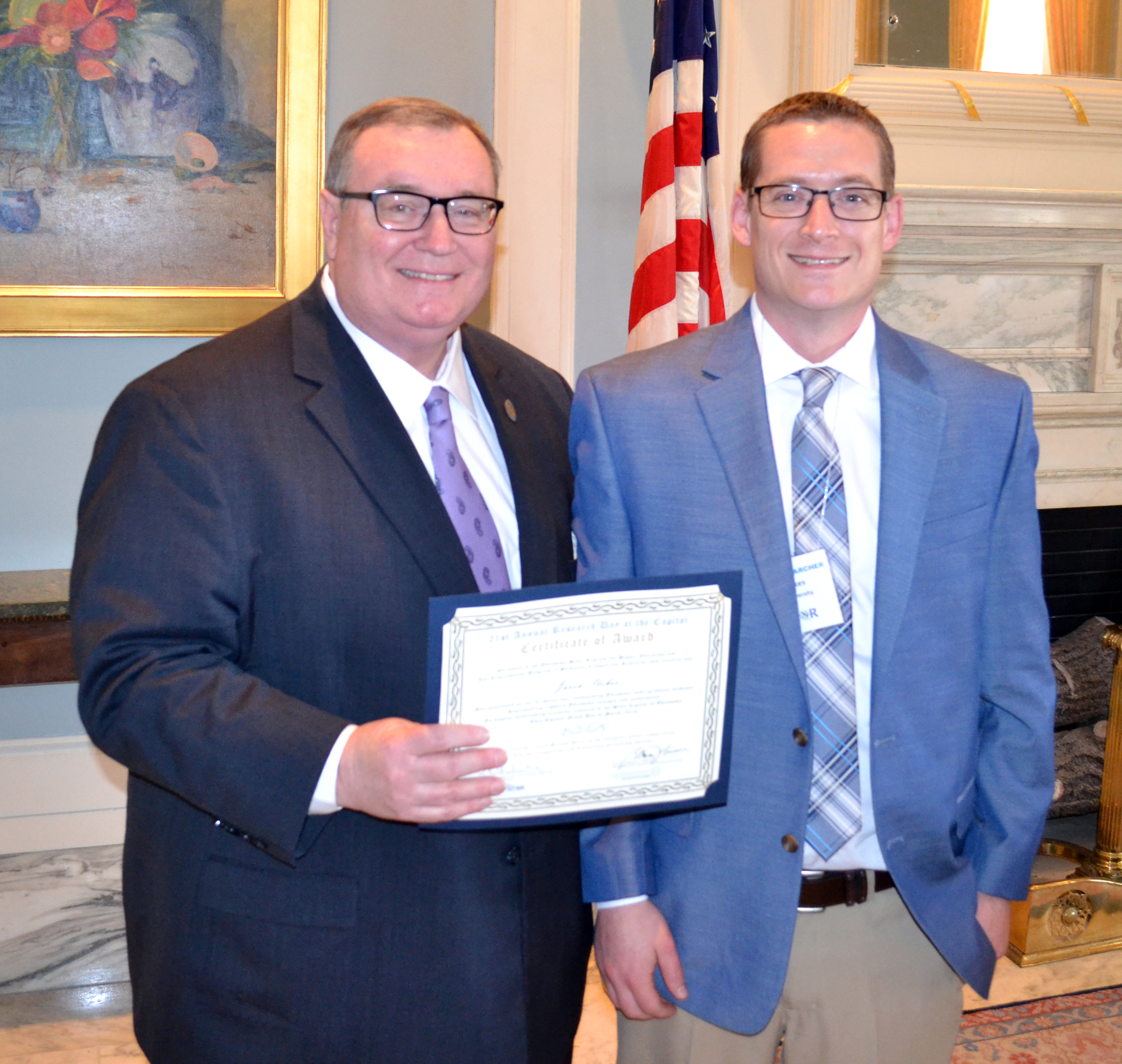 Pictured (L-R) Chancellor Glen D. Johnson, Jared Stokes
_____________________
Second Place, Research-Intensive Institution Category – Carol Abraham
Institution: Oklahoma State University
Research Topic: Cardiac Regeneration Therapy
Hometown: Stillwater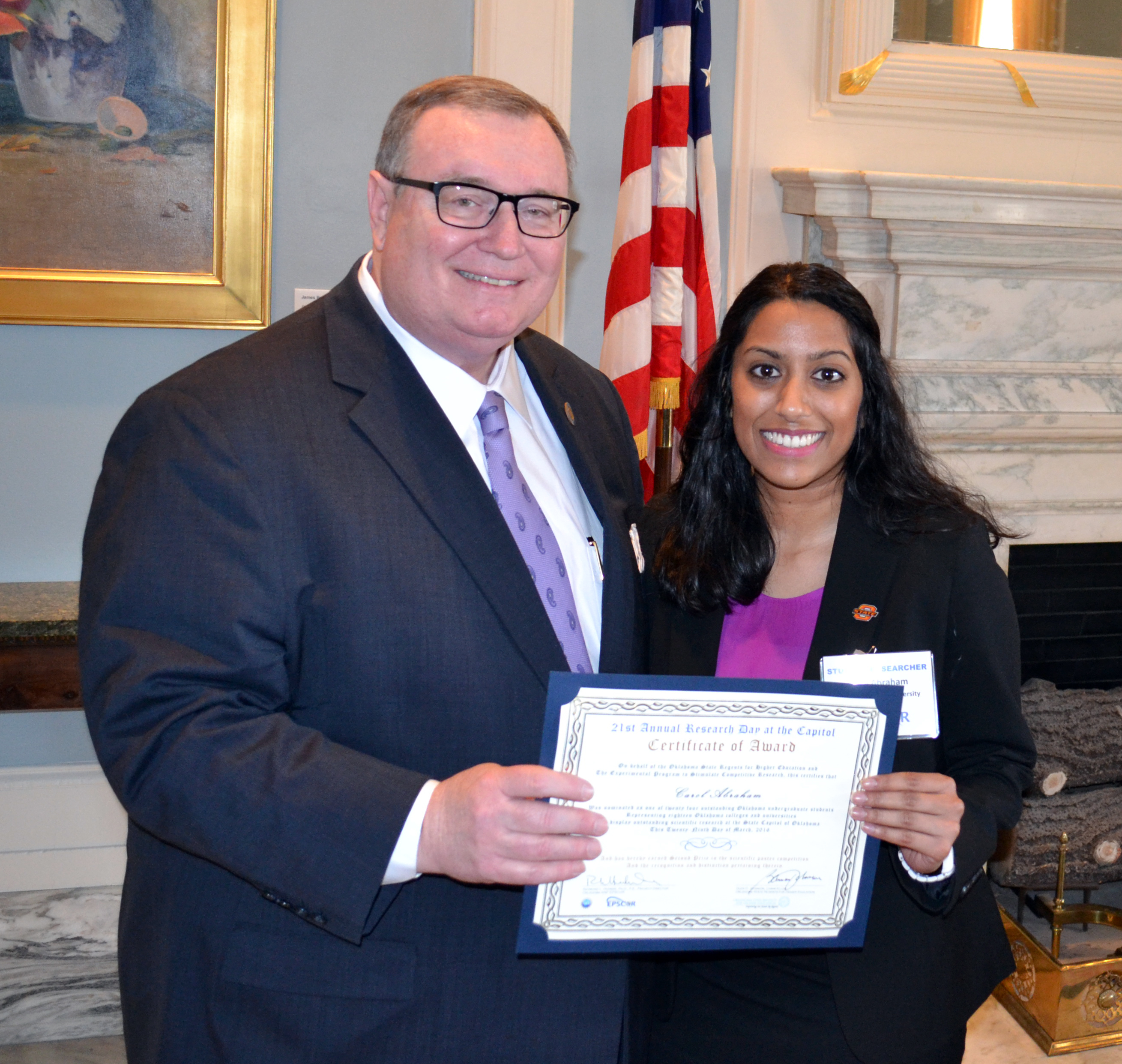 Pictured (L-R) Chancellor Glen D. Johnson, Carol Abraham
_____________________
Third Place, Regional University & Community College Category – Megan Knight
Institution: Southeastern Oklahoma State University
Research Topic: Ecological Health of Streams
Hometown: Caddo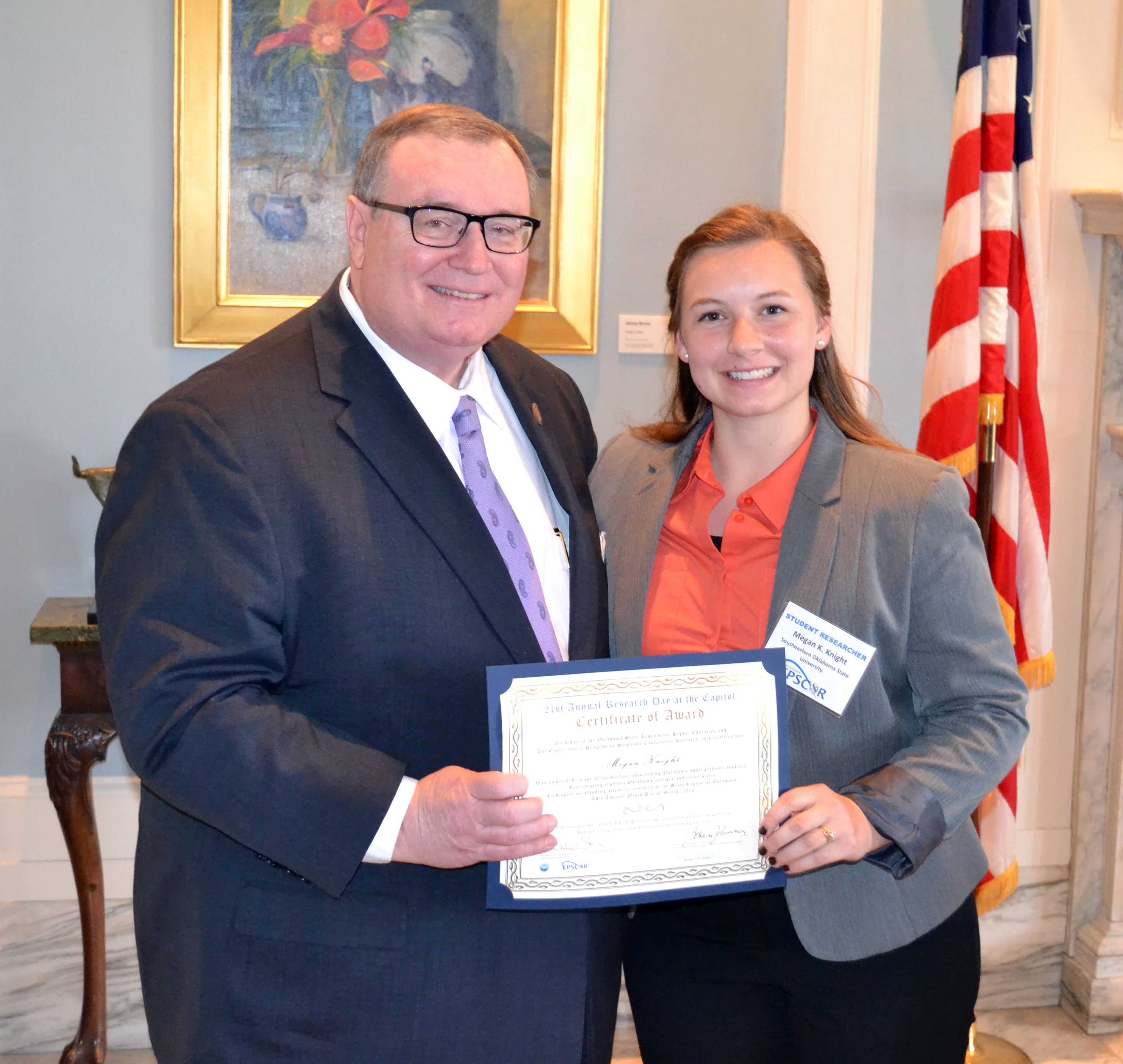 Pictured (L-R) Chancellor Glen D. Johnson, Megan Knight
_____________________
Third Place, Research-Intensive Institution Category – Angela Gibbons
Institution: University of Oklahoma Health Sciences Center
Research Topic: Breast Cancer
Hometown: Duncan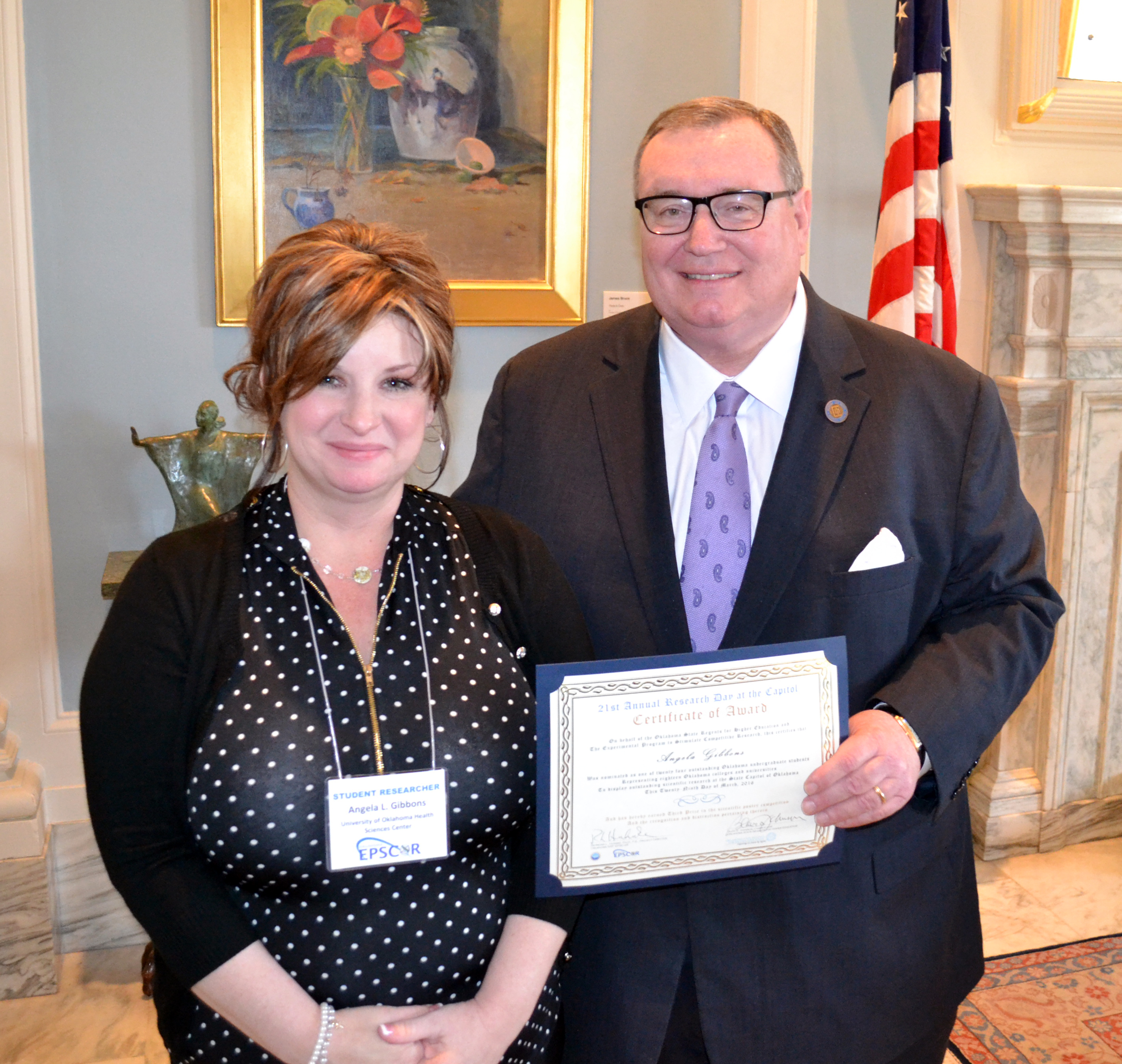 Pictured (L-R) Chancellor Glen D. Johnson, Angela Gibbons
Upcoming Events
Tuesday, October 27, 2020 -

9:00am

-

2:00pm