OU and OSU Students Win Cellulosic Biofuels Research Competition
Students from the University of Oklahoma and Oklahoma State University took the top prizes in a hybrid poster competition held recently during the Oklahoma EPSCoR Annual State Conference in Stillwater. Students who had performed research under the current OK EPSCoR Cellulosic Bioenergy RII Award were qualified to participate in the contest, which consisted of three-minute oral presentations and a formal scientific poster session. Each portion of the hybrid competition was competitively judged by an independent panel of judges. Oklahoma EPSCoR is funded by the National Science Foundation and Oklahoma State Regents for Higher Education.
Winners are pictured below receiving their awards from Dr. Jim Wicksted, OK EPSCoR associate director.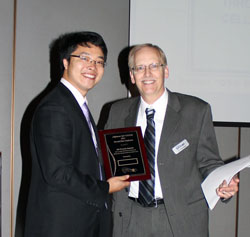 FIRST PLACE WINNER: TAO XU, UNIVERSITY OF OKLAHOMA

Abstract Title:
"Dockerin-Containing Protease Inhibitor Protects Key Cellulosomal Components from Proteolysis in Clostridium Cellulolyticum"
Faculty Mentor:
Dr. Jizhong (Joe) Zhou, Presidential Professor
Institute for Environmental Genomics, University of Oklahoma
______________________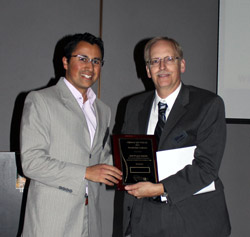 SECOND PLACE WINNER: MIGUEL A. GONZALEZ B., UNIVERSITY OF OKLAHOMA
Abstract Title:
"Alkylation Reactions for the Upgrading of Bio-Oil in the Presence of Liquid Water Using Hydrophobic Zeolites"
Faculty Mentor:
Dr. Daniel Resasco, Professor
School of Chemical, Biological and Materials Engineering, University of Oklahoma
______________________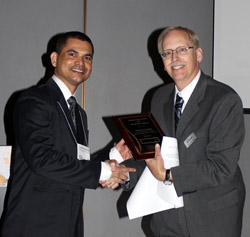 THIRD PLACE WINNER: ASHOKKUMAR M. SHARMA, OKLAHOMA STATE UNIVERSITY

Abstract Title:
"Reaction Kinetics-Based Biomass Gasification Model to Predict Syngas Quality Suitable for Biofuel Production"
Faculty Mentor:
Dr. Ajay Kumar, Assistant Professor
Department of Biosystems and Agricultural Engineering, Oklahoma State University
Latest News
Wednesday, October 07, 2020
Thursday, October 01, 2020
Upcoming Events
Friday, March 5, 2021 -

9:00am

-

2:30pm
Saturday, March 27, 2021 -

9:00am

-

4:00pm
Tuesday, March 30, 2021 -

8:00am

-

7:30pm