OU and OSU Students Take Top Prizes in Cellulosic Biofuels Research Competition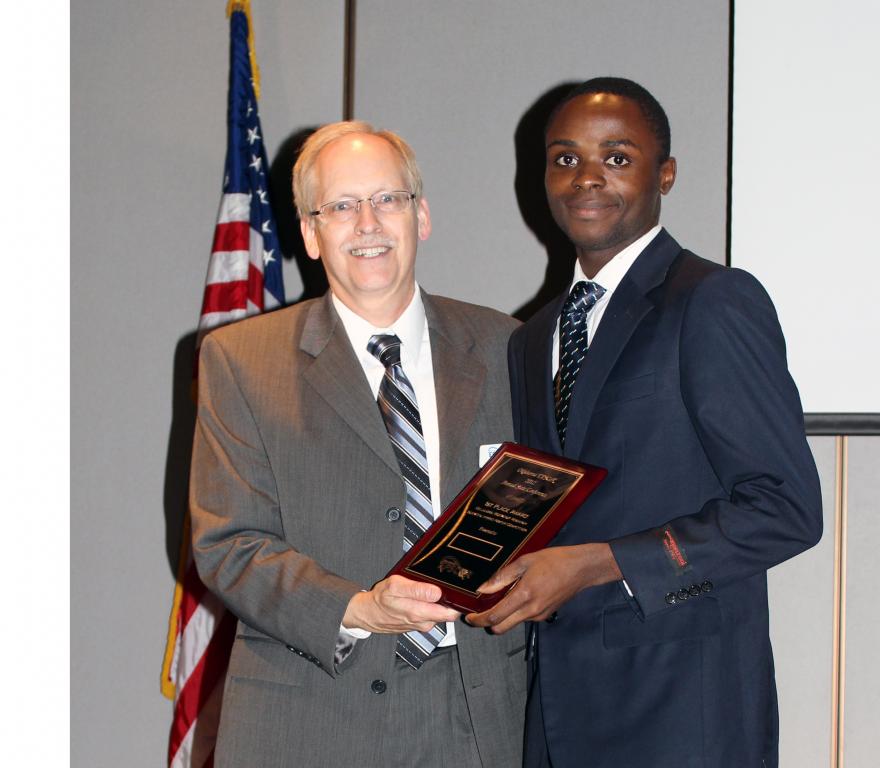 Students from the University of Oklahoma and Oklahoma State University took the top prizes in a hybrid poster competition held recently during the Oklahoma EPSCoR Annual State Conference in Stillwater. Students who had performed research under the current OK EPSCoR Cellulosic Bioenergy RII Award were qualified to participate in the contest, which consisted of three-minute oral presentations and a formal scientific poster session. Each portion of the hybrid competition was competitively judged by an independent panel of judges made up of EPSCoR External Advisory Board members.
Taiwo Omotoso, a student representing the University of Oklahoma's School of Chemical, Biological and Materials Engineering, received first place in the competition. OK EPSCoR researcher Steven Crossley served as Omotoso's mentor on the bioenergy project, which was titled "Influence of Ruthenium Titania Catalyst Pretreatment Conditions on the Upgrading of Biomass Fast-Pyrolysis Oil Vapors."
Second place in the competition was awarded to Xin Zeng, representing Oklahoma State University's Department of Biochemistry and Molecular Biology. Zeng's faculty mentor on the project, which explored gene networks associated with tillering traits in switchgrass, was OK EPSCoR researcher Ramamurthy Mahalingam.
Runners-up in the competition were:
University of Oklahoma Botany and Microbiology student David Ponder presented research that investigated cell wall changes during grass lateral root emergence. Ponder's research was performed in collaboration with his EPSCoR faculty mentor Laura Bartley.
Prakash Bhoi, research engineer in the Oklahoma State University Department of Biosystems and Agricultural Engineering, presented research exploring the solubility of major producer gas tar compounds in water. The research was performed with EPSCoR scientists Krushna Patil and Raymond Huhnke.
University of Oklahoma student Paula Zapata represented the OU School of Chemical, Biological and Material Engineering and the Center for Interfacial Reaction Engineering in the competition. Zapata's research was titled "Hydrophobic Zeolites for Biofuel Updgrading Reactions at the Liquid-Liquid Interface in Water/Oil Emulsions." Her faculty mentor was EPSCoR researcher Daniel Resasco.
First and second place winners will each receive funding to attend a bioenergy conference in the contiguous United States, so they may further their knowledge in the field. All winners were awarded commemorative plaques.
The competition was sponsored by Oklahoma EPSCoR, the National Science Foundation and Oklahoma State Regents for Higher Education.
View all conference photos on our Flickr account
View students' 3-minute oral presentation slides
View videos from the conference
Pictured (above): Jim Wicksted, OK EPSCoR associate director, presents Taiwo Omotoso of OU with the first-place plaque that he earned in the cellulosic biofuels research competition.
Upcoming Events
Sunday, June 10, 2018 - 8:00am
-
Friday, June 15, 2018 - 8:00am
Thursday, June 14, 2018 -

12:00pm

-

2:30pm
Tuesday, September 25, 2018 - 5:30pm
-
Wednesday, September 26, 2018 - 5:00pm