Oklahoma EPSCoR Reps Meet with Federal Congressional Delegation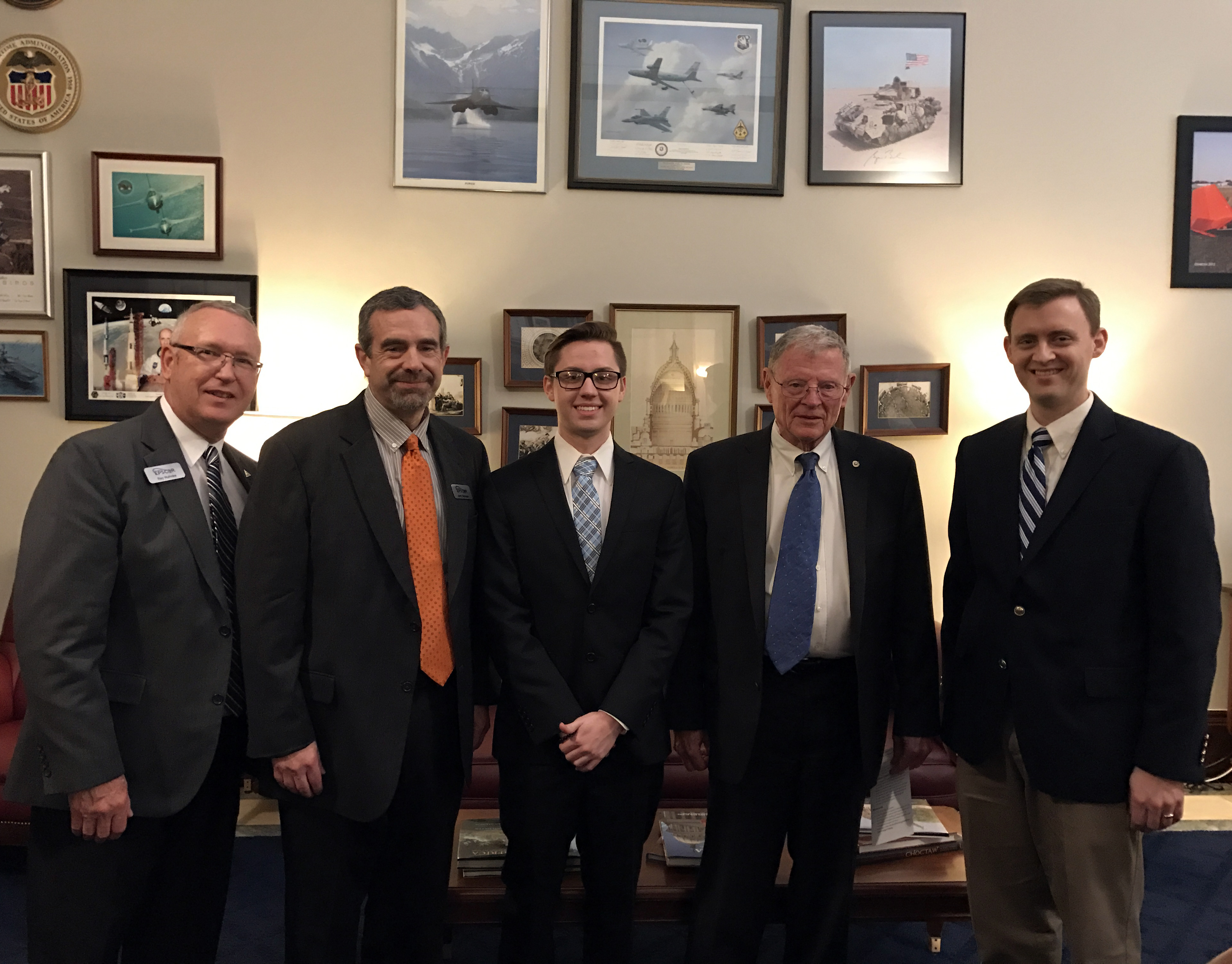 Representatives of the Oklahoma EPSCoR program recently met with members of Oklahoma's federal congressional delegation at the U.S. Capitol in Washington D.C. as part of the coalition to support continued funding of the Experimental Program to Stimulate Competitive Research (EPSCoR).
In 1979, the National Science Foundation established EPSCoR in response to congressional concerns about the uneven national distribution of federal research and development grants; a few states were receiving a disproportionate amount of the R&D dollars.
Today 27 U.S. states and territories, including Oklahoma, receive EPSCoR grants that are building a high-tech workforce and supporting research infrastructure improvements. Unfortunately, funding disparity still exists. Currently, five states receive 40 percent of the federal NSF research funding, while the 27 EPSCoR jurisdictions receive only 10 percent.
The Oklahoma coalition, including Oklahoma EPSCoR State Director Jerry Malayer, Oklahoma NSF EPSCoR Project Director and Principal Investigator Ray Huhnke and EPSCoR researcher Phil Alderman, shared the importance of EPSCoR funding with the Oklahoma congressional delegation, including Senator Jim Inhofe.
Dr. Alderman, a member of the EPSCoR research team and an assistant professor in the Oklahoma State University Department of Plant and Soil Sciences, shared information about the project's innovative climate variability work.
The coalition also presented, as in-person evidence, Jacob Beckham, an exceptional Oklahoma undergraduate student researcher from Tulsa Community College. Beckham, an EPSCoR Research Day at the Capitol participant, is currently working on a research project that aims to better understand nitrogen-fixing bacteria to increase the productivity and sustainability of alfalfa.
Pictured (left-right): Ray Huhnke, Jerry Malayer, Jacob Beckham, Sen. Jim Inhofe, Phil Alderman
Upcoming Events
Tuesday, October 27, 2020 -

9:00am

-

2:00pm