Oklahoma Educators Evolve Workshops Turn Teachers into Fossil Hunters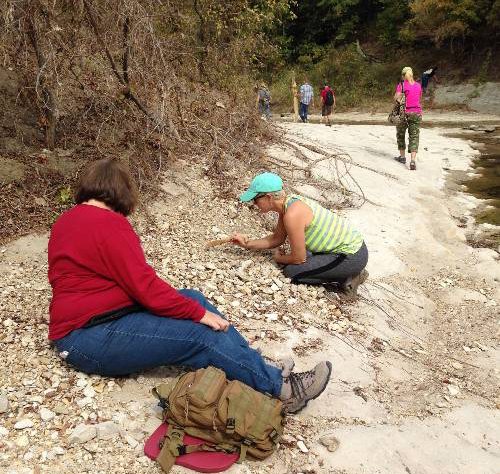 An Oklahoma NSF EPSCoR grant is providing Oklahoma elementary and middle school teachers with the opportunity to become more comfortable with science by becoming fossil hunters! Four different in-the-field, hands-on workshops, and one conference are currently being offered. In addition to becoming more knowledgeable of science concepts, teachers will also learn how to incorporate the fossils they find, as well as other objects, into their lesson plans. There is no cost to participate, but registration is required.
The program is coordinated by Oklahoma Educators Evolve, a collaborative project undertaken by professional informal science educators and enthusiastic volunteers in the state of Oklahoma. They are students, researchers, educators, museum professionals, and scientists at the University of Oklahoma and Oklahoma City Community College. Oklahoma Educators Evolve was developed with the sole mission of supporting teachers who may not be comfortable with or ready for the new Oklahoma Academic Standards.
The project, which is funded through an award from Oklahoma NSF EPSCoR, aims to provide teachers with a deeper understanding of various scientific concepts, as well as many activities that may be used to easily convey complicated science concepts to students in the classroom. The specific goals are:
Engage teachers in the life sciences and earth sciences

Talk with teachers about science experiences

Introduce useful Nature of Science concepts to teachers of all subjects

Work with teachers to create OAS-aligned lesson plans, complete with all materials necessary to take the lessons back to their classrooms

Send teachers back to work feeling confident and excited about doing and teaching science in their classrooms
Workshop Details & Dates
Teacher Conference - January 21, 2017
Join us for a teacher conference at the OU Forum building. Teachers will present ways in which they have taught evolution. Participants will outline which fossil casts would be most useful in their classrooms, and the teacher with the most effective plan to teach evolution will win the desired casts. You do not need to compete to attend, and other workshop sessions will be available throughout the day. A hot breakfast and lunch will be included, free of charge.
Science Murder Mystery, Robbers Cave State Park - February 11, 2017
Bundle up and enjoy a guided winter science hike at Robbers Cave State Park. After our hike, we will all participate in an indoor, science-themed murder mystery dinner workshop at the park lodge.
Fossil Collecting at White Mound, Sulphur, OK - March 5th, 2017
Learn about Oklahoma's geologic past as we collect fossils at White Mound in Sulphur, Oklahoma. Paleontologists will join us in the field to assist with identification. You will keep all of the fossils that you find!
Fossil Collecting at Lake Texoma and Gainsville, OK - March 25, 2017
Our day will begin at OU, where we will meet and caravan to the OU Bio Station and spend the day at a couple of Cretaceous ammonite sites. After fossil hunting, teachers will participate in workshops at the Bio Station.
How much does it cost to participate in Oklahoma Educators Evolve?
Nothing! This workshop is absolutely free! You will keep all of the fossils you collect, as well as all of the materials and supplies we provide for you! Lunch is provided.
Who may attend Oklahoma Educators Evolve?
This workshop is free to educators in Oklahoma. Contact Kristi Carlucci at kristi.l.carlucci@occc.edu if you teach out of state, but would like to attend.
How do I sign up for Oklahoma Educators Evolve?
Click here to register. We will email you some additional information fossil collecting, along with more workshop details.
I've never been fossil collecting and it sounds complicated…can a newbie like me be successful in the field?
Absolutely! We are taking you to a site with plentiful fossils and easy collecting conditions.
Will I earn professional development hours for attending these workshops?
Yes! At the completion of the workshop, we will provide you with a certificate showing how many hours of professional development you have earned.
What if I have more questions?
You can email Kristi Carlucci at Kristi.l.carlucci@occc.edu, or call her at 405-682-1611 x 7205. You may also email Janessa Doucette at janessa@ou.edu
CLICK HERE TO REGISTER FOR ONE OR MORE OF THESE SESSIONS TODAY!


------------------
Pictured above: Oklahoma Teachers Evolve Workshop participants search for fossils.
Upcoming Events
Tuesday, October 27, 2020 -

9:00am

-

2:00pm