OK NSF EPSCoR Summer 2022 REU Award Recipients Announced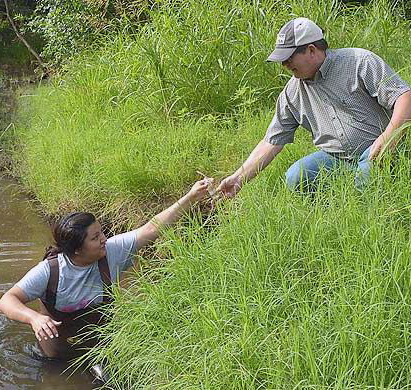 Five Oklahoma undergraduate students have been selected to participate in the Oklahoma NSF EPSCoR Summer 2022 Research Experiences for Undergraduates (REU) program. Award recipients will work on research projects under the guidance of faculty mentors Drs. Morshed Khandaker, University of Central Oklahoma; Dr. Eric LoPresti and Dr. Khaled Sallam of Oklahoma State University, and Dr. Joshua Schultz of The University of Tulsa. The research will primarily be in the OK NSF EPSCoR RII-theme areas of weather, water, carbon, infrastructure, and energy.
The Oklahoma NSF EPSCoR REU program strengthens and encourages undergraduate students' early participation in the university and scientific communities by providing one-on-one mentorship and unparalleled research opportunities at the state's research-intensive campuses.
Summer 2022 REU Recipients:
Student Researchers
Hussein Alizereej and Mark Jones, University of Central Oklahoma
Research Project Title
Anti-Corrosion Behavior of Mg and Zn Nanoparticle Incorporated Nanofiber Membrane
Faculty Mentor & Lab Site
Dr. Morshed Khandaker, University of Central Oklahoma
Award Amount: $5,000
Student Researcher
Alejandra Escobar, Oral Roberts University
Research Project Title
Development of New Sensing Approaches for a Fabric-reinforced Soft Robot
Faculty Mentor & Lab Site
Dr. Joshua Schultz, The University of Tulsa
Award Amount: $5,000
Student Researcher
Jonathan Merheb, Oral Roberts University
Research Project Title
Solar-Driven Membrane Distillation
Faculty Mentor(s) & Lab Site(s)
Dr. Khaled Sallam, Oklahoma State University
Award Amount: $5,000
Student Researcher
Austyn Rice, Northeastern State University
Research Project Title
Pollination Ecology of an Important Dune Perennial in the Southern Great Plains
Faculty Mentor & Lab Site
Dr. Eric LoPresti, Oklahoma State University
Award Amount: $5,000
Latest News
Friday, September 29, 2023
Friday, September 29, 2023
Friday, September 29, 2023
Upcoming Events
Saturday, September 30, 2023 -

9:00am

-

4:00pm
Wednesday, October 18, 2023 -

12:00pm

-

1:00pm
Tuesday, October 24, 2023 -

9:00am

-

5:00pm