OK NSF EPSCoR Summer 2017 REU Award Recipients Announced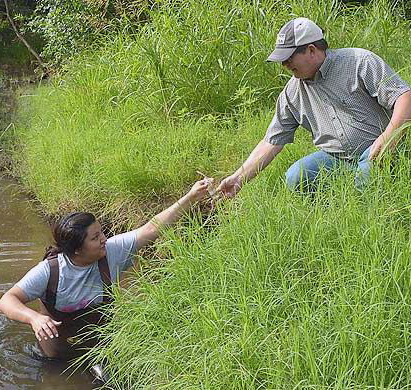 Four Oklahoma undergraduate students have been selected to participate in the Oklahoma NSF EPSCoR Summer 2017 Research Experiences for Undergraduates (REU) program. Award recipients, under the guidance of faculty mentors, will perform climate variability research at the University of Oklahoma in Norman and Oklahoma State University in Stillwater.
The Oklahoma NSF EPSCoR REU program strengthens and encourages undergraduate students' early participation in the university and scientific communities by providing one-on-one mentorship and unparalleled research opportunities at the state's research-intensive campuses.
Summer 2017 REU Recipients:
Student Researcher
Kevin S. Murray Jr., University of Oklahoma
Research Project Title
Summer Research Experience: Programming UAS for Improved Weather Forecasts
Faculty Mentor & Lab Site
Dr. Andrea L'Afflitto, University of Oklahoma
Student Researcher
Jennifer Brooks, University of Oklahoma
Research Project Title
Use of Space Technology to Phenotype Crop Root and Canopy Response to Climate Change and Environmental Stresses
Faculty Mentor & Lab Site
Dr. Marc Libault, University of Oklahoma
Student Researcher
Brittney Williams, University of Oklahoma
Research Project Title
Physiological Responses to Repeated Low-Temperature Stress in Hyphantria Cunea
Faculty Mentor & Lab Site
Dr. Katie Marshall, University of Oklahoma
Student Researcher
Luke Wilson, Oklahoma State University
Research Project Title
Remember the Dry Times: The Effect of Variable Drought Stress on Tree Recovery and Survival
Faculty Mentor & Lab Site
Dr. Henry Adams, Oklahoma State University
Latest News
Friday, September 29, 2023
Friday, September 29, 2023
Friday, September 29, 2023
Upcoming Events
Saturday, September 30, 2023 -

9:00am

-

4:00pm
Wednesday, October 18, 2023 -

12:00pm

-

1:00pm
Tuesday, October 24, 2023 -

9:00am

-

5:00pm