Five Regional University Faculty Members Receive Research Opportunity Awards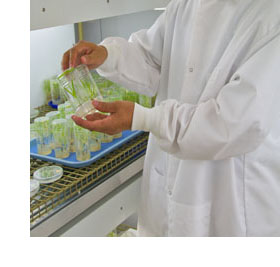 Five faculty members from Northeastern State University, Southern Nazarene University, East Central University and Langston University have been awarded OK EPSCoR Research Opportunity Awards (ROA) to perform bioenergy research in laboraties at University of Oklahoma, Oklahoma State University University of Tulsa and Samuel Roberts Noble Foundation this summer.
The EPSCoR ROA program offers faculty members from primarily undergraduate institutions the opportunity to perform summer research in laboratories at comprehensive research campuses in Oklahoma. ROAs enhance regional faculty members' personal research experiences, while also supporting the development of ongoing collaborations with faculty at the comprehensive research campuses. These collaborations expand and enhance Oklahoma's bioenergy research efforts across the state.
Photo Credit: Samuel Roberts Noble Foundation
Summer 2013 ROA Recipients:
Research Title
Identification and Manipulation of Lignin Degrading Genes in Switchgrass
Regional Faculty Member
Lila Peal, Langston University
Lab Sponsor
Ramamurthy Mahalingam, Oklahoma State University
Award Amount:
$10,000
Research Title
Genone-Scale Reconstruction of Metabolic Network for a Halophilic Extremophile, Halohadospira halophila SL1
Regional Faculty Member
Ratnakar Deole, Northeastern State University
Lab Sponsor
Mohamed Fakhr, University of Tulsa
Award Amount:
$9,206
Research Title
Design and Implementation of a CPU-GPU Cluster
Regional Faculty Member
John Diamantopoulos, Northeastern State University
Lab Sponsor
Alberto Striolo, University of Oklahoma
Award Amount:
$10,000
Research Title
Energy-Enriched Biofuel
Regional Faculty Member
Lisa Crow, Southern Nazarene University
Lab Sponsor
Jimmie Weaver, Oklahoma State University
Award Amount:
$8,861
Research Title
Identification of Secondary Metabolites Secreted by a Dinflagellate
Regional Faculty Member
Stephen Fields, East Central University
Lab Sponsor
Loyd Sumner, Samuel Roberts Noble Foundation
Award Amount:
$10,000
For more information about the program, contact Gina Miller, outreach coordinator, at gmiller@okepscor.org.
Upcoming Events
Monday, May 23, 2022 - 5:30pm
-
Tuesday, May 24, 2022 - 2:00pm
Friday, June 3, 2022 - 6:00pm
-
Saturday, June 4, 2022 - 2:00pm
Sunday, June 12, 2022 - 8:00am
-
Saturday, June 18, 2022 - 8:00am