EPSCoR Student Researcher Wins National Science Poster Competition
Ashokkumar Sharma, a doctoral student in the Department of Biosystems and Agricultural Engineering at Oklahoma State University, earned top honors in a national science poster competition held earlier this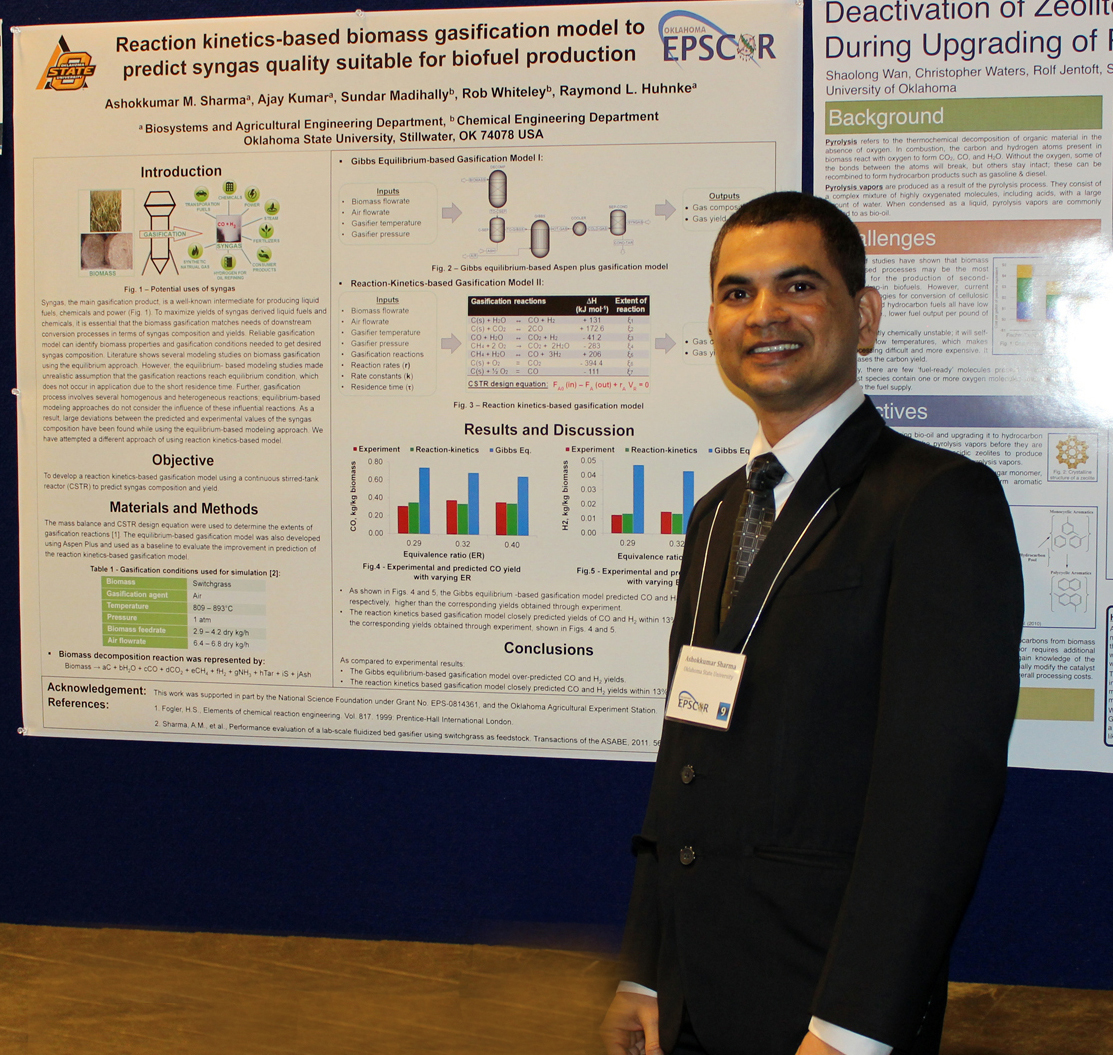 month in Nashville.
Sharma's research poster, outlining a procedure for predicting the quality of syngas generated from various plant materials for biofuel production, received first prize in the energy category at the 23rd National Science Foundation Experimental Program to Stimulate Competitive Research (EPSCoR) Conference held Nov. 3-7. He was awarded an iPad Mini for his work on the poster titled "Prediction of biomass-generated syngas using extents of major reactions in a continuous stirred-tank reactor."
Sharma and about 60 other graduate students qualified for the national showcase by winning competitions in their state EPSCoR jurisdictions. The competitions showcase the students' research contributions while highlighting opportunities the research provides for becoming a vehicle for job creation, entrepreneurship, external engagement and innovation. Sharma's research was funded by the Oklahoma NSF EPSCoR program and the Oklahoma Agricultural Experiment Station. His advisor is Ajay Kumar, assistant professor in the Department of Biosystems and Agricultural Engineering at OSU.
For more information about the Oklahoma NSF EPSCoR bioenergy research project, visit www.okepscor.org.
Upcoming Events
Monday, May 23, 2022 - 5:30pm
-
Tuesday, May 24, 2022 - 2:00pm
Friday, June 3, 2022 - 6:00pm
-
Saturday, June 4, 2022 - 2:00pm
Sunday, June 12, 2022 - 8:00am
-
Saturday, June 18, 2022 - 8:00am