EPSCoR-Funded PTC Biotech STEM Academy is Producing Research All-Stars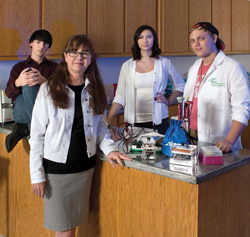 Students in the Pontotoc Technology Center's (PTC) Biotechnology STEM Academy are winning competitions across the state and nation. The academy, which was launched in 2014 through an award from Oklahoma NSF EPSCoR, is producing research all-stars who are making a name for themselves and the PTC Biotech STEM Academy.
A team of four Biotech students—Justin Harris, Savanna WeaselBear, Corey Ardrey, and Seth Bittle—recently competed in the NASA Genes in Space Competition. The team's research project was named one of the top five in the nation from nearly 400 entries. The students were flown to the International Space Station Research and Development Conference, where they competed against four other teams for an opportunity to send their experiment, which explores how microgravity affects living organisms, to the International Space Station. Each finalist's school received a miniPCR DNA Discovery System, which includes the same DNA technology that is currently on the International Space Station.
Another winning PTC research project was recognized by the 2017 Oklahoma State Science and Engineering Fair. First-year Academy student Rayna Ellison placed third in division one of the Environmental and Earth Sciences category of the statewide competition. Ellison will represent PTC and Oklahoma at the International Science and Engineering Fair in May.
The next generation of Academy students is also being groomed for success. PTC instructor Susie Edens has been mentoring three Native American students after school and on weekends. Lauren John, Ashton Traylor, and Kelley Cooke recently competed in the National American Indian Virtual Science and Engineering Fair, where they placed third in the Life Science category. Two of the students are ninth graders; the other student, Kelley Cooke, is a sophomore and pre-enrolled in the Biotech Program for fall 2017.
To learn more about the program visit the PTC website at https://pontotoctech.edu/courses/biotechnology/.
Pictured: Academy students (left-right) Justin Harris, Savanah WeaselBear, and Corey Ardrey with instructor Kay Gamble (front); photo credit Oklahoma Today Magazine
-----------
View videos about the PTC Biotech STEM Academy:
Upcoming Events
Thursday, September 22, 2022 - 8:00am
-
Friday, September 23, 2022 - 5:00pm
Tuesday, September 27, 2022 - 5:30pm
-
Wednesday, September 28, 2022 - 5:00pm
Tuesday, October 4, 2022 -

9:00am

-

2:00pm