2011 Women in Science Conference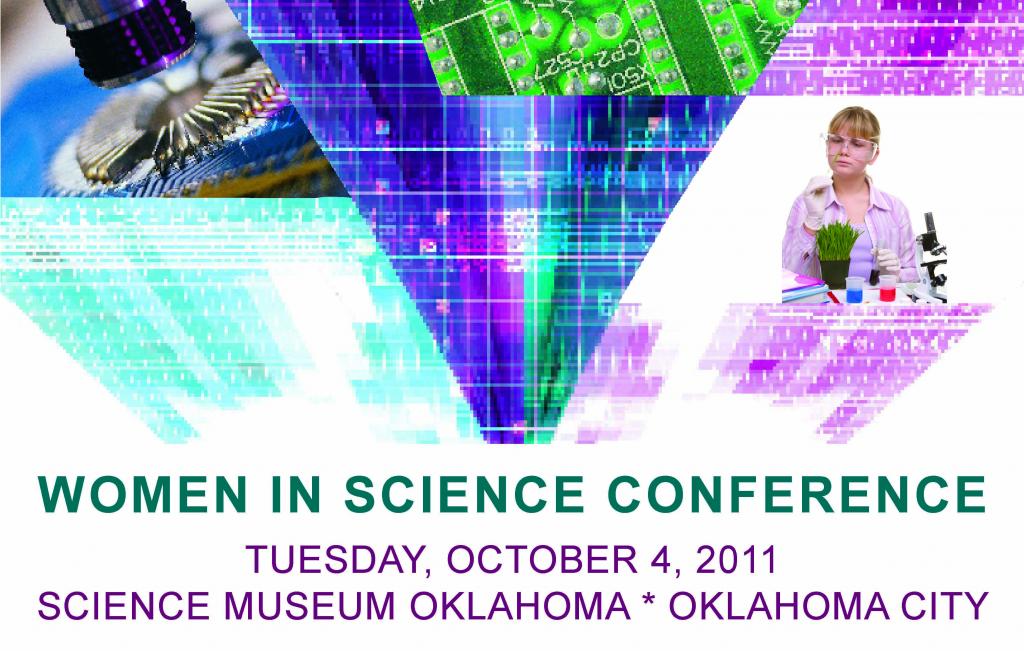 REGISTER TODAY for this exciting conference!
The Women in Science Conference will be held Tuesday, October 4, 2011, at Science Museum Oklahoma in Oklahoma City. This highly regarded conference has historically been held the first Tuesday of February each year. However, after successive years of severe winter weather negatively impacting travel for students and teachers, the conference date has been moved to the fall.
Registration for the conference is now open! The registration deadline is September 15, or when maximum occupancy has been reached. A maximum of two teachers and ten students from each school may register. Registration has been simplified this year, with teachers registering themselves and a specific number of students via online registration. Students' names do not have to be provided at the time of registration--only the specific number of students that teachers will be bringing to the conference must be noted on the form. Teachers will provide the students' names to EPSCoR the morning of the event.
Women in Science encourages young people to pursue careers in science, technology, engineering and mathematics (STEM) fields. The free, one-day conference is designed to allow students in grades six through 12 to engage in hands-on science activities; learn first-hand about science and technology career opportunities from Oklahoma's top female scientists and engineers; and receive college preparation information from Oklahoma college, university and outreach representatives.
The goal of the Women in Science conference is to show students that STEM careers are exciting, attainable and rewarding. The conference provides young people with real-world examples of science and engineering career opportunities and allows them to meet successful women scientists, doctors and engineers from our state.
Past keynote speakers have included NASA astronaut Dr. Shannon W. Lucid; Kylah McNabb, wind maven and Oklahoma Department of Commerce wind energy development specialist; and other professional women at the top of their fields.
Teachers attending the event receive valuable information about summer research opportunities, classroom resource materials and suggestions for supporting and encouraging young women's interest in STEM disciplines.
Women in Science Conferences are sponsored by the Oklahoma Experimental Program to Stimulate Competitive Research (EPSCoR), in collaboration with the Oklahoma State Regents for Higher Education, National Science Foundation, Science Museum Oklahoma and other funding agencies.
For more information, contact Gina Miller, OK EPSCoR outreach coordinator, at 405.744.7645 or email gmiller@okepscor.org.
OUTREACH OPPORTUNTIES FOR ORGANIZATIONS

Representatives of universities, clubs or organizations who wish to host hands-on science booths or recruitment fair booths at the conference should contact Gina Miller at gmiller@okepscor.org for more information.
The Women in Science Conference is sponsored by:
Upcoming Events
Tuesday, October 27, 2020 -

9:00am

-

2:00pm
Friday, March 5, 2021 -

9:00am

-

2:30pm