Oklahoma Museum Network Library Affiliate Program
Through a collaboration with the Oklahoma Museum Network (OMN), Oklahoma NSF EPSCoR's OMN Library Affiliate Program will bring a comprehensive collection of eight turnkey STEM kits to 20 Oklahoma libraries in some of the state's most economically challenged areas. The program is provided at no cost to the libraries or the communities. The program will be initiated in phases from 2020-2025.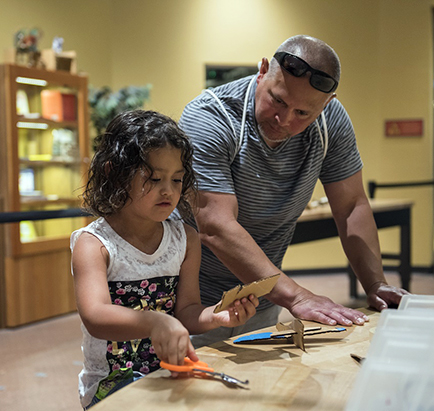 The ready-to-go kits include over 195 unique hands-on activities that address the educational needs of early childhood to adult learners. Book tie-ins are also provided. Topics include soil science, wind power, solar power, renewable energy, backyard science, coding, science and innovation, and engineering design—a family affair.
OMN educators will provide on-site training for library staff, so local libraries will be equipped to deliver ongoing, engaging, and educational hands-on STEM programming to library patrons; 60 new non-traditional educators will be developed through the program. Continuing support for staff will be available online and via phone throughout the year.
The Science Matters Mobile Museum will be provided to participating libraries for five consecutive days as part of the program.
More than 79,000 individuals are expected to be served through this project during the five-year award.
For more information contact Gina Miller, outreach coordinator, at gmiller@okepscor.org.
Latest News
Thursday, November 02, 2023
Thursday, November 02, 2023
Thursday, November 02, 2023
Upcoming Events
Monday, December 4, 2023 -

5:00am

-

5:00pm
Monday, December 4, 2023 - 8:00am
-
Thursday, December 7, 2023 - 5:00pm
Monday, December 4, 2023 -

12:00pm

-

1:00pm