North Canadian River Watershed Study Area
Oklahoma NSF EPSCoR Research Infrastructure Improvement Award No. OIA-1301789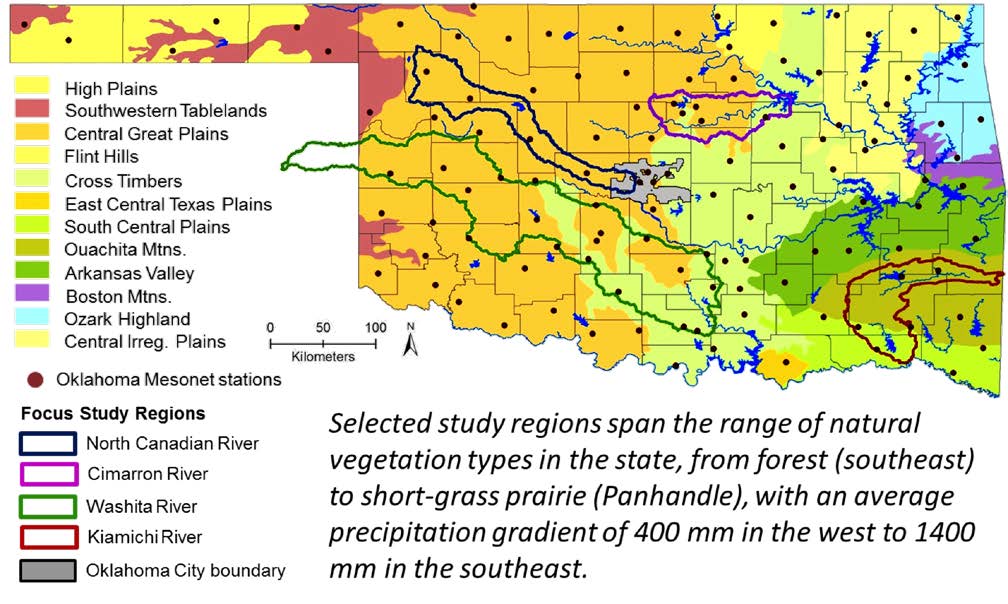 The Oklahoma NSF EPSCoR team's over-arching research goal in the North Canadian River Watershed is to assess the study area's vulnerability and resiliency under the influence of drivers of change (climate, human behavior, public policy, land use and woodland encroachment) using an integrated coupled human-natural systems approach.
ABOUT THE WATERSHED
Location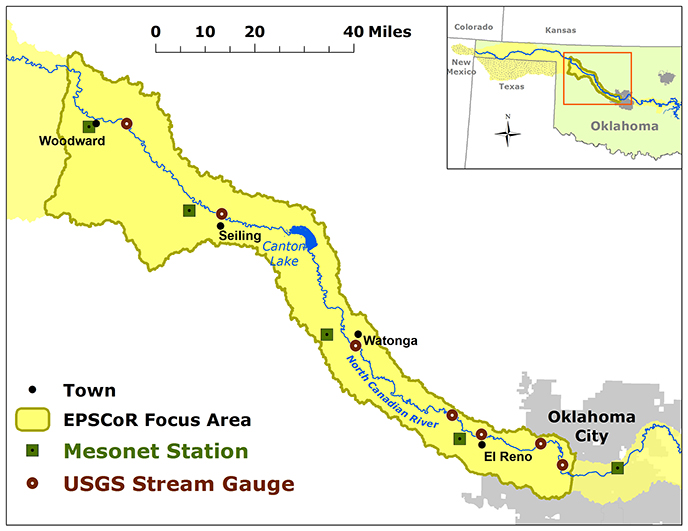 The North Canadian River originates in far northeastern New Mexico and travels eastward into the Oklahoma Panhandle, occasionally dipping down into the Texas Panhandle. It continues in a southeastern path towards Oklahoma City, and then travels eastward to its confluence with the Canadian River at Lake Eufaula. In the Oklahoma Panhandle, this river also goes by the name Beaver River. The entire basin area covers roughly 15,038 sq. miles (38,948 sq. km). Within Oklahoma only, the basin covers approximately 9,097 sq. miles. The watershed encompasses several lakes: Optima Lake, Canton Lake, Lake Overholser and Lake Eufaula. The Oklahoma EPSCoR team has focused much of their effort on the middle portion of this watershed, which covers approximately 1,849 sq. miles, part of which lies within the Oklahoma City Metropolitan Area.
Climatology
Using Oklahoma Mesonet data, we calculated the range of average monthly temperatures and precipitation totals, and an overall monthly average for each of those variables.
Average monthly summer temperatures in the North Canadian range from the mid 70s to upper 80s, with an overall monthly average temperature hovering right around 80ºF for both July and August. Winter temperatures range from near freezing (32ºF) to the upper 40s, with an overall monthly average temperature lingering near 37ºF.
Two precipitation maximums occur during the year for this area. The primary maximum often comes during May and June, where precipitation averages roughly 4 to 6 inches each month. A secondary maximum occurs during October, where as much as an additional 10 inches of precipitation can fall.
Unique Qualities
This study area was chosen because it feeds the primary water supply reservoirs of Oklahoma City and spans rural areas in Oklahoma that are projected to experience increased impacts from drought and water shortages. Near Canton, Oklahoma, the North Canadian river flows into Canton Lake, a reservoir used by many Oklahomans as a source of drinking water. As the river nears the Oklahoma City Metro, it flows into Lake Overholser, one of the primary drinking water supplies for the residents of Oklahoma City. As water shortages become more of an issue upstream, less water will be available for the downstream reservoirs.
Landscape and Natural History
The North Canadian River Watershed stretches across the Central Great Plains ecoregion. Much of the grassland in this area is now being used for cattle grazing. According to the Oklahoma Conservation Commission, over half of the landscape in this watershed is covered by either winter wheat (~38 %) or pasture land (~35 %). The wetlands that are scattered throughout this region are key to the Central Flyway migratory birds. In the 1930s Dust Bowl, much of this landscape was stripped of its topsoil due to the heavy cultivation. Today, much of the landscape has recovered, but is still primarily being used for cultivation and grazing. There are only two locations where native grasslands have been protected: Wichita Mountains and Great Salt Plains Lake.
Resources for Researchers: Models Developed & Calibrated for Use in the North Canadian Watershed
Ryter, D.W., C.D. Kunkel, S.M. Peterson, and J.P. Traylor. 2014. Numerical simulation of groundwater flow, resource optimization, and potential effects of prolonged drought for the Citizen Potawatomi Nation Tribal Jurisdictional Area, central Oklahoma. USGS, Scientific Investigations Report 2014-5167

Zume, J.T. and A.A. Tarhule. 2011. Modelling the response of an alluvial aquifer to anthropogenic and recharge stresses in the United States Southern Great Plains. Journal of Earth Systems Science, 120(4), pp. 557-572

Fox, G., H. Derek, and K. Michael. 2010. Evaluation of alluvial well depletion analytical solutions from a stream-aquifer analysis test along the North Canadian River in Oklahoma. 2010 World Environmental and Water Resources Congress
Adams, G.P., D. Runkle, A. Rea, and C.J. Becker. 1996. Digital data sets that describe aquifer characteristics of the alluvial and terrace deposits along the North Canadian River from Oklahoma City to Eufaula Lake in east-central Oklahoma. USGS, Open-File Report 96-448
Adams, G.P., A. Rea, and D.L. Runkle. 1996. Digital data sets that describe aquifer characteristics of the alluvial and terrace deposits along the North Canadian River from Canton Lake to Lake Overholser in Central Oklahoma. USGS, Open-File Report 96-447
Adams, G.P., A. Rea, and D.L. Runkle. 1996. Digital data sets that describe aquifer characteristics of the alluvial and terrace deposits along the North Canadian River from panhandle to Canton Lake in northwestern Oklahoma. USGS, Open-File Report 96-446
Havens, J.S., and S.C. Christenson. 1983. Numerical simulation of the HIgh Plains regional aquifer, northwestern Oklahoma. USGS, Water-Resources Investigations Report 83-4269
Christenson, S.C. 1983. Numerical simulation of the alluvium and terrace aquifer along the North Canadian River from Canton Lake to Lake Overholser, central Oklahoma. USGS, Water-Resources Investigations Report 83-4076
Davis, R.E., and S.C. Christenson. 1981. Geohydrology and numerical simulation of the alluvium and terrace aquifer along the Beaver-North Canadian River from the Panhandle to Canton Lake, northwestern Oklahoma. USGS, Open-File Report 81-483
_________
Photo Credit: "Lake Overholser Bridge 1, Oklahoma City" by Nicolas Henderson is licensed under CC by 2.0 / cropped from original
Latest News
Wednesday, January 25, 2023
Wednesday, January 25, 2023
Wednesday, January 11, 2023
Upcoming Events
Wednesday, February 15, 2023 -

12:00pm

-

1:00pm
Friday, March 3, 2023 - 9:00am
Tuesday, March 28, 2023 -

8:00am

-

12:00pm