Dr. Ye Liang
Submitted by gina on Mon, 2015-01-05 15:02

EPSCoR Research Focus:
Socio-ecological Modeling and Prediction System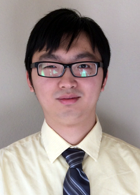 Oklahoma State University
Spacer:
Please leave this field as it is.
Education:
B.S. | Mathematics | Nanjing University, China | 2006
M.A. | Statistics | University of Missouri, Columbia, MO | 2009
Ph.D. | Statistics | University of Missouri, Columbia, MO | 2012
Research Interests:
Dr. Ye Liang's general research interests include:
Bayesian statistics, Bayesian hierarchical models, Bayesian computations

Spatial statistics, spatio-temporal models, dynamic state-space models

Gaussian graphical models, Markov random fields, lattice data

Survival analysis, reliability analysis, lifetime data
Dr. Ye Liang's research focus in the Oklahoma EPSCoR project is integrated statistical modeling and analysis for social-ecological data. Currently he is particularly involved in modeling ecological processes such as soil moisture, precipitation and streamflow.
Difficulties are twofold: First, most processes are nested with each other and exact physical relationships are unclear; Second, data used for analysis are from various observational sources and are highly variable. Dr. Ye Liang's main objective in this project is to apply Bayesian methods, along with other cutting-edge statistical tools, to integrate these processes and data in a theoretically justified modeling framework.
Research Assistants Funded by EPSCoR:
Xijia Han (Graduate Student)
Dept. of Statistics, Oklahoma State University
Research Focus: Modeling soil moisture in Oklahoma using Mesonet data by building a spatial-temporal model and applying Bayesian technique.
Email: henry.han@okstate.edu
Key Publications:
Hendershot M and Liang Y. Quantifying legal landmarks: applying the legislative ac- complishment approach to the decisions of the Supreme Court. In revision.
Access the Publication
Liang Y. A graph-based multivariate conditional autoregressive model. In revision.
Access the Publication

Liang Y and Sun D (2014). Identifiability of masking probabilities in the competing risks model with emphasis on Weibull models. Communications in Statistics - Theory and Methods. In press.

Liang Y, Sun D, He Z and Schootman M (2014). Modeling bounded outcome scores using the binomial-logit-normal distribution. Chilean Journal of Statistics, Vol. 5-2, 3-14.

Liang Y and Sun D (2012). Objective priors for generative star-shape models, Statistics & Probability Letters, Vol. 82, 991-997.
Upcoming Events
Tuesday, October 27, 2020 -

9:00am

-

2:00pm
Friday, March 5, 2021 -

9:00am

-

2:30pm