Dr. Rao Uppalapati
Submitted by gina on Fri, 2011-06-10 23:24

EPSCoR Research Focus:
Feedstock Development

The Samuel Roberts Noble Foundation
Spacer:
Please leave this field as it is.
Education:
B.S. | Botany | Nagarjuna University, India | 1986
M.S. | Botany | Sardar Patel University, India | 1989
Ph.D. | Marine Biology (Plant Pathology) | Nagasaki University, Japan | 2000
Research Interests:
Using Gene Identification to Improve Bioenergy Plants' Resistance to Leaf Rust and Other Pathogens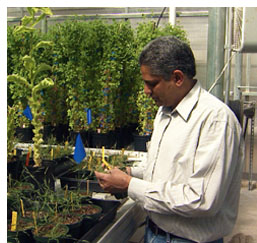 Dr. Uppalapati's primary areas of research include plant pathology and plant functional genomics; virulence factors and their mode of action.
His long-term research interest is to understand the cellular and molecular mechanisms of plant responses to above- and below-ground pathogens in order to develop crop plants with durable resistance to plant associated bacterial/fungal pathogens. In pursuit of these interests, he is utilizing both model (e.g. Medicago truncatula, Nicotiana benthamiana and Arabidopsis thaliana) and crop plant systems and applying several functional genomic approaches to identify and analyze genes involved in disease development and nonhost resistance.
As a part of bioenergy research program, Uppalapati is focused on identifying sources of host and nonhost resistance to fungal (rust) pathogens of switchgrass. The other projects in his program are focused on fungal pathogens of crop legumes and bacterial speck disease of tomato.
Pictured (above): Dr. Uppalapati examines specimen plants in the Samuel Roberts Noble Foundation green house facility. (Photo credit: OSU Agriculture Communications)
Key Publications:
Uppalapati, S. R., C. A. Young, S. M. Marek, and K. S. Mysore (2010). "Phymatotrichum (cotton) Root Rot Caused by Phymatotrichopsis Omnivora: Retrospects and Prospects." Molecular Plant Pathology 11.3: 325-34. Wiley Online Library. doi: 10.1111/j.1364-3703.2010.00616.
Access the publication
Wang, K., S. R. Uppalapati, X. Zhu, S. P. Dinesh-Kumar, and K. S. Mysore (2010). "SGT1 Positively Regulates the Process of Plant Cell Death during Both Compatible and Incompatible Plant–pathogen Interactions." Molecular Plant Pathology 11.5: 597-611. Wiley Online Library. doi:10.1111/j.1364-3703.2010.00631.
Access the publication
Uppalapati, S. R., S. M. Marek, L. Hee-Kyung, J. Nakashima, Y. Tang, M. K. Sledge, R. A. Dixon, and K. S. Mysore (2009). "In the Interaction of Medicago Truncatula with Phymatotrichopsis Omnivora, Global Gene Expression Profiling Reveals a Role for Jasmonic Acid, Ethylene and the Flavonoid Pathway." Molecular Plant Microbe Interaction 22: 7-17.
Uppalapati, S. R., Y. Ishiga, T. Wangdi, E-W Wochniak, T. Ishiga, K. S. Mysore, and C. L. Bender (2008). "Pathogenicity of Pseudomonas Syringae Pv. Tomato on Tomato Seedlings: Phenotypic and Gene Expression Analysis of the Virulence Function of Coronatine." Molecular Plant Microbe Interaction 21: 383-95.
Uppalapati, S. R., A. Patrica, H. Weng, D. A. Palmer, R. E. Mitchell, W. Jones, and C. L. Bender (2005). "The Phytotoxin Coronatine and Methyl Jasmonate Impact Multiple Phytohormone Pathways in Tomato." The Plant Journal 42.2: 201-17.
Uppalapati, S. R., and Y. Fujita (2001). "The Relative Resistance of Porphyra Species (Bangiales, Rhodophyta) to Infection by Pythium Porphyrae (Peronosporales, Oomycota)." Botanica Marina 44: 1-6.
Uppalapati, S. R., and Y. Fujita (2000). "Red Rot Resistance in Interspecific Protoplast Fusion Product Progeny of Porphyra Yezoensis and P. Tenuipedalis (Bangiales, Rhodophyta)." Phycological Research 48: 281-89. Wiley Online Library. doi: 10.1046/j.1440-1835.2000.00212.x.
Access the publication
Presentations:
Planting Fuel: Photosynthesis
K20Alt Authentic Learning and Teaching Online Video and Classroom Curriculum Materials
Developed by Dr. Rao Uppalapati, in collaboration with the University of Oklahoma K20 Center, through an award by OK EPSCoR.

Rising fuel costs have sparked a recent interest in and exploration of bioenergy sources like ethanol, biodiesel and biogas. Bioenergy sources are renewable energy sources utilized for electricity, heat and vehicle fuel. According to the United States Department of Agriculture, bioenergy derived from plant materials is among the most rapidly growing technologies being enhanced and developed today. In this lesson, students will analyze the process of energy transfer that occurs between sunlight and plants as they explore the process of photosynthesis. Students will design experiments to determine whether a bean plant will grow in the dark. Data collected from the experiments will later be utilized to assist students in understanding how plants can be utilized to harvest bioenergy.
Latest News
Friday, September 29, 2023
Friday, September 29, 2023
Friday, September 29, 2023
Upcoming Events
Saturday, September 30, 2023 -

9:00am

-

4:00pm
Wednesday, October 18, 2023 -

12:00pm

-

1:00pm
Tuesday, October 24, 2023 -

9:00am

-

5:00pm