Dr. Mark Payton
Submitted by gina on Wed, 2013-09-11 11:01

EPSCoR Research Focus:
Observatory Network * Forecasting System * Decision-Support System

Department Head & Professor
Oklahoma State University
Spacer:
Please leave this field as it is.
Education:
B.S.Ed. | Mathematics Education | Missouri State University | 1986
M.S. | Statistics | Oklahoma State University | 1988
Ph.D. | Statistics | Oklahoma State University | 1988
Research Interests:
Oklahoma NSF EPSCoR Researchers:
Exploring Socio-Ecological Systems' Adaptation to Climate Variability
Dr. Mark Payton has spent more than twenty years working collaboratively with researchers at Oklahoma State University, as well as universities across the country and the world. He specializes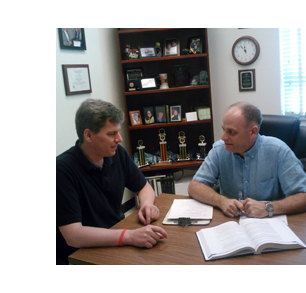 in the design and analysis of biological experiments, especially those in the agricultural, veterinary and medical sciences.
These collaborations have spurred interest in categorical data, nonparametric methods, experimental design, and exact methods.
He has also worked on the application of statistics in the analysis of sports data. Most recently, Dr. Payton has started working on survey sampling issues as they relate to political polling and the prediction of national election results, as well as other issue in political science, such as election forensics and the modeling of congressional turnover.
Dr. Payton is currently involved with an Oklahoma NSF EPSCoR climate variability research project that addresses three research objectives, including:
Establishment of a first-of-its-kind, statewide, socio-ecological observatory;
Development of a fully integrated socio-ecological modeling and prediction system that is designed to integrate qualitative and quantitative approaches and to systematically examine insights from both disciplinary and integrated perspectives;
Development of a pilot decision-support system that provides researchers, educators and practitioners with data, models, tools and scenarios that are needed to explore and understand the social and ecological impacts of management and policy decisions.
Pictured (above/right): Dr. Mark Payton collaborates with colleague Dr. Ole Forsberg
Key Publications:
2013 Publications:
Cole, J.C., Brown, R.O., and Payton, M.E. (2013), "Two Cultivars of Oakleaf Hydrangea Respond to Ancymidol, Uniconazole, or Pinching," HortTechnology, vol. 23, 339-346.
Gilliam, L.L., Ownby, C.L., McFarlane, D., Canida, A., Holbrook, T.C., Payton, M.E., and Kreibiel, C. (2013), "Development of a Double Sandwich Fluorescent ELISA to Detect Rattlesnake Venom in Biological Samples from Horses with a Clinical Diagnosis of Rattlesnake Bite," Toxicon, available online at doi:10.1016/j.toxicon.2013.06.022.
Hooshmand, S., Elam, M.L., Browne, J., Campbell, S.C., Payton, M.E., Gu, J., and Arjmandi, B.H. (2013), "Evidence for Bone Reversal Properties of a Calcium-Collagen Chelate, a Novel Dietary Supplement," Journal of Food and Nutritional Disorders, vol. 2, issue 1, available online at doi.org/10.4172/2324-9323.1000102.
Hulasare, R., Payton, M.E., Hallman, G.J., and Phillips, T.W. (2013), "Potential for Hypobaric Storage as a Phytosanitary Treatment: Mortality of Rhagoletis pomonella in Apples and Effects on Fruit Quality," Journal of Economic Entomology, vol. 106, 1173-1178.
Ko, J.C., Barletta, M., Sen, I., Weil, A.B., Krimins, R.A., Payton, M.E., and Constable, P. (2013), "Influence of Ketamine on the Cardiopulmonary Effects of Intramuscular Administration of Dexmedetomidine-Buprenorphine with Subsequent Reversal with Atipamezole in Dogs," Journal of the American Veterinary Medical Association, vol. 242, 339-345.
MacGregor-Fors, I. and Payton, M.E. (2013), "Contrasting Diversity Values: Statistical Inferences Based on Overlapping Confidence Intervals," PLoS One, vol. 8, available online at doi:10.1371/journal.pone.0056794.
Moorer, J.D., Towle-Millard, H.A., Gross, M.E., and Payton, M.E. (2013), "Effects of Ampicillin/Sulbactam and Enrofloxacin on the Blood Pressure of Isoflurane Anesthetized Dogs," Journal of the American Animal Hospital Association, vol. 7, available online at doi:10.5326/JAAHA-MS-5899.
Shrestha, A., Cole, J.C. and Payton, M.E. (2013), "Survey of Cultural Practices Used in Viburnum Production," Journal of Environmental Horticulture, vol. 31, 109-116.
Shufran, A.A., Mulder, P.G., Payton, M.E., and Shufran, K.A. (2013), "Determining Host-Suitability of Pecan for Stored-Product Insects," Journal of Economic Entomology, vol. 106, 1071-1074.
Upcoming Events
Tuesday, October 27, 2020 -

9:00am

-

2:00pm
Friday, March 5, 2021 -

9:00am

-

2:30pm