Dr. Leah Jackson
Submitted by gina on Thu, 2020-07-16 09:52

EPSCoR Research Focus:
Variable & Marginal Quality Water Supplies

Oklahoma Geological Survey, Mewbourne College of Earth and Energy
Spacer:
Please leave this field as it is.
Education:
Ph.D. | Hydrogeology | Central Michigan University, Mt. Pleasant, MI | 2021
M.S. | Hydrogeology | Western Kentucky University, Bowling Green, KY | 2017
B.S. | Geology | Sam Houston State University, Huntsville, TX | 2013
Research Interests:
Dr. Leah Jackson is a Hydrogeologist for the Oklahoma Geological Survey at the University of Oklahoma. She is a member of the OK NSF EPSCoR Track-1 RII Award titled Socially Sustainable Solutions for Water, Carbon, and Infrastructure Resilience in Oklahoma. The $20 million research project is a social science-led, multi-disciplinary collaboration among social, physical, biological, engineering, and computational scientists. More than thirty researchers from across the state are working together on the project, which began July 1, 2020.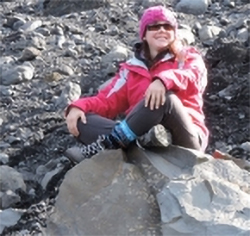 Dr. Jackson's research focuses on the hydrogeochemistry of emerging contaminants of concern in surface and groundwater systems in the State of Oklahoma. Drawing from both field and laboratory investigations, Her primary goal is to evaluate the impact of anthropogenic influences on the environment.
Dr. Jackson's research supports the OK NSF EPSCoR project's Focus Area 3: Variable and Marginal Quality Water Supplies (V-MQW). The V-MQW Supplies focus area addresses issues surrounding Oklahoma's water demands, which are projected to increase 600,000 acre-feet per year between 2007-2060. Reliable water supplies are needed to provide for these demands while meeting the state's goal of capping freshwater use to 2010 levels. However, freshwater supplies are declining due to reservoir sedimentation and groundwater overdraft and are increasingly vulnerable to S2S variability. Concurrently, volumes of oil and gas 'produced water,' municipal wastewater, and stormwater are increasing with continued oil and gas development and urbanization. Disposal of produced waters has been correlated with seismicity, potentially impacting infrastructure and resulting in energy production curtailment in some regions. The challenge is finding a mix of solutions that allow Oklahoma's diverse array of MQW to be economically treated for beneficial use to address water scarcity related to changing seasonal to sub-seasonal weather patterns, waste disposal, and infrastructure risk while supporting continued energy production and economic growth.
Key Publications:
Jackson, L.E., Robertson, W.R., Rohrssen, M.K., Chappaz, A., Lemke, L.D. (2022) Evaluation of 1,4-dioxane attenuation processes at the Gelman Site, Michigan, USA. Science of the Total Environment, 823. https://doi.org/10.1016/j.scitotenv.2022.153634
Jackson, L.E., Rohrssen, M.K., Hlohowskyj, S.R., Lemke, L.D. (2021) Determination of 1,4-dioxane in water samples using Freeze-Assisted Liquid-Liquid Extraction and Gas Chromatography-Mass Spectrometry with Select Reaction Monitoring. Journal of Separation Science, pp. 1-10. https://doi.org/10.1002/jssc.202000925
Jackson, L.E., Polk, J.S. (2020) Seasonal δ13CDIC sourcing and geochemical flux in telogenetic epikarst of south-central Kentucky. Earth Surface Processes and Landforms, 45(4): 785-789. https://onlinelibrary.wiley.com/doi/abs/10.1002/esp.4768 
Harris, P., Harvey, O., Jackson, L.E., DePugh, M., and Puppala, A. (2014) Killing the ettringite reaction in sulfate-bearing soils. Transportation Research Record: Journal of the Transportation Research Board, 2462(1): 109-116. https://doi.org/10.3141/2462-13
Latest News
Friday, September 29, 2023
Friday, September 29, 2023
Friday, September 29, 2023
Upcoming Events
Saturday, September 30, 2023 -

9:00am

-

4:00pm
Wednesday, October 18, 2023 -

12:00pm

-

1:00pm
Tuesday, October 24, 2023 -

9:00am

-

5:00pm