Dr. Laura Bartley
Submitted by gina on Thu, 2011-06-16 08:40

EPSCoR Research Focus:
Microbial Conversion

Spacer:
Please leave this field as it is.
Education:
B.A. with Distinction | Biology | Swarthmore College, Swarthmore, PA | 1995
Ph.D. | Biochemistry | Stanford University | 2002
Research Interests: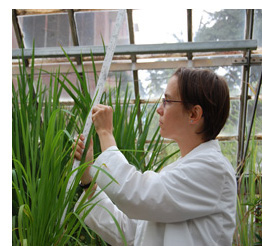 Using Plants to Help Solve Energy Needs of the Future
Dr. Bartley's research focuses on understanding grass phenylpropanoid synthesis and regulation for improved biomass production, as well as disection of grass wall-to-wall adhesion.
Phenylpropanoids in the form of lignin and the grass-specific ferulic acid (FA) in arabinoxylan constitute the major barrier to accessing cell wall polysaccharide and also a significant source of chemical energy. These compounds also have a role in plant disease resistance and stress tolerance, and human and animal nutrition.
Though grasses are the most abundant source of biomass in the US, we do not understand which members of the grass-expanded and -diverged families of the enzymes and regulatory proteins direct the wall incorporation of phenylpropanoids.
Dr. Bartley has found that rice plants that overexpress members of a grass diverged family of acyltransferases have reduced wall FA, improved deconstructability, and normal growth. Transcriptional network analysis implicatesspecific members of phenylpropanoid biosynthesis in incorporation of FA into grass cell walls. She will be dissecting the grass FA incorporation and lignin biosynthesis pathways in rice, Brachypodium, and switchgrass through molecular genetic and genomic methods, detailed phenotypic and biophysical analysis of resulting mutants, and biochemical analysis of implicated enzymes.
Cell wall structure heavily influences the use of lignocellulosic material for biofuel production via fermentation and thermochemical methods. Each plant cell synthesizes its own wall, but the connections between walls are fundamental to formation of an intact plant body. Conversely, selective cell-separation is a common feature of plant development, including pollen, seed, and leaf dehiscence. Many cells are digested within bovine rumens from the cell-lumen side, suggesting that the connections between cells are crucial regions of recalcitrance within the cell wall matrix. The proteins and pectins that have been implicated in wall-wall adhesion from dicot genetic studies are inabundant in grass cell walls.
Dr. Bartley will be probing the roles of components and other genes that control and regulate wall-wall adhesion grasses, using similar approaches to those outlined above.
Key Publications:
Bold items indicate OK EPSCoR-supported research
Bartley, L.E., Y. Wu, A. Saathoff, and G. Sarath. (In Press) "Switchgrass Genetics and Breeding Challenges" in Biomass Crops: Breeding and Genetics, Ed. M. Saha, Wiley Blackwell.
Seo, Y.S., M. S. Chern, L.E., Bartley, T.E., Richter, M. Han, K. H. Jung, I. Lee, H. Walia, X. Xu, P. Cao, W. Bai, R. Ramanan, F. Amonpant, L. Arul, P. E. Canlas, D. L. Ruan, S. Hwang, J.-S. Jeon, and P. C. Ronald. (2011) "Toward Establishment of a Rice Stress Interactome." PLoS Genetics 7(4):e1002020.
Access the publication
Manual Annotator, The International Brachypodium Initiative (2010) "Genome sequence analysis of the model grass Brachypodium distachyon: insights into grass genome evolution." Nature 463: 763-768.
Access the publication
Bartley, L.E. and P. C. Ronald. (2009) "Plant and Microbial Research Seeks Biofuel Production from Lignocellulose." California Agriculture J. 63: 178-184.
Access the publication
Peng, Y., L. E. Bartley, P. Canlas, and P. C. Ronald (2010). "OsWRKY IIa Transcription Factors Modulate Rice Innate Immunity." Rice 3: 36-42. SpringerLink. doi: 10.1007/s12284-010-9039-6.
Access the publication
Cao, P.-J., L. E. Bartley, K.-H. Jung, and P. C. Ronald (2008). "Construction of a Rice Glycosyltransferase Phylogenomic Database and Identification of Rice-Diverged Glycosyltransferases." Molecular Plant 1.5: 858-877. Molecular Plant. doi: 10.1093/mp/ssn052.
Access the publication
Ding, X., T. E. Richter, M. Chen, H. Fujii, Y. S. Seo, M. Xie, X. Zheng, S. Kanrar, R. S. Stevenson, C. Dardick, Y. Li, H. Jiang, Y. Zhang, F. Yu, L. E. Bartley, M. Chern, R. Bart, X. Chen, L. Zhu, W. G. Farmerie, M. Gribskov, J.-K. Zhu, M.E., Fromm, P. C. Ronald, and W.-Y. Song. (2008) "A Rice Kinase-Protein Interaction Map" Plant Physiol. 149: 1478-1492.
Access the publication
Jung, K-H, L. E. Bartley, P. Cao, P. E. Canlas, and P. C. Ronald (2008). "Analysis of Alternatively Spliced Rice Transcripts Using Microarray Data." Rice 2: 44-55. SpringerLink. doi: 10.1007/s12284-008-9020-9.
Access the publication
Jung, K.-H., C. Dardick, L. E. Bartley, P. Cao, J. Phetsom, P. Canlas, Y-S. Seo, M. Shultz, S. Ouyang, Q. Yuan, B. C. Frank, E. Ly, L. Zheng, Y. Jia, A.-P. Hsia, K. An, H. H. Chou, D. Rocke, G. C. Lee, P. S. Schnable, G. An, C. R. Buell, and P.C. Ronald. (2008) "The Rice NSF45K Oligonucleotide Array: Validation and Use to Evaluate Redundancy of Gene Function" PLOS ONE 6: e3337.
Access the publication
Peng, Y., L. E. Bartley, X. Chen, C. Dardick, R. Ruan, P. E. Canlas, and P. C. Ronald. (2008) "OsWRKY62 is a Negative Regulator of Basal and Xa21-Mediated Defense against Xanthomonas oryzae pv. oryzae in Rice." Molecular Plant 1: 446-458.
Access the publication
Lee, S.-W, S.-W. Han, L.E. Bartley, and P. C. Ronald. (2006) "The unique characteristics of Xanthomonas oryzae pv. oryzae AvrXa21 and Implications for Plant Innate Immunity." Proc. Natl. Acad. Sciences USA 103: 18395-18400.
Access the publication
Bart, R., M. S. Chern, C.J. Park, L.E. Bartley, and P. C. Ronald. (2006) "A Novel System for Gene Silencing using siRNAs in Rice Leaf- and Stem-derived Protoplasts." Plant Methods 2: 13.
Access the publication
Bartley, L.E., X. Zhuang, R. Das, S. Chu, and D. Herschlag. (2003) "Exploration of the Transition State for Tertiary Structure Formation between an RNA Helix and a Large Structured RNA." J. Mol. Biol. 328: 1011-1026.
Access the publication
Zhuang, X.*, L. E. Bartley*, H. Babcock, R. Russell, T. Ha, D. Herschlag, and S. Chu. (2000) "A Single Molecule Study of Catalysis and Folding of an RNA Enzyme." Science 288: 2048-2051. *equal contributors
Access the publication
Narlikar, G. J., L. E. Bartley, M. Khosla, D. Herschlag. (1999) "Use of Duplex Rigidity for the Stability and Specificity in RNA Tertiary Structure." Biochemistry 39:6183-6189.
Access the publication
Narlikar, G. J., L. E. Bartley, M. Khosla, D. Herschlag. (1999) "Characterization of a Local Folding Event of the Tetrahymena Group I Ribozyme: Effects of Oligonucleotide Substrate Length, pH and Temperature on the Two Substrate Binding Steps." Biochemistry 38: 14192-14204.
Access the publication
Latest News
Friday, September 29, 2023
Friday, September 29, 2023
Friday, September 29, 2023
Upcoming Events
Saturday, September 30, 2023 -

9:00am

-

4:00pm
Wednesday, October 18, 2023 -

12:00pm

-

1:00pm
Tuesday, October 24, 2023 -

9:00am

-

5:00pm