Dr. Jad Ziolkowska
Submitted by gina on Fri, 2014-08-29 14:02

EPSCoR Research Focus:
Socio-ecological Modeling and Prediction System

Department of Geography and Environmental Sustainability
Spacer:
Please leave this field as it is.
Education:
M.S. | Economics | University of Rzeszow, Poland | 2004
Ph.D. | Agricultural Economics | Humboldt University of Berlin | 2007
Habilitation Degree | Agricultural Policy | Humboldt University of Berlin | 2013
Research Interests:
Dr. Ziolkowska's primary research interests include policy evaluation, modeling and decision-making support in the field of natural resource, environmental, bioenergy and agricultural economics, as well as sustainable resource management. Her current research focus is on optimizing water management systems, desalination, biofuels and geospatial and spatio-temporal analyses.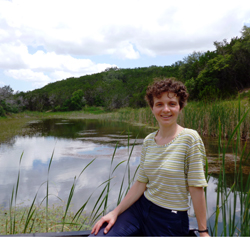 Dr. Ziolkowska participated in interdisciplinary research projects with scholars from the US, Germany, England, Belgium, Norway and India. This allowed her to understand a large scope of sustainability and other economic and environmental problems in different countries around the world.
In 2009-2012 Dr. Ziolkowska was a post-doctoral scholar at the University of California at Berkeley and an EU Marie Curie Fellow in the 7th Framework Program. During her fellowship she developed a fuzzy logic multi-criteria optimization framework to support decision-making for sustainable biofuels policies in the US. In 2013-2014 she continued her research at the University of Texas at Austin. She developed an approach to estimate economic value of water for irrigation in the High Plains. In addition she evaluated socio-economic impacts of drought in Texas as well as economics of desalination in the US and at the global scale.
Within the EPSCoR NSF project Dr. Ziolkowska works on socio-economic and ecological system models to examine interactions of climate variability, ecosystem services and cultural values in Oklahoma.
Research Assistants Funded by EPSCoR:
Jesus Zubillaga (Graduate Student)
Dept. of Geography and Environmental Sustainability, University of Oklahoma
Research Focus: Performing literature research and prep work for an environmental information contingent valuation survey.
Email: j.zubillaga15@ou.edu
Key Publications:
Ziolkowska, J.R.; Peterson, J. (2016): Competition for Water Resources, 1st Edition: Experiences and Management Approaches in the U.S. and Europe. Elsevier
Access the Publication
Ziolkowska, J.R. (2014): Optimizing Biofuels Production in an Uncertain Decision Environment: Conventional vs. Advanced Technologies. Applied Energy 114: 366-376
Ziolkowska, J.R., Simon, L. (2014): Recent Developments and Prospects for Algae-Based Fuels
in the US. Renewable & Sustainable Energy Reviews 29: 847-853
Ziolkowska, J.R. (2013): Evaluating Sustainability of Biofuels Feedstocks: A Multi-Objective Framework for Supporting Decision Making. Biomass & Bioenergy 59: 425-440
Ziolkowska, J.R., Ziolkowski, B. (2011): Product Generational Dematerialization Indicator: A Case of Crude Oil in the Global Economy. Energy 36: 5925-5934
Ziolkowska, J.; Meyers, W.H.; Meyer, S.; Binfield, J. (2010): Targets and Mandates: Lessons Learned from EU and US Biofuel Policy Mechanisms. AgBioForum 13(4): 398-412
Ziolkowska, J.; Ziolkowski, B. (2010): Generational Dematerialization of Energy in the World Economy: Evaluation Approach for Sustainable Management Policy. Journal of Environmental Assessment Policy and Management 12(3) (September 2010): 291-309
Latest News
Friday, December 18, 2020
Thursday, December 03, 2020
Upcoming Events
Tuesday, February 23, 2021 - 9:00am
Friday, March 5, 2021 -

9:00am

-

2:30pm
Saturday, March 27, 2021 -

9:00am

-

4:00pm