Dr. Jack Friedman
Submitted by gina on Wed, 2013-09-11 09:22

EPSCoR Research Focus:
Observatory Network * Forecasting System

Center for Applied Social Research
Spacer:
Please leave this field as it is.
Education:
B.A. | Anthropology with Honors | Florida State University | 1993
Ph.D. | Cultural Anthropology | Duke University | 2003
Research Interests:
Oklahoma NSF EPSCoR Researchers:
Exploring Socio-Ecological Systems' Adaptation to Climate Variability
Dr. Friedman is a cultural anthropologist with specializations in psychological anthropology, medical anthropology (esp. the clinical ethnography of psychiatry and mental health care settings), environmental anthropology, economic anthropology, amd political economy. Dr. Friedman has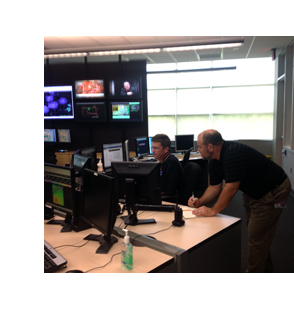 conducted research in a variety of settings including two major research projects in Romania and several projects in the U.S. His research in Romania can be divided into two periods. From 1998-2007 he studied stress, unemployment, and the collapse of communities in coal mining communities in Romania's Jiu Valley region. Beginning in 2004, he began a new project examining changes in post-state socialist/contemporary psychiatry in Romania. He is currently completing a manuscript emerging from his work in Romanian psychiatry.
Those projects drew Dr. Friedman into research on U.S. psychiatry and public mental health care. He spent four years (2007-2011) as the lead ethnographic researcher on a large NIMH-funded study that explored the impact – cultural, organization, and clinical – on clinical practices and outcomes of California's implementation of Recovery Oriented services in public mental health care settings. Since his arrival at OU in 2011, Dr. Friedman has extended his medical anthropology research by studying how primary care providers in rural Oklahoma perceive their role as providers of mental health care in remote, rural communities. In addition, Dr. Friedman has contributed to recent research on Native Americans' perceptions of cancer and cancer treatment as part of his collaboration with researchers at OU's Health Sciences Center and OU's Peggy and Charles Stephenson Cancer Center.
Most recently, Dr. Friedman has extended his interests in individuals and communities under stress and how they cope with that stress by contributing his expertise to a recent NSF-funded Oklahoma EPSCoR grant (2013-2018). The research and infrastructure-building initiative associated with the EPSCoR explores coupled human and natural systems associated with climate variability in four watersheds and the OKC metro regions of Oklahoma. His work examines how communities respond to climate variability – particularly, problems of drought.
He is also developing a project that will explore mental health and mental illness as a correlate of climate variability and severe weather in these communities, his goal being to consider mental health factors as a function of and/or proxy for community stress associated with severe environmental conditions.
Research Assistants Funded by EPSCoR:
Michael Stanton (Post-Doctoral Fellow)
Dept. of Anthropology, University of Oklahoma
Research Focus: Conducting ethnographic research in the Kiamichi region of southeastern Oklahoma.
Email: stanthro@gmail.com
Tony VanWinkle (Post-Doctoral Fellow)
Dept. of Anthropology, University of Oklahoma
Research Focus: Conducting community-based ethnographic fieldwork in Caddo County.
Email: tvanwin1@ou.edu
Key Publications:
"Who Belongs in a Psychiatric Hospital? Post-Socialist Romania in the Age of Globalizing Psychiatry" A chapter in an edited volume entitled

Global Mental Health: A Narrative Reader

under contract (Left Coast Press). Brandon Kohrt and Emily Mendenhall. Submitted/Under Review.
"Faith, Poverty, and Schizophrenia: Recognition and Misrecognition in the Clinical Experiences of a Romanian Woman" A chapter in an edited volume on cross-cultural experiences of schizophrenia. Tanya Luhrmann, ed. Submitted/Under Review.
"Hope and the City: Thoughts on Romania's Urban Spaces in the Context of European Integration" An article in Anuarul Institutului de Istorie 'G. Baritiu' din Cluj-Napoca, Series Humanisitica, Volume 10: 7-14, 2012. Link
"Thoughts on Inactivity and an Ethnography of 'Nothing': Comparing Meanings of 'Inactivity' in Romanian and American Mental Health Care" An article in North American Dialogues (the journal of the Society for the Anthropology of North America), Volume 15(1):1-8, 2012. Link
"A Genealogy of Working-Class Anger: History, Emotions, and Political Economy in Romania's Jiu Valley" In

Interpreting Emotions in Russia and Eastern Europe

. Mark D. Steinberg and Valeria Sobol, eds. Pp. 201-223. Northern Illinois University Press. 2011.
"The 'Social Case': Illness, Psychiatry, and Deinstitutionalization in Post-Socialist Romania" An article in Medical Anthropology Quarterly, Volume 23(4):375-396, 2009. (Reprinted in Revista de Asistenta Social, Volume 9(2), 2010.) Link
"Ambivalent and Manichean: Moral Disorder Among Romania's Downwardly Mobile" An article in Anuarul Institutului de Istorie 'G. Baritiu' din Cluj-Napoca, Series Humanisitica, Volume VI:133-158, 2008. Link
"Scaling and Bridging: How Can Psychological Anthropology Intersect with 'Big Scale' Questions? A Report From the 2007 SPA Meeting." A Section Report for the Society for Psychological Anthropology Section in Anthropology News, Volume 49(1):66-67, January 2008.
"Mapping the Terrain of Mental Illness and Psychiatry: Anthropological Observations on Romania's Mental Health Reforms as it Enters the European Union." An article in Revista Romana de Psihiatrie (The Romanian Journal of Psychiatry), Series 3, Volume 9(2-3):73-77, 2007. Link
"Shock and Subjectivity in the Age of Globalization: Marginalization, Exclusion, and the Illusion of Resistance." An article in Anthropological Theory, Volume 7(4):421-448, Winter 2007. Link
"Shame and the Experience of Ambivalence on the Margins of the Global: Pathologizing the Past and Present in Romania's Industrial Wastelands." An article in Ethos, Volume 35 (2):235-264, June 2007. Link
"The Challenges Facing Mental Health Reform in Romania." An article in Eurohealth Volume 12 (3):36-39, Autumn 2006. Link
"Furtive Selves: Autobiographies and the Making of the Self During the 1950s in Romania's Jiu Valley." An article in The Journal of International Labor and Working-Class History, Volume 68:9-23. Fall 2005. Link
"Notes on an Ethnography of Speaking: Romanian Elite Culture in Bucharest" in Global Perspectives 8(1):31-32.
Upcoming Events
Tuesday, October 27, 2020 -

9:00am

-

2:00pm
Friday, March 5, 2021 -

9:00am

-

2:30pm