Dr. Danielle Bellmer
Submitted by gina on Mon, 2011-06-06 12:17

EPSCoR Research Focus:
Chemical Conversion

Department of Biosystems and Agricultural Engineering
Oklahoma State University
Spacer:
Please leave this field as it is.
Education:
B.S. | Agricultural Engineering | Michigan State University | 1992
Ph.D. | Agricultural and Biological Engineering | Purdue University | 1996
Research Interests: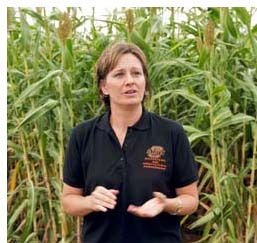 Scientific Research in Support of Green Energy
Dr. Bellmer's research involves processing ethanol from sweet sorghum, biomass gasification and waste utilization for energy production.
"Public opinion plays a role in policy decisions. We need to educate the general public if we hope to gain real support from state decision makers on the importance of biofuels."

Pictured (right): Dr. Dani Bellmer speaks to a crowd of attendees during "Fuel from the Field Day" at the South Central Research Station in Chickasha, Oklahoma. (Photo Credit: OSU Agricultural Communication Services)
Teaching Responsibilities:
BAE 3113: Miicrobial Applications in Biosystems Engineering
BAE 5423: Food Rheology
Research Assistants Funded by EPSCoR:
Key Publications:
Bold items indicate OK EPSCoR-supported research
Mudinoor, A., D. Bellmer, L. Marin, A. Kumar, and R. Huhnke (2011). "Conversion of Toluene (model Tar) Using Selected Steam Reforming Catalysts." Transactions of ASABE.
Patil, K., P. R. Bhoi, R. L. Huhnke, and D. D. Bellmer (2011). "Downdraft Biomass Gasifier with Internal Cyclonic Combustion Chamber: Design, Construction and Experimental Results." Bioresource Technology 102.10: 6286-290. SciVerse. doi:10.1016/j.biortech.2011.03.033.
Access the publication

Bellmer, D., R. Huhnke, R. Whiteley, and C. Godsey (2010). "The Untapped Potential of Sweet Sorghum as a Bioenergy Feedstock." Biofuels 1.4: 563-73. Future Science. doi: 10.4155/bfs.10.34.
Access the publication
Hemme, C. L., H. Mouttaki, Y-L Lee, G. Zhang, L. Goodwin, S. Lucas, A. Copeland, A. Lapidus, T. Galvina Del Rio, H. Tice, E. Saunders, T. Brettin, J. C. Detter, C. S. Hand, S. Pitluck, M. L. Land, L. J. Hauser, N. Kyprides, N. Mikhailova, Z. He, L. Wu, J. D. Van Nostrand, B. Henrissat, Q. He, P. A. Lawson, R. S. Tanner, L. R. Lynd, J. Wiegel, M. W. Fields, A. P. Arkin, C. W. Schadt, B. S. Stevenson, M. J. McInerney, Y. Yang, H. Dong, D. Xing, N. Ren, A. Wang, R. L. Huhnke, J. R. Mielenz, S-Y Ding, M. E. Himmel, S. Taghavi, D. Van Der Lelie, E. M. Rubin, and J. Zhou (2010). "Sequencing of Multiple Clostridial Genomes Related to Biomass Conversion and Biofuel Production." Journal of Bacteriology 192.24: 6494-496. Journal of Bacteriology. doi:10.1128/JB.01064-10.
Access the publication
Kundiyana, D., D. Bellmer, R. Huhnke, M. Wilkins, and P. L. Claypool (2010). "Influence of Temperature, ph and Yeast on In-Field Production of Ethanol from Unsterilized Sweet Sorghum Juice." Biomass and Bioenergy 34.10: 1481-486. SciVerse. doi:10.1016/j.biombioe.2010.04.022.
Access the publication
Bellmer, D., R. Huhnke, and D. Kundiyana (2008). "Issues with In-Field Fermentation of Sweet Sorghum Juice." ASABE 084828. American Society of Agricultural and Biological Engineers St. Joseph, MI.
Access the publication
Patil, K. N., R. L. Huhnke, and D. D. Bellmer (2008). "Gasification of Switchgrass Using a Unique Downdraft Reactor." ASABE 084415. American Society of Agricultural and Biological Engineers. St. Joseph, MI. Paper Number: 084415.
Access the publication
Suryawati, L., M. R. Wilkins, D. D. Bellmer, R. L. Huhnke, N. O. Maness, and I. M. Banat (2008). "Simultaneous Saccharification and Fermentation of Kanlow Switchgrass Pretreated by Hydrothermolysis Using Kluveromyces Marxianus IMB4." Biotechnol. Bioeng. 101: 894-902. Paper No: 083578.
Access the publication
Patil, K. N., R. L. Huhnke, and D. D. Bellmer (2007). "Influence of Internal Baffles on Mixing Characteristics of Biomass in a Fluidized Sand Bed." Agricultural Engineering International: the CIGR Ejournal. EE 06 016. IX.
Access the publication
Patil, K. N., T. J. Bowser, D. D. Bellmer, and R. L. Huhnke (2005). "Fluidization Characteristics of Sand and Chopped Switchgrass-sand Mixtures." Agricultural Engineering International: the CIGR Ejournal EE 04 005. VII.4. eCommons@Cornell. ISN: 1682-1130.
Access the publication
Ulmer, J. D., R. L. Huhnke, D. D. Bellmer, and D. D. Cartmell (2004). "Acceptance of Ethanol-blended Gasoline in Oklahoma." Biomass and Bioenergy 27.5: 437-44. SciVerse, Nov. 2004. doi: 10.1016/j.biombioe.2004.04.005.
Access the publication
Latest News
Friday, September 29, 2023
Friday, September 29, 2023
Friday, September 29, 2023
Upcoming Events
Saturday, September 30, 2023 -

9:00am

-

4:00pm
Wednesday, October 18, 2023 -

12:00pm

-

1:00pm
Tuesday, October 24, 2023 -

9:00am

-

5:00pm