Dr. Chris Zou
Submitted by gina on Wed, 2013-09-11 10:21

EPSCoR Research Focus:
Observatory Network * Forecasting System

Assistant Professor and Ecohydrologist
Department of Natural Resource Ecology Management
Oklahoma State University
Spacer:
Please leave this field as it is.
Education:
B.S. | Biology | Southwest University, Chongqing | 1985
M.S. | Plant Ecology | Southwest University, Chongqing | 1988
Ph.D. | Forestry | University of Canterbury, Christchurch | 2000
Research Interests:
Oklahoma NSF EPSCoR Researchers:
Exploring Socio-Ecological Systems' Adaptation to Climate Variability
Dr. Chris Zou's Ecoydrology and Ecosystem Science lab at Oklahoma State University focuses on spearheading research and applications at the nexus of climate change, ecology and water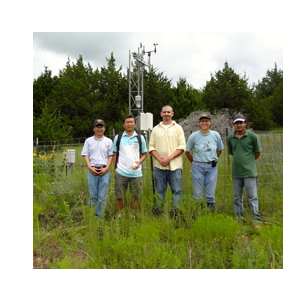 resources. The research team's work addresses key water resources and land management issues in the south-central Great Plains, while simultaneously addressing and synthesizing across several key ecohydrological issues of broad concern. The research approaches are primarily field-based but are complemented by controlled experiments and process-based modeling.
The team's work on the Oklahoma EPSCoR RII award addresses two significant research objectives, including:
Establishment of a first-of-its-kind, statewide, socio-ecological observatory;
Development of a fully integrated socio-ecological modeling and prediction system that is designed to integrate qualitative and quantitative approaches and to systematically examine insights from both disciplinary and integrated perspectives.
Pictured (above/right): Dr. Chris Zou and research team members at a monitoring site in Oklahoma
Teaching Responsibilities:
NREM 4473: Global Issues of Water and Ecosystem Management
NREM 5483: Ecohydrology
NREM 5020: Graduate Seminar
Research Assistants Funded by EPSCoR:
Gehendra Kharel (Post-Doctoral Fellow)
Dept. of Natural Resource Ecology and Management, Oklahoma State University
Research Focus: Developing integrated modeling efforts of coupled nature-human systems under a changing climate, focusing primarily in Cimarron River Watershed.
Email: gehendra.kharel@okstate.edu
Lei Qiao (Post-Doctoral Fellow)
Dept. of Natural Resource Ecology and Management, Oklahoma State University
Research Focus: Conducting climate change impact studies and eco-hydrological modeling.
Email: lei.qiao@okstate.edu
Renato Rahal (Graduate Student)
Dept. of Natural Resource Ecology and Management, Oklahoma State University
Research Focus: Studying streamflow responses to climate variability and land management across a precipitation gradient in Oklahoma.
Email: renatom@okstate.edu
Bharat Sharma Acharya (Graduate Student)
Dept. of Natural Resource Ecology and Management, Oklahoma State University
Email: bharas@ostatemail.okstate.edu
Elaine Stebler (Staff)
Dept. of Natural Resource Ecology and Management, Oklahoma State University
Research Focus: Maintaining and retrofitting existing weirs across the state-wide microcatchment network; collecting and analyzing meteorological and discharge data.
Email: elaine.stebler@okstate.edu
Key Publications:
(PDFs provided here for convenience of users who have copyright access to these journals.)
Latest News
Wednesday, April 17, 2019
Wednesday, March 27, 2019
Wednesday, March 06, 2019
Upcoming Events
Sunday, June 2, 2019 - 12:00pm
-
Friday, June 14, 2019 - 12:00pm
Saturday, September 28, 2019 -

9:00am

-

4:00pm
Tuesday, October 22, 2019 -

9:00am

-

2:00pm