Cimarron River Watershed Study Area
Oklahoma NSF EPSCoR Research Infrastructure Improvement Award No. OIA-1301789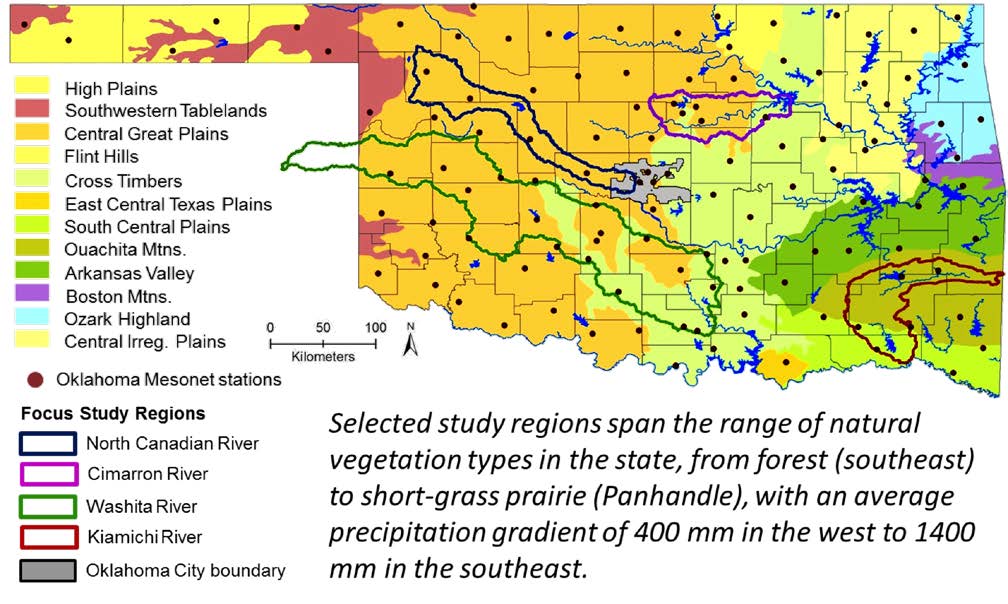 The Oklahoma NSF EPSCoR team's over-arching research goal in the Lower Cimmaron River Watershed is to assess the study area's vulnerability and resiliency under the influence of drivers of change (climate, human behavior, public policy, land use and woodland encroachment) using an integrated coupled human-natural systems approach.
ABOUT THE WATERSHED
Location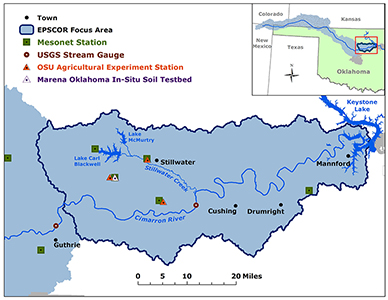 The Cimarron River extends across four states (CO, KS, NM, OK) and flows 1,123 km with a total watershed area of 49,379 km2. The river extends from far northeastern New Mexico through central Oklahoma, and then flows into Keystone Lake. The entire basin area covers roughly 16,142 sq. miles (41,808 sq. km). Within Oklahoma only, the basin covers approximately 8,060 sq. miles. The Oklahoma EPSCoR team has focused much of their effort on the eastern-most portion of this watershed, which covers approximately 1,386 sq. miles and encompasses several lakes, including Lake Carl Blackwell, Lake McMurtry and Keystone Lake.
Climatology
Using Oklahoma Mesonet data from four stations in the Lower Cimarron Watershed, we calculated the range of average monthly temperatures and precipitation totals, and an overall monthly average for each of those variables.
Average monthly summer temperatures in the Lower Cimarron range from the lower 70s to lower 90s, with an overall monthly average temperature hovering right around 80ºF for both July and August. Winter temperatures range from near freezing (32ºF) to the upper 40s, with an overall monthly average temperature lingering near 40ºF.
The month of June has the most variable precipitation range, with as little as a few inches in some years to over 15 inches of rainfall in others. May also has a large range of rainfall amounts for this particular area.
Unique Qualities
Although the river is often dry in its western reaches, it serves as a permanent river in northwestern and central Oklahoma and is a part of the Kansas-Oklahoma Arkansas River Compact. After reentering the state near Lookout, Oklahoma, the Cimarron River flows freely for 497 km with no impoundment and empties into the Arkansas River at the Keystone Reservoir north of Tulsa, Oklahoma. The Cimarron River Watershed touches the boundary of 17 Oklahoma counties and includes 58 cities and towns including Enid, Stillwater, Bethany and Guthrie (>200,000 inhabitants).
The lower Cimarron River Watershed has a total drainage area of 18,240 km2. Within the watershed there are four major ecoregions (the High Plains, the Western Plains, the Central Reddish Prairie, and the Cross Timbers) and a dramatic precipitation gradient: average annual precipitation ranges from ~500 mm/year in the western region to 1000 mm/year in the eastern region.
Landscape and Natural History
The major land uses in the Cimarron River Watershed are grassland (48.6%), crop land (32.7%) and forest (9.2%), followed by urban areas (6.6%). Of the total crop land area, winter wheat (77%) and rye (12%) are major crops, while alfalfa, sorghum, corn, canola and soybean are also grown rotationally. Since 1950, there has been a general trend of increase in grassland, rangeland and urban areas and decrease in cropland. Between 1950 and 2011, nearly 6,000 km2 cropland was lost to other land uses, mostly grassland, rangeland and urban land. Since 1999, the watershed has witnessed an encroachment of woody plants (e.g. Eastern Redcedar) with known and unknown consequences to water resources and wildlife in the region.
Resources for Researchers: Models Developed & Calibrated for Use in the Cimarron Watershed
Adams, G.P., D. Runkle, A. Rea, and J.R. Cederstrand. 1996. Digital data sets that describe aquifer characteristics of the alluvial and terrace deposits along the Cimarron River from Freedom to Guthrie in northwestern Oklahoma. USGS, Open-File Report 96-445

Adams, G.P. 1995. Listings of model values for the simulation of ground-water flow in the Cimarron River alluvium and terrace deposits from Freedom to Guthrie, Oklahoma. USGS, Open-File Report 95-735

Luckey, R.L., and M.F. Bekcer. 1999. Hydrogeology, water use, and simulation of flow in the High Plains aquifer in northwestern Oklahoma, southeastern Colorado, southwestern Kansas, northern New Mexico, and northwestern Texas. USGS, WRIR 99-4104
_____________
Click here to learn more about EPSCoR's research in the Cimarron River Watershed.

***
Photo Credit: "Cimarron River 2010" by hz536n/George Thomas is licensed under CC by-nc-nd 2.0 / cropped from original
Latest News
Wednesday, January 25, 2023
Wednesday, January 25, 2023
Wednesday, January 11, 2023
Upcoming Events
Wednesday, February 15, 2023 -

12:00pm

-

1:00pm
Friday, March 3, 2023 - 9:00am
Tuesday, March 28, 2023 -

8:00am

-

12:00pm