2021 Research Day at the Capitol
Tuesday, March 30, 2021 -

8:00am

-

7:30pm
The 2021 Research Day at the Capitol will be held as a virtual event in response to the ongoing pandemic. On Tuesday, March 30, students will participate in a judged poster session via the Zoom platform. Their posters will also be made available to Legislators and the general public via a virtual poster session beginning March 30th and running throughout the 2021 Legislative session at https://www.posterpresentations.com/research/groups/epscor/epscor-virtual-poster-session.html.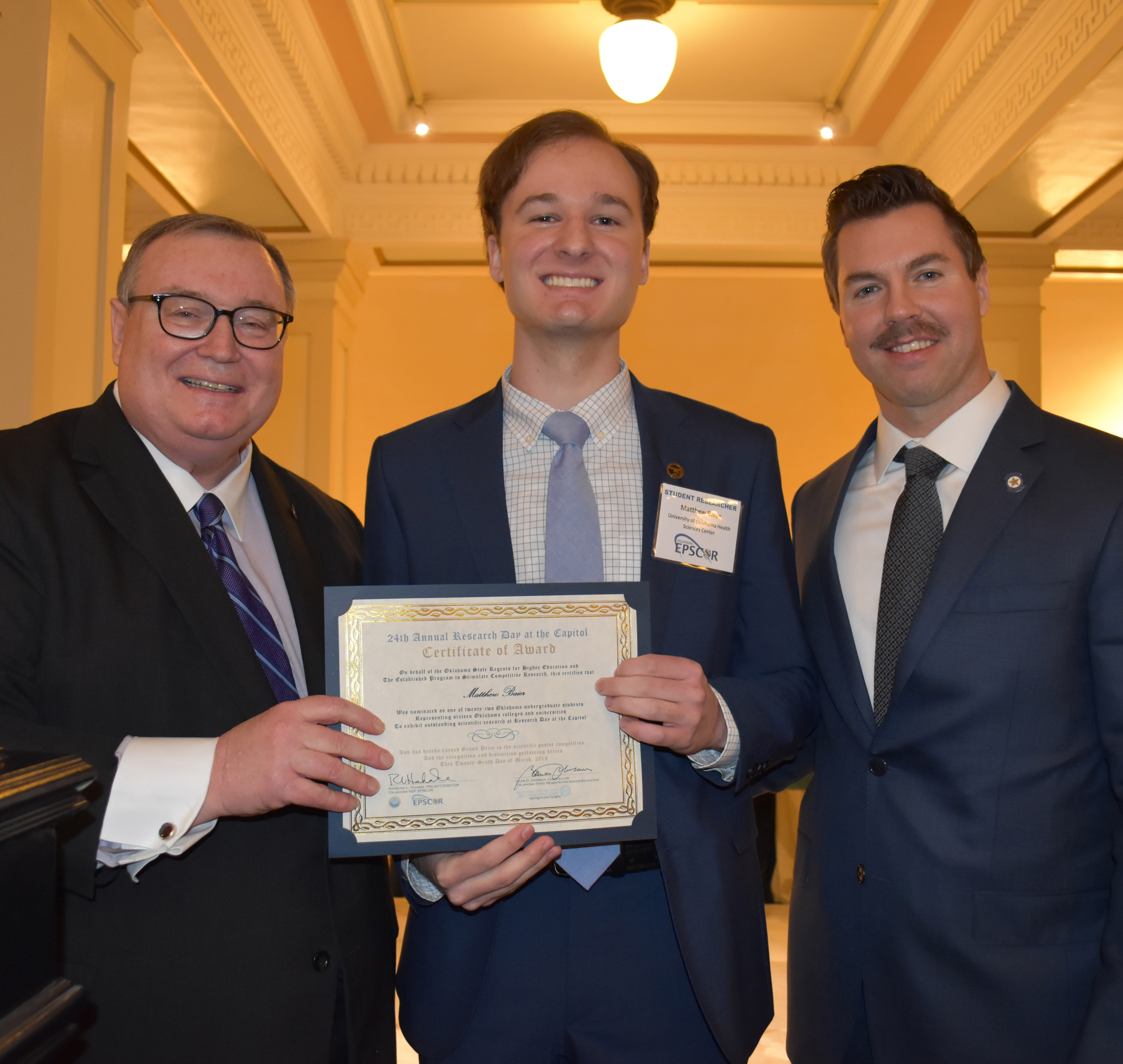 Research Day was established 26 years ago to showcase the outstanding undergraduate research being conducted at Oklahoma's colleges and universities in the areas of science (including social science), technology, engineering, and mathematics. Oklahoma colleges and universities nominate their top undergraduate student researchers to participate in the prestigious event each year.
Research Day at the Capitol is sponsored by the Oklahoma State Regents for Higher Education, the Oklahoma Established Program to Stimulate Competitive Research (EPSCoR), and the National Science Foundation.
Student Oral/Poster Competition & Awards
A panel of EPSCoR-appointed judges will review students' oral and poster presentations from ~12:00 p.m. - 5:00 p.m. on Tuesday, March 30, 2021, at Science Museum Oklahoma in Oklahoma City. Judging will consist of an oral presentation by the student (3 minutes/timed), followed immediately by poster review and Q&A by the judges (max. 5 minutes/timed).
Students will be judged on the following criteria:
Abstract
Scientific presentation
(Purpose, hypothesis, background information, results, impact, suggested further study)
Visual appearance
Clarity for general audiences
Relevance of the study
The top student researchers will be awarded the following:
Grand Prize is a $500 award plus $4,000 summer research internship; $2,500 award to the sponsoring Oklahoma college/university lab to offset expenses of hosting the internship
First ($500), second ($250), and third ($250) place will be awarded in each of the following two categories: 1) Research Intensive Institutions and 2) Regional, Community and Tribal Colleges

For more information
Contact Gina Miller, Outreach Coordinator, at gmiller@okepscor.org or 405.744.9964
Pictured above: Matthew Baier, shown with Chancellor Glen D. Johnson and Senator Adam Pugh (Dist. 41), was selected to represent University of Oklahoma Health Sciences Center at the 2019 Research Day at the Capitol. Baier won the overall grand prize for his research poster titled " Elevated Cerebrospinal Histamine Levels Following Traumatic Brain Injury in Rats."
Latest News
Friday, September 29, 2023
Friday, September 29, 2023
Friday, September 29, 2023
Upcoming Events
Saturday, September 30, 2023 -

9:00am

-

4:00pm
Wednesday, October 18, 2023 -

12:00pm

-

1:00pm
Tuesday, October 24, 2023 -

9:00am

-

5:00pm