2021 Research Day at the Capitol
Tuesday, March 30, 2021 -

8:00am

-

7:30pm
The 2021 Research Day at the Capitol will be held Tuesday, March 30. The event will include a full day of activities as outlined below. Please note: the traditional Research Day at the Capitol format has been modified to accommodate the ongoing Capitol restoration project. Additionally, should any public health concerns arise, event organizers will modify the scheduled activities in order to implement the program safely.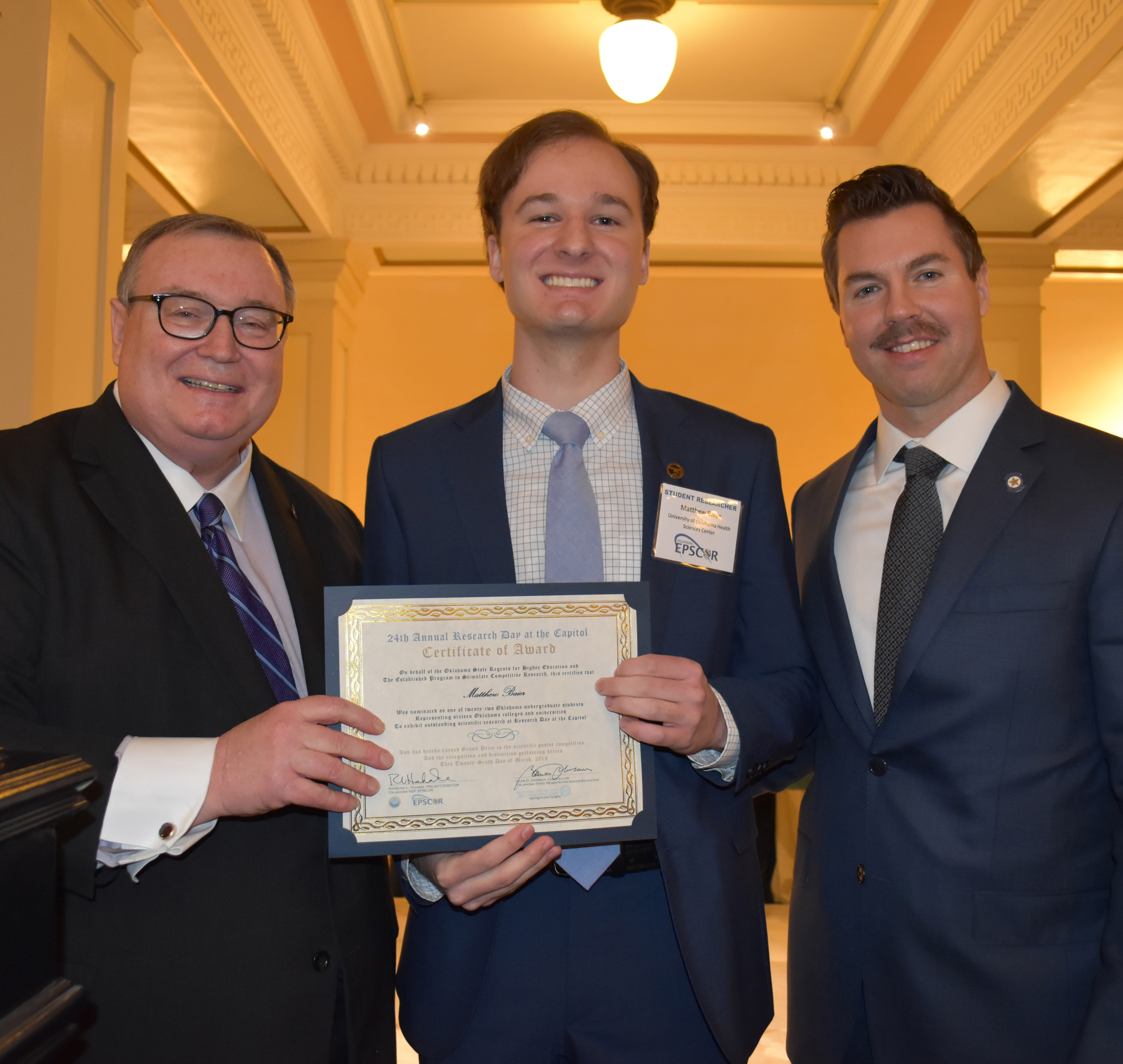 Research Day was established 26 years ago to showcase the outstanding undergraduate research being conducted at Oklahoma's colleges and universities in the areas of science (including social science), technology, engineering, and mathematics. Oklahoma colleges and universities nominate their top undergraduate student researchers to participate in the prestigious event each year.
The March 30, 2021, Research Day at the Capitol event encompasses multiple activities. Students will meet with Legislators at the Capitol and share their research before participating in an oral presentation and poster competition; winners of the competition will be announced that day at 6:15 p.m. during an awards ceremony at Science Museum Oklahoma (2020 Remington Place, Oklahoma City). Students will also present their work to guests during a poster reception at the museum that evening. (Please note: This year's events have been modified to accommodate the ongoing Capitol Building renovation project, which limits access to public spaces.)
Research Day at the Capitol is sponsored by the Oklahoma State Regents for Higher Education, the Oklahoma Established Program to Stimulate Competitive Research (EPSCoR), and the National Science Foundation.
Tentative Schedule
Students meet with Legislators (8 a.m. - 11:30 a.m., 3/30/21, State Capitol)
Poster & oral presentation judging (Noon - 5 p.m., 3/30/21, Science Museum Oklahoma)
Poster reception (5:15 p.m. - 7:30 p.m., 3/30/21, Science Museum Oklahoma)
Awards Ceremony (6:15 p.m. - 6:45 p.m., 3/30/21, Science Museum Oklahoma)
Please be advised: Should any public health concerns arise, event organizers will modify the aforementioned 2021 Research Day activities in order to implement the program safely.
Student Oral/Poster Competition & Awards
A panel of EPSCoR-appointed judges will review students' oral and poster presentations from ~12:00 p.m. - 5:00 p.m. on Tuesday, March 30, 2021, at Science Museum Oklahoma in Oklahoma City. Judging will consist of an oral presentation by the student (3 minutes/timed), followed immediately by poster review and Q&A by the judges (max. 5 minutes/timed).
Students will be judged on the following criteria:
Abstract
Scientific presentation
(Purpose, hypothesis, background information, results, impact, suggested further study)
Visual appearance
Clarity for general audiences
Relevance of the study
The top student researchers will be awarded the following:
Grand Prize is a $500 award plus $4,000 summer research internship; $2,500 award to the sponsoring Oklahoma college/university lab to offset expenses of hosting the internship
First ($500), second ($250), and third ($250) place prizes will be awarded in each of the following two categories: 1) Research Intensive Institutions and 2) Regional, Community and Tribal Colleges

The Nomination Process - Submission Deadline: Nov. 2, 2020, 8 a.m.
Each institution's nomination package must be submitted online via the link below by the institution's official designee. The submission deadline is Monday, November 2, 2020, at 8 a.m.
Nomination packages must include the following uploaded documents; they must be prepared and ready for upload at the time nominations are submitted:
(1) Financial Responsibility Form, (2) Abstract Form, and (3) Research Project Abstract (MS Word only)
Research Project Abstract Guidelines
Abstracts must be submitted in MS Word format and must be developed following the guidelines of the official Abstract Form. Per the official form, abstracts MUST INCLUDE the following components:
Student's Name
Abstract Title
Introduction
Methods
Results
Conclusion
Relevance of the Study
Separate/individual sections are not required for items 3-7, but each of these components must be addressed in the body of the abstract.
Additional abstract guidelines:
Abstracts must be the work of the student and cannot exceed 350 words.

The completed Abstract Form and student's Abstract must be submitted with the institution's nomination package; the documents must be uploaded as individual/separate files.

Name each document per the student's name (i.e. lastname_firstname_abstract.docx; lastname_firstname_abstractform.docx).

Abstracts will ONLY be accepted in MS Word format (.doc or .docx) - no PDF or image files are allowed.
Only those individuals who have been designated by their institutions as official nominators for this event may submit student nominations.

Files for Download
Official Abstract Form
Financial Responsibility Form
Guidelines
-----------------
THE FOLLOWING LINK IS A "GENERAL PARTICIPANT SIGN-UP FORM" FOR EVERYONE WHO WILL BE ATTENDING THE EVENT, INCLUDING ALL GUESTS, FACULTY MENTORS, AND STUDENT RESEARCHERS.
Registered guests are invited to participate in the following activities on March 31, 2020:
Public Poster Reception (5:15 p.m. - 7:30 p.m., 3/30/21, Science Museum Okla.)
(The poster reception will briefly recess from 6:15 p.m. - 6:45 p.m. for the awards ceremony)
Awards Ceremony (6:15 p.m. - 6:45 p.m., 3/30/21, Science Museum Okla.)
For more information
Contact Gina Miller, Outreach Coordinator, at gmiller@okepscor.org or 405.744.9964
Pictured above: Matthew Baier, shown with Chancellor Glen D. Johnson and Senator Adam Pugh (Dist. 41), was selected to represent University of Oklahoma Health Sciences Center at the 2019 Research Day at the Capitol. Baier won the overall grand prize for his research poster titled " Elevated Cerebrospinal Histamine Levels Following Traumatic Brain Injury in Rats."
Latest News
Wednesday, September 16, 2020
Thursday, August 27, 2020
Upcoming Events
Tuesday, October 27, 2020 -

9:00am

-

2:00pm
Friday, March 5, 2021 -

9:00am

-

2:30pm
Tuesday, March 30, 2021 -

8:00am

-

7:30pm