2019 Women in Science Conference Registration to Open April 1 @ 10 A.M.
We are very excited to announce that the 2019 Women in Science Conference will be held at Science Museum Oklahoma on Tuesday, October 22, in Oklahoma City! The conference, which is presented by OK NSF EPSCoR, is designed to get girls in grades 6-12 excited about science, technology, engineering and math (STEM); the conference also shows students that STEM careers are exciting, attainable and rewarding!
The conference is free, but registration is required. Registration for the event will open Monday, April 1, at 10 a.m. Learn more about the conference and access the registration link at http://www.okepscor.org/calendar/2019-women-science-conference-science-museum-oklahoma.
The Women in Science Conference is made possible due to support from the National Science Foundation, Oklahoma NSF EPSCoR, Science Museum Oklahoma, Oklahoma Museum Network, Oklahoma State Regents for Higher Education, and Oklahoma INBRE.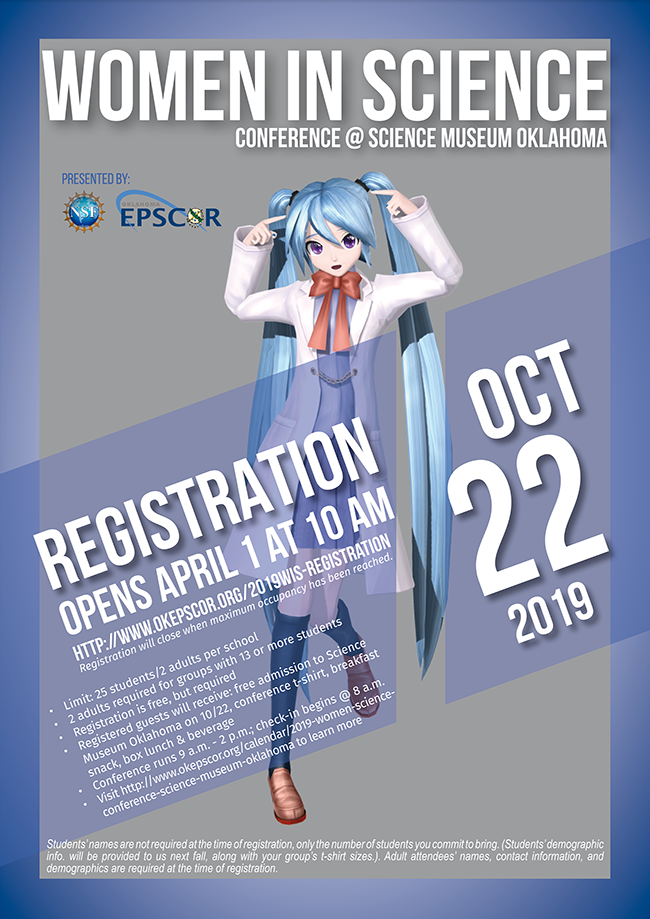 Registration opens 10 a.m. on 4/1/19 at http://www.okepscor.org/2019wis-registration
Questions? Email gmiller@okepscor.org or call 405.744.9964
Latest News
Wednesday, March 06, 2019
Thursday, February 28, 2019
Thursday, November 15, 2018
Upcoming Events
Tuesday, March 26, 2019 -

8:30am

-

12:00pm
Sunday, June 2, 2019 - 12:00pm
-
Friday, June 14, 2019 - 12:00pm
Saturday, September 28, 2019 -

9:00am

-

4:00pm