CareerTech Gateway to Technology Pre-Engineering Program
K-12 Student Outreach (Archived Project)
The Oklahoma CareerTech Gateway to Technology (GTT) program features a project-based curriculum designed to challenge and engage the natural curiosity and imagination of middle school students. The curriculum is provided through the nationally recognized Project Lead the Way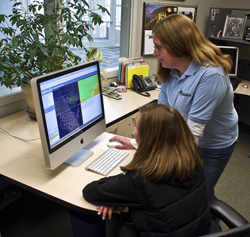 program.
The Oklahoma GTT program serves more than 4,700 students each year.
GTT students envision, design and test their ideas with the same advanced modeling software used by companies like Lockheed Martin, Intel and Sprint. They study mechanical and computer control systems; think robotics and animation. Students also explore the importance of energy, including innovative ways to reduce, conserve and produce power using solar, thermal and wind alternatives.
Beginning in 2014, the Oklahoma GTT program will include new environment and climatology units that are being made possible through an Oklahoma NSF EPSCoR grant award. Students will participate in hands-on science activities related to issues such as weather, rainfall, and global water issues.
Also, beginning in 2014, four new GTT schools sites will be implemented in rural areas of the state through OK EPSCoR funding. These schools, which have low income and high minority populations, would not have had access to the program without EPSCoR support.
Throughout GTT, students acquire knowledge and skills in problem-solving, teamwork and innovation while also exploring various STEM careers. Taught in conjunction with a rigorous academic curriculum, the program is divided into eight, nine-week independent units, assuming a 45-minute class period.
GTT, intended for grades six through eight, is designed to spark an interest in STEM subjects and prepare students for further study in high school. The knowledge that students gain and the skills they build from GTT create a strong foundation for further STEM learning in high school and beyond.
Watch Videos About the EPSCoR GTT Partnership

Latest News
Wednesday, March 27, 2019
Upcoming Events
Saturday, September 28, 2019 -

9:00am

-

4:00pm
Tuesday, October 22, 2019 -

9:00am

-

2:00pm
Sunday, October 27, 2019 - 5:30pm
-
Wednesday, October 30, 2019 - 12:00pm