Dr. Yiqi Luo
Submitted by gina on Wed, 2013-09-11 08:50

EPSCoR Research Focus:
Observatory Network * Forecasting System

Department of Microbiology and Plant Biology
Spacer:
Please leave this field as it is.
Education:
B.S. | Agronomy | Yangzhou University, China | 1982
Ph.D. | Ecology | University of California, Davis | 1991
Postdoctoral Fellow | University of California | 1991-1992
Postdoctoral Fellow | Stanford University | 1992-1994
Research Interests:
Oklahoma NSF EPSCoR Researchers:
Exploring Socio-Ecological Systems' Adaptation to Climate Variability
Research programs in Dr. Yiqi Luo's lab are designed to advance predictive understanding of ecosystem ecology and biogeochemistry under the global environmental change via data-model integration. Major issues that research team members are addressing include (1) how global change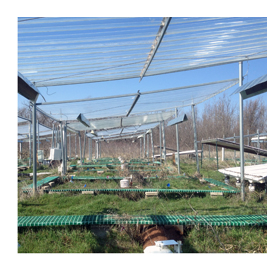 alters structure and functions of terrestrial ecosystems, and (2) how terrestrial ecosystems regulate climate change. The research is aimed at quantifying dynamics of carbon, nutrient, and water resources in ecosystems in responses to environmental changes.
Approaches used include modeling, field experiment and data synthesis. With respect of modeling, the focus is on development, test and improvement of biogeochemical models of terrestrial ecosystems at ecosystem, regional, and global scales. Current efforts focus on development and applications of inverse modeling, data assimilation, and benchmark analysis to improvement of land models.
Lab researchers have been conducting long-term global change experiments in the Great Plains to examine interactive effects of warming and clipping (since 1999); and interactive effects of warming, clipping and precipitation (since 2008) on community structure and ecosystem functions. They have particularly examined various mechanisms underlying terrestrial carbon cycle feedback to climate warming.
The team's work on the Oklahoma EPSCoR RII award addresses two significant research objectives, including:
Establishment of a first-of-its-kind, statewide, socio-ecological observatory;
Development of a fully integrated socio-ecological modeling and prediction system that is designed to integrate qualitative and quantitative approaches and to systematically examine insights from both disciplinary and integrated perspectives.
Dr. Luo and his co-researchers have also conducted data synthesis to better understand how coupled carbon and nitrogen cycles respond to global change. They apply various data synthesis techniques, such as meta-analysis and data mining, at global change experiments, FLUXNET (including AmeriFlux), and other data sources to identify general mechanisms and estimate parameters for model improvement.
The lab's research is highly multidisciplinary, employing techniques from plant physiology, soil sciences, ecology, biogeochemistry, modeling, mathematics, and computer science to improve predictive understanding of terrestrial ecosystems in response to global change. Dr. Luo and his researchers are encouraging students and young scientists with diverse background to join the team.
Pictured (above/right): Multi-factor global change experiments at the OU Kessler Atmospheric and Ecological Field Station
Teaching Responsibilities:
BOT 4810/5810: Ecosystem Ecology
BOT/ZOO/MBIO 6003: Ecological Modeling
BOT 3453: Principles of Plant Ecology
Research Assistants Funded by EPSCoR:
Ling Du (Graduate Student)
Dept. of Microbiology and Plant Biology, University of Oklahoma
Research Focus: Studying forest carbon under extreme conditions through a modeling approach.
Email: lingdu@ou.edu
Lifen Jiang (Post-Doctoral Fellow)
Dept. of Microbiology and Plant Biology, University of Oklahoma
Research Focus: Performing drought and global change experiments, as well as a model evaluation.
Email: lfjiang@ou.edu
Shuang Ma (Graduate Student)
Dept. of Plant and Soil Sciences, University of Oklahoma
Research Focus: Measuring a warming site's below- and above-ground biomass for drought experiments; pretreatment of a new drought experiment.
Email: mashuang@ou.edu
Key Publications:
DJ Li, C Schädel, ML Haddix, EA. Paul, R Conant, JW Li, JZ Zhou, YQ Luo. Differential responses of soil organic carbon fractions to warming: results from an analysis with data assimilation. Soil Biology and Biochemistry, doi:10.1016/j.soilbio.2013.07.008. In press.
Grimm NB, FS Chapin III, B Bierwagen, P Gonzalez, PM Groffman, YQ Luo, F Melton, K Nadelhoffer, A Pairis, PA Raymond, J Schimel, and CE Williamson. The Impacts of Climate Change on Ecosystem Structure and Function. Frontiers in Ecology and the Environment. In press.
Yan LM, YQ Luo, RA Sherry, JE Bell, XH Zhou, JY Xia. Rain use efficiency as affected by climate warming and biofuel harvest: Results from a 12-year field experiment. GCB Bioenergy. In press.
Dejun Li, Xuhui Zhou, Liyou Wu, Jizhong Zhou, Yiqi Luo. 2013. Contrasting responses of heterotrophic and autotrophic respiration to experimental warming in a winter annual-dominated prairie. Global Change Biology, doi: 10.1111/gcb.12273. [Download]
Xu X, RA Sherry, S Niu, D Li, Y Luo. 2013. Net primary productivity and rain use efficiency as affected by warming, altered precipitation, and clipping in a mixed grass prairie. Global Change Biology, 19, 2753-2764, doi: 10.1111/gcb.12248. [Download]
Hararuk O, D Obrist, Y Luo. 2013. Modeling the sensitivity of soil mercury storage to climate-induced changes in soil carbon pools. Biogeosciences, 10: 2393-2407. [Download]
Lu M, XH Zhou, YQ Luo, CM Fang, Q Yang, JK Chen, X Yang, and B Li. 2013. Responses of ecosystem carbon cycle to experimental warming: a meta-analysis. Ecology, 94: 726-738. [Download]
Schädel C, Y Luo, RD Evans, S Fei, SM Schaeffer. 2013. Separating soil CO2 efflux into C pool specific decay rates via inverse analysis of soil incubation data. Oecologia, 171:721-732. [Download]
Piao SL, S Sitch, P Ciais, P Friedlingstein, P Peylin, XH Wang, A Ahlström, A Anav, JG Canadell, C Huntingford, M Jung, S Levis, PE Levy, JS Li, X Lin, MR Lomas, M Lu, YQ Luo, YC Ma, RB Myneni, B Poulter, ZZ Sun, T Wang, N Viovy, S Zaehle, N Zeng. 2013. Evaluation of terrestrial carbon cycle models for their response to climate variability and to CO2 trends. Global Change Biology, 19: 2117-2132. [Download]
Niu SL, RA Sherry, XH Zhou, YQ Luo. 2013. Ecosystem carbon fluxes in response to warming and clipping in a tallgrass prairie. Ecosystems, DOI: 10.1007/s10021-013-9661-4. [Download]
Xia JY, YQ Luo, YP Wang, O Hararuk. 2013. Traceable components of terrestrial carbon storage capacity in biogeochemical models. Global Change Biology, 19: 2104-2116. [Download]
De Kauwe MG, BE Medlyn, S Zaehle, M Dietze, T Hickler, A Jain, YQ Luo, W Parton, C Prentice, P Thornton, A Walker, SS Wang, YP Wang, D Warlind, ES Weng, K Crous, D Ellsworth, P Hanson, HS Kim, J Warren, R Oren, R Norby. 2013. Canopy water use and water use efficiency at elevated CO2: a model-data intercomparison at two contrasting temperate forest FACE sites. Global Change Biology, 19: 1759-1779. [Download]
Wang LX, SL Niu, SP Good, K Soderberg, MF McCabe, RA Sherry, YQ Luo, XH Zhou, JY Xia, KK Caylor. 2013. The effect of warming on grassland evapotranspiration partitioning using laser-based isotope monitoring techniques. Geochimica et Cosmochimica Acta, 111: 28-38. [Download]
For more publications, visit http://ecolab.ou.edu/?publications.
Upcoming Events
Monday, August 28, 2017 - 10:00am
Tuesday, August 29, 2017 - 1:00pm
Thursday, August 31, 2017 - 12:00pm