Dr. Richard "Max" Melstrom
Submitted by gina on Mon, 2014-06-23 08:29

EPSCoR Research Focus:
Observatory Network * Forecasting System * Decision-Support System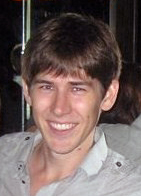 Department of Agricultural Economics
Oklahoma State University
Spacer:
Please leave this field as it is.
Education:
B.A. | Economics & Business | Kalamazoo College | 2007
M.A. | Economics | Michigan State University | 2008
Ph.D. | Economics; Agricultural, Food & Resource Economics | Michigan State University | 2012
Research Interests:
Dr. Richard, "Max" Melstrom is an assistant professor of agricultural economics at Oklahoma State University. His research interests are in the valuation of natural resources and the economics of wildlife management.
His role in the Oklahoma NSF EPSCoR project addresses three research objectives, including:
Establishment of a first-of-its-kind, statewide, socio-ecological observatory;
Development of a fully integrated socio-ecological modeling and prediction system that is designed to integrate qualitative and quantitative approaches and to systematically examine insights from both disciplinary and integrated perspectives;
Development of a pilot decision-support system that provides researchers, educators and practitioners with data, models, tools and scenarios that are needed to explore and understand the social and ecological impacts of management and policy decisions.
Research Assistants Funded by EPSCoR:
Wonkyu Cha (Graduate Student)
Dept. of Agricultural Economics, Oklahoma State University
Research Focus: Conducting a literature review of research related to the willingness to pay for agricultural practices designed to improve water quality in a watershed; analyzing Fort Cobb data collected from the M-SISNet.
Email: wonkyu.cha@okstate.edu
Key Publications:
Melstrom, R.T. Forthcoming. Historic Battlefield Preservation: An Application of the Travel Cost Method to Three American Civil War Battlefields Journal of Cultural Economics.
Melstrom, R.T. and R.D. Horan. 2014. Interspecies Management and Land Use Strategies to Protect Endangered Species. Environmental and Resource Economics 58: 199–218.
Melstrom, R.T. and F. Lupi. 2013. Valuing Recreational Fishing in the Great Lakes. North American Journal of Fisheries Management 33: 1184–1193.
Melstrom, R.T. and R.D. Horan. 2013. Managing Excessive Predation in a Predator-Endangered Prey Setting. Ecological Economics 90: 85–93.
Horan, R.D. and R.T. Melstrom. 2011. No Sympathy for the Devil. Journal of Environmental Economics and Management 62: 376–385.
Horan, R.D., E.P. Fenichel and R.T. Melstrom. 22011. Wildlife Disease Bioeconomics International Review of Environmental and Resource Economics 5: 23–61.
Presentations:
The Bioeconomics of Managing Bycatch in a Commercial Recreational Fishery, MEA Annual Meeting, March 2014.
Upcoming Events
Tuesday, May 23, 2017 - 8:30am
-
Thursday, May 25, 2017 - 5:30pm
Monday, June 5, 2017 - 8:00am
-
Thursday, June 8, 2017 - 5:00pm
Saturday, June 24, 2017 - 8:00am
-
Friday, June 30, 2017 - 5:00pm