Climate Variability Research Team
Oklahoma NSF EPSCoR Research Infrastructure Improvement Award No. OIA-1301789
The OK NSF EPSCoR Research Infrastructure Improvement Award No. OIA-1301789 (2013-2018), "Adapting Socio-Ecological Systems to Increased Climate Variability," is a multi-institutional collaborative project that includes researchers from Oklahoma State University, Samuel Roberts Noble Foundation, University of Oklahoma and University of Tulsa. Researchers from these institutions are working together to significantly advance the understanding of how socio-ecological systems can adapt sustainably to increased climate variability caused by a changing climate. Learn more about the research project.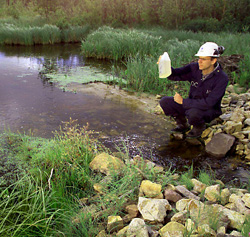 OK EPSCoR State Director
Dr. Jerry R. Malayer
jerry.malayer@okstate.edu
Project Director and Principal Investigator
Dr. Ray Huhnke
raymond.huhnke@okstate.edu
Curriculum Vitae
Co-Principal Investigator
Dr. Alicia Knoedler
aknoedler@ou.edu
Curriculum Vitae
Research Team Members
Oklahoma State University
The Samuel Roberts Noble Foundation
University of Oklahoma
University of Tulsa
Research Team Members: Non-Faculty
Oklahoma NSF EPSCoR faculty researchers mentor over 50 staff, post-doctoral researchers, and graduate students. This diverse group provides vital support to the project. Click here to learn more.
Upcoming Events
Friday, September 8, 2017 -

8:30am

-

5:00pm
Thursday, October 12, 2017 -

12:00pm

-

1:00pm
Tuesday, October 17, 2017 -

8:30am

-

2:30pm